How to assess which cultural moments are right for your brand to act on
A cultural moment can happen in an instant and dominate news feeds for days. The constant feed refreshing, the group DMs, the memes—it all combines to create a uniquely gripping spectacle that's impossible to ignore.
These periods of high engagement are typically brought on by a real-time event or the onset of a new trend. In best-case scenarios, they create conversations that unite people over shared interests. It's no wonder brands are eager to hop on these opportunities for cultural advertising.
That said, not all moments spark the same kinds of conversation. Culture moments can range from fun and lighthearted to serious and nuanced. More often than not, they're a mixture of both.
Understanding your brand's role in these high-value occasions can make or break your social media presence. In this how-to guide, we'll share how to spot, vet and contribute to cultural moments in ways that resonate with your audience.
Let your values align your brand to cultural moments
Your core values should serve as a north star for all your marketing efforts, including your cultural advertising plays. It sounds simple, but it's easier said than done. After all, cultural moments don't come with brand guidelines.
To better understand how a social media movement aligns with your values, you'll need to put your research cap on. Here are a few questions to think through as you get familiar with the conversation:
What caused the spike in conversations? An inciting event can take even the most common topic and push it into the limelight. However, these inciting events aren't always positive. Before creating social content around a moment, dig into what's causing the conversation. If it's scandal, outrage or negativity, you may want to steer clear.
Who's talking about it? Look into the people, brands and media outlets that are present in the conversation. Is there overlap with your target audience? Do you recognize any key contributors? Are any of your competitors showing up?
What conversations are happening? A single cultural moment can spark a variety of reactions. Condense the conversation into a few major buckets to identify how your brand can best contribute.
How do people feel about it? Remember: cultural moments are often nuanced. A conversation might be all fun and games at the surface but touch on some hard topics when you dive a few layers deep. If the conversation makes you feel out of your depth as a brand, you may want to opt for strategic silence.
As you work through these questions, you may identify gaps between the moment and your brand purpose. Don't be afraid to sit out on a cultural advertising opportunity if it feels too forced. Not chiming into a discussion can be FOMO-inducing, but it's better to stay silent than to share something inauthentic to your brand.
How to find the cultural moment that matters most to your customers
A cultural moment may align with your brand values, but if your customers aren't talking about it, contributing to the conversation may fall flat.
Thanks to media fragmentation and the 24-hour news cycle, there have been some drastic changes in what counts as a moment. In the past, a single event could captivate audiences for weeks. Now, small-scale cultural moments happen all the time. How much they matter all depends on who you're talking to.
So before you craft the perfect trend-jacking post, be sure to assess the moment for audience fit. You can do some hashtag research or use native analytics tools, but both of those options are fairly time-consuming and time is of the essence. If you want quick, comprehensive results, try social listening.
Using social listening to assess audience fit
Cultural moments generate a huge amount of messages across social. Listening is the key to tapping into those conversations for actionable insights. Think of it as a speedy alternative to a focus group.
In Sprout, Listening Topics automatically backfill 30 days worth of data—perfect for topical events and trends. Once you've created a Topic, you can dig into valuable demographic data and information on which profiles are driving the conversation forward. These insights can help you find intersections between your audience and the conversation at large.
The market research benefits of listening extend well-beyond demographic information. You can also use listening to validate the initial assessment of your cultural advertising opportunity. Here are some other key data points you can review once you've created your Listening Topic:
Volume: Look for spikes in conversation volume, then review the messages from that day to find out exactly what caused the influx of conversations.
Themes: If the culture moment sparks several conversations, use themes to categorize and identify patterns in messages.
Sentiment: Get clear on how people feel about the moment by measuring audience sentiment, broken down into positive, neutral and negative.
Brands who got cultural advertising right
Now you know how to audit a cultural moment for brand and audience fit, but what does that look like in practice? Let's look to three brands that nailed cultural advertising on social media for inspiration.
Calm + Naomi Osaka
What happened: In June 2021, tennis star Naomi Osaka decided to skip press conferences at the French Open, citing mental health. In response, the organization fined her $15,000, sparking a massive outcry from fans and mental health advocates alike.
To support Osaka's decision, meditation app Calm pledged to donate $15,000 to a French organization dedicated to promoting mental well-being through sports and physical activity. The company also offered to cover fines for any other tennis player that would like to opt out of media appearance to prioritize mental health.
Why it worked: Osaka's personal decision created major public dialogue around mental health. Athletes, celebrities and fans took to social media to defend Osaka from backlash around the move, commending her for her bravery and resilience.
As a mental wellness app, it's not hard to see the connections between this cultural moment and Calm's brand purpose. Their product and content offerings constantly underscore the importance of taking time to focus on mental health.
What makes this a truly standout cultural advertising effort is the bold action Calm promised alongside the Tweet. In an age of conscious consumerism, it showed the brand wasn't just paying lip service to the conversation.
Aldi UK + Wordle
What happened: In a few months, Wordle went from a simple game created for personal amusement to a full-blown cultural phenomenon. From January 1 through January 31, there were more than 8.2 million mentions of Wordle on Twitter, up 9,971% from December 2021.
It didn't take long for brands to join the conversation. Many found success mimicking the emoji grid the game generates to help people share their scores. After the game's acquisition by the New York Times, Aldi UK jumped into the mix with a simple, effective quip on who really should've bought Wordle.
Why it worked: If you scroll through the Aldi UK Twitter feed, you'll find memes, jokes and sarcastic commentary on current events. The brand could have easily contributed to the conversation with an earnest 'guess the five letter word' post, but it wouldn't have stayed true to the tone they've cultivated with their online audiences.
By choosing to lean on their brand of dry humor, they zigged where others zagged. It shows that you don't need unlimited creative resources or a cutting-edge idea to chime in on a cultural moment. You can keep it simple and see the same returns as long as you stay true to your voice.
Squid Game + Semrush
What happened: In September 2021, Netflix hit it big. Squid Game was released and went on to become the biggest title at launch, reaching 111 million global accounts in its first 17 days on the platform. The series dominated conversations across social, increasing its popularity through word-of-mouth recommendations and, of course, memes.
Brands wanted to get in on the conversation, but the cultural moment presented a complicated dilemma for marketers. How can brands chime in on a conversation on a TV show about the pitfalls of capitalism without sounding out of touch?
Semrush, a keyword research tool, pulled it off by focusing on a fan-favorite moment in the show, rather than the show as a whole.
Why it worked: The conversations around Squid Game fell into two primary buckets: global critiques of capitalism and memes. By steering clear of the iconography associated with the overall series, Semrush's cultural advertising effort stays playful and topical.
This proves that you don't have to entirely ignore complicated topics. You just need to identify entry points that resonate with your audience.
Crafting a social media strategy to support cultural and social movements in 3 simple steps
Unfortunately, you can't plan for a cultural moment. By nature, they strike at random. What you can do is create processes that streamline trend-spotting and content creation. Here's how to get it done:
Step 1: Facilitate collaboration
Social media teams are notoriously lean. Staying on top of current events and trends while planning, creating, scheduling and reporting on content can become a quick path to burnout. That's why it's important to lean on your colleagues outside of social for help spotting emerging cultural moments.
Block off time to discuss things that are happening in your industry and within the culture at large. This can be done async using business messaging tools or live during team standups. You don't need to leave every discussion with an established plan for a cultural advertising opportunity. You just need to help your coworkers become trendspotters in their own right. Soon, they'll be looking at their social feeds as ripe sources of cultural advertising inspiration.
If you find that your colleagues have a hard time getting into brainstorm mode, try using these prompts to generate discussion:
What social trend has been making you laugh lately?
What news story is really sticking out to you right now?
Who are your favorite brands on social? What do they do that wows you?
Step 2: Practice listening
Social listening is both a tool and a skill, and skills don't come without practice. Don't wait until a social media movement is in full effect to get started.
Set aside time to get to know your listening software by using it for ongoing brand research. In Sprout, you can do this by using one of our pre-built Topic Templates.

Use these templates to get to know the different data points that can be found within a Listening Topic. Once you're ready to take things to the next level, you can try making your own custom topic.
Experiment with different keyword additions and exclusions, choose different channel sources and preview your query to see what results it yields. The more experience you have with the tool, the easier it will be to create a timely Listening Topic when you need it.
Step 3: Embrace flexibility
Participating in cultural moments can require you to deviate from an established content plan. That doesn't mean you have to scrap your scheduled posts. It just means you need a social media calendar that supports flexibility.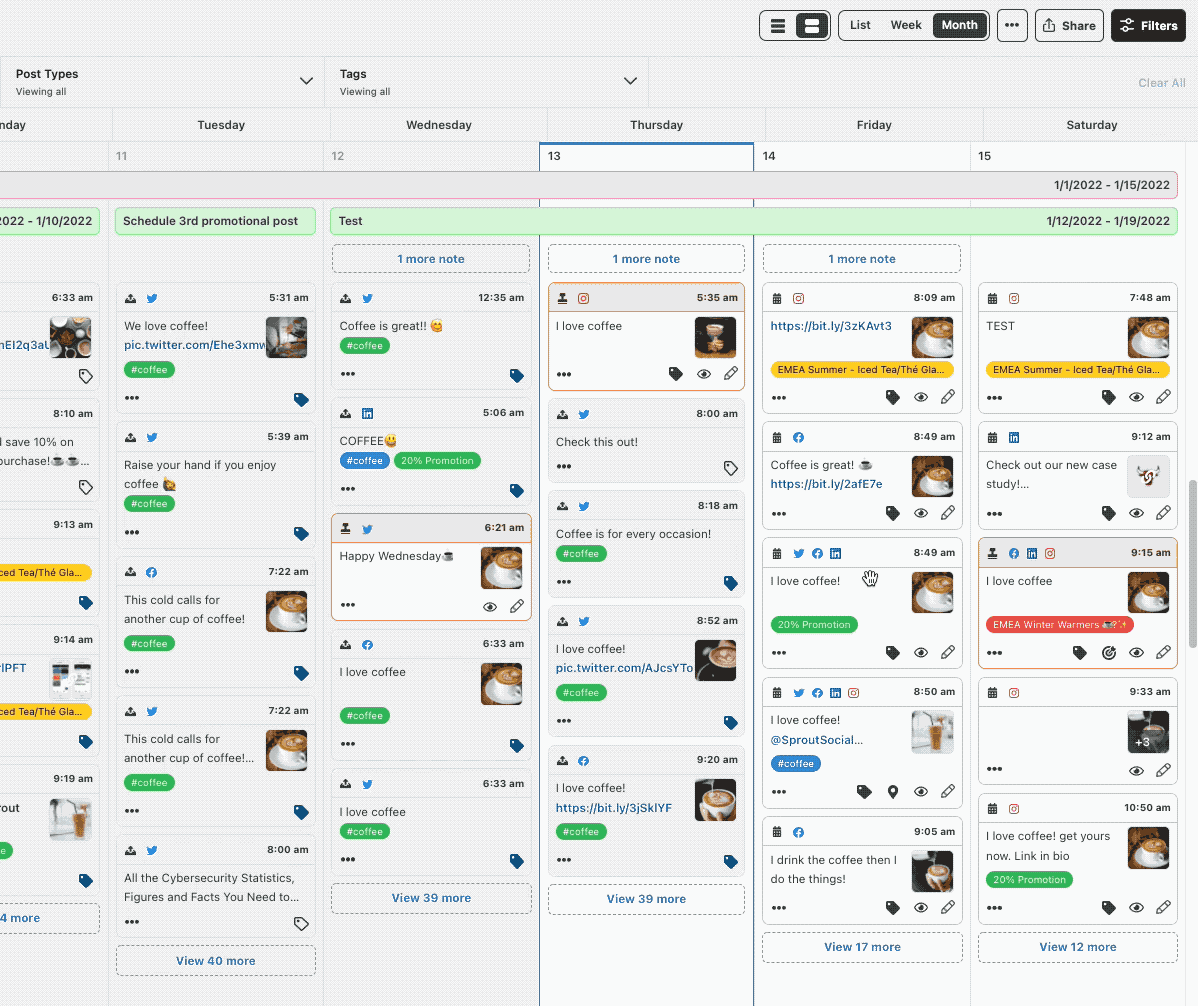 Using a scheduling tool with drag-and-drop content planning features (like Sprout's) can help you reorganize your content calendar at a moment's notice. If the moment is causing uncertainty within your industry or the world,  you may also want to consider pausing all unrelated content to avoid being perceived as insensitive.
Be ready when the moment strikes
Cultural advertising opportunities can be tricky to pull off, but with data-backed insights, any social media manager can rise to the challenge. All you need is the right processes and tools in place.
If you want to learn more about connecting the dots between your audience data, your content plan and your creative strategy, check out this social media success toolkit. Inside, you'll find tips on creating memorable content and campaigns that are impossible to scroll past.