Conversational commerce 101: What you need to know
Is your business prepared for the era of conversational commerce?
With so many avenues for consumers to make purchases and interact with their favorite stores, merchants have to engage with customers anywhere and everywhere.
On-site. Via smartphone. Social media. You name it.
But having a basic help desk or customer contact form isn't enough anymore. Modern customers expect conversations and meaningful interactions with brands.
We've seen it firsthand: our own research notes that 60% of brands say private/direct messaging plays a role in their customer care strategy.
That's why brands today need to embrace conversational commerce, acting as a digital concierge to produce a better experience and win more sales.
And in this guide, we'll break down the basics of how to do exactly that.
What is conversational commerce, anyway?
Let's kick things off with a quick definition.
Conversational commerce represents the use of technology by merchants to engage with customers in real-time, assisting in the purchasing process. Through messaging apps, chatbots and other automated tools, brands are able to balance personalization and efficiency for a better buying experience.
A shining example of multichannel marketing, conversational commerce represents a win-win for merchants and shoppers alike.
Through digital messaging tools and bots, merchants can serve customers thoughtfully either through real-time conversations or automated responses. In turn, customers get the answers they need without needless waiting or back-and-forth.
Examples of conversational commerce
Chances are you've engaged with chatbots or live support yourself, right?
And if so, you've seen conversational commerce in action.
Below are some of the most common ways that brands bridge customer conversations and more sales with digital tools.
Live chat
Food for thought: 41% of consumers prefer live chat support over competing service channels.
Every customer is different, but there's no denying that there are buyers that prefer chat support over calls or email. Live chat is ideal for those who want direct answers ASAP, no frills required.
Tools such as Help Scout are commonplace on today's ecommerce sites. These platforms give users a place to ask questions or get updates directly from a storefront. Ideally, live chat platforms give customers the choice between chatting with an actual person or a bot.
Meanwhile, brands like Clinique are leveling up their support with real-time, face-to-face live chats with their consultants. This is a prime example of how brands can go above and beyond to provide personalized service to customers.
Expect video calls to become the future of conversational commerce (especially as remote work and ecommerce continue to boom).
Messaging and support tools
Automated help desks and messaging tools can serve as a supplement to live chat.
Ideally, these tools should sync with your CRM and database to keep tabs on your customers' order history and past interactions. For example, Zendesk integrates with Shopify so merchants can put their customers' questions and concerns into context.
Conversational commerce should feel personalized, not one-size-fits-all. Having all of your customers' details handy when going back and forth is a huge plus. You can also use Sprout's own social commerce and business integration to track customer order history and past service tickets to get a full picture of how that customer has interacted with your business.
Chatbots
The popularity of chatbot marketing speaks for itself, particularly on social media.
And don't let naysayers tell you otherwise: 40% of consumers have no preference whether they talk to a person or bot as long as they find what they're looking for.
The good news is that social media chatbots are perfect for basic queries and FAQs that can be automated. For example, the Gymshark Facebook Messenger bot can answer questions regarding order status, returns or availability in just a few taps.
Chatbots ultimately free up the time of your reps and employees so they aren't answering the same questions, instead spending their time engaging with customers regarding more pressing concerns.
Voice assistants
Fact: nearly half of millennial shoppers that regularly engage their virtual assistants (such as Amazon Echo or Google Home) have used them to make purchases.
Surprising, right?
Voice-shopping is perhaps the most literal example of conversational commerce. For example. Echo automatically recommends purchases and reminds users of past orders based on their purchase history. Users can then confirm orders or add items to their Amazon cart via voice.
The prevalence of virtual assistants in homes means we should expect such devices to grow as their own sales channel.
Conversational commerce & the buyer's journey
Conversational commerce matters most at the consideration stage. That is, when a potential customer has researched, started to narrow their options and reaches out but isn't 100% sold on your product (or even your brand).
This is the point where you can introduce relevant products and spark interest in buying. By recommending some sort of product or next step, you're more likely to win a sale versus letting shoppers browse at random.
Why is conversational commerce so important?
Embracing tools like live chat and chatbots should be a top priority for ecommerce brands.
Why, though? Here are some key ways that conversational commerce gives merchants a competitive advantage:
Always be "on" and available to customers
No surprises here.  Ecommerce brands today are selling to customers across borders and time zones.
Messengers and bots enable you to connect with customers shopping around the clock (hint: not just the ones that reach out during "business hours"). We've seen firsthand how customers disengage with brands that lag when it comes to their social media response time.
In short, conversational commerce empowers you to provide support 24/7. Granted you've mastered your brand identity and voice, the tools you use to engage with customers don't have to feel impersonal.
Streamline your customer experience
Time is of the essence when a customer has a question or concern.
Rather than force shoppers to search aimlessly for answers or wait for a response, bots and real-time messengers move people from Point A to Point B. The end result is (hopefully) a purchase and satisfied customers.
The takeaway? Eliminating needless emails, calls or scrolling represents a better customer experience, plain and simple.
Automate more of your business
If nothing else, conversational commerce allows you to put some of the more tedious and time-consuming elements of your business on autopilot. This includes:
Answering "basic" questions regarding policies
Providing updates that would otherwise require an email (think: shipping, returns)
Gathering customer information regarding products (think: issues, complaints, feedback)
And in turn, you free up more time to actually talk to customers who need your attention right now.
What are the benefits of conversational commerce?
Now that we've broken down the concept, let's look at some of the upsides of embracing conversational commerce for brands today.
Reduced abandoned carts
Note that the average cart abandonment rate still sits around 70%. This represents a staggering amount of lost sales and money on the table.
But with bots and messengers, merchants create opportunities to win back customers and prevent lost leads from bouncing.
Route leads immediately
This is the big one for businesses in B2B.
The longer you keep a prospect or lead waiting, the more likely they are to lose interest.
Beyond live chat, consider tools like Chili Piper which help route potential customers to reps and schedule meetings automatically. The app not only sets up meetings but qualifies leads so you can get on the phone with people who are most likely to buy.
This results in speedy conversations with truly interested buyers and likewise a full calendar for your sales reps.
Gather meaningful feedback
Brands should strive to learn as much from their customers as possible. The good, the bad and everything in-between.
Think about it. If your live chat is bombarded with the same issues or concerns, you know that you need to make a change.
Perhaps there's a confusing policy on your site. Maybe customers are consistently having problems with your product.
Either way, having an avenue to regularly gather such feedback can be an eye-opener.
Uncover upselling and cross-selling opportunities
Again, the right engagements with customers can help boost sales rather than lose customers.
For example, chatbots can support upselling and cross-selling by:
Recommending premium products
Encouraging more spending (to meet a free shipping threshold)
Promoting offers and deals
Build brand loyalty
Finally, consider that conversational commerce gives you more opportunities to get closer to customers.
The convenience of bots and chat apps is a must-have in the eyes of some shoppers. Offering it can set you apart from competitors and likewise help you leave a lasting, positive impression on your buyers.
3 Ways to integrate conversational commerce into your marketing
Let's say you're sold on conversational commerce but have no idea where to get started.
To wrap things up, here are some basic strategies that brands both big and small can use to test the waters.
1. Incorporate live chat on your website
Whether through bots or real-time reps, there are plenty of digital marketing tools out there to help connect you with customers. This includes:
Intercom (live chat and chatbot)
ZenDesk (chatbot, customer service chat and help desk)
Drift (live chat and chatbot)
For example, Intercom's chatbot makes it easy to present canned responses in addition to giving customers an opportunity to talk to an actual human.
The bonus of these types of tools is that they automatically integrate with your CRM of choice, allowing you to pull directly from your customer data. This gives you a more comprehensive view of your customers' relationship so you can provide the best support possible.
2. Roll out your own chatbots
Building your own customer service chatbots doesn't require you to be a tech wizard.
In fact, Sprout Social can help you do exactly that via Twitter DMs or Messenger. You can build out conversations and queries that cover frequently asked questions and inject your brand's voice into responses: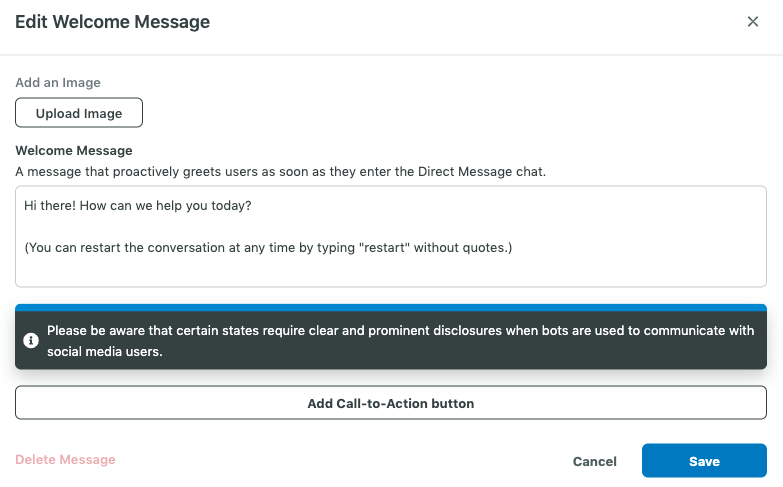 Here's a snapshot of one of our bots in action. For businesses that have real-time reps, you have the option to route customers accordingly.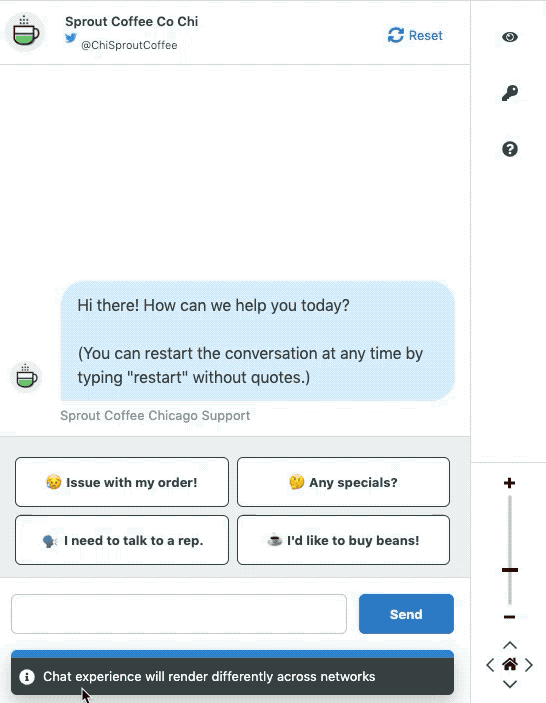 And like the tools noted earlier, you can monitor your interactions in our social customer CRM. This is helpful for providing long-term support and likewise personalizing interactions.
3. Step up your social media service and listening
Again, social media is central to conversational commerce as more and more people flock to Twitter or Facebook with questions for merchants.
And so stepping up your social customer care is a must-do. Some key activities to prioritize include:
Recommending specific products to customers rather than providing generic advice ("visit our store")
Resolving questions that could result in a churned customers (think: coupon failure, shipping issues)
Engaging with mentions for the sake of retention and brand loyalty (think: shout-outs or call-outs)
Companies like Sweetwater are rightfully lauded for their level of social customer care. They make a point to personalize responses to customers with actionable advice with a tone that's totally human.
In turn, they get a ton of love from their customers.
See how that works? Listening and responding to mentions in a timely manner doesn't cost anything but could be a difference-maker when it comes to retention and loyalty.
Ready for the future of conversational commerce?
Now's the time for brands to rethink the way that they engage customers.
Through real-time communications via bots and messengers, you're better equipped to serve shoppers regardless of where they're coming from.
And remember that your social strategy goes hand in hand with conversational commerce as you learn more about your target audience and their needs.
If you haven't already, make sure to check out the latest Sprout Social Index™ to stay updated on the latest social insights to engage customers in 2023 and beyond.