8 ways customers interact and engage with your brand on social
The days of contacting generic email accounts are coming to an end. Now, customers are shifting to social for praise, complaints and everything in between.
Creating a social media interaction strategy is essential for long-term customer satisfaction. Most consumers expect brands and companies with a social media presence to interact with their customers in meaningful ways. As social continues to evolve, the ways audiences engage with brands will grow alongside it.
In this article, we'll cover what these interactions look like, and how they impact your overall business strategy. But first, let's cover some basics.
What is social media interaction?
Social media interaction is an umbrella term that encompasses all the two-way conversations and touchpoints that occur between companies and consumers. Whether you're liking a tagged post or addressing a lukewarm review, the way you interact with your followers has a huge impact on customer satisfaction and retention. Every positive interaction has the potential to turn a casual shopper into a lifetime fan.
Why customer engagement is good for business
Social media is conversational by nature. Customers aren't coming to your page to be talked at, they're looking to spark a dialogue. And great conversations can have a positive impact on sales.
The Harris Poll, on behalf of Sprout Social, surveyed US consumers and business executives to better understand how they use social media and its impact on organizations. The report found that, as a result of positive social media interactions with a brand, consumers are more willing to:
Buy from a brand (78%).
Choose a brand over the competition (77%).
Recommend a brand (76%).
Increase their spending with that brand (72%).
Develop a stronger bond with a brand (70%).
Every time you reply to a customer on social, you're actively demonstrating that you care about their opinions and feedback. Plus, routine social media interaction practices can encourage others to interact with your brand. This can boost your engagement rate, which increases your overall brand visibility and helps your business get in front of new eyes.
3 key social media interaction statistics to focus your strategy
43% of consumers have increased their use of social to discover new products and brands
Compared to a year ago, about two out of five consumers have increased the use of social media to learn about new products, services and brands. Forty percent expect that number to increase over the next three years.
Your social media profiles are an extension of your digital storefront. As social becomes the first stop toward brand discovery, profile optimization will play an essential role in customer acquisition.
80% of customers expect companies to interact with them on social
On top of that, over half of consumers say they find it to be more engaging to connect with a brand or company on social media than to visit a physical store. Soon, social will be the main channel for brands to connect with their customers.
Use social listening tools to proactively join these conversations. Listening data equips brands with the intel they need to have relevant, meaningful interactions with consumers who are talking about your industry as a whole. This rich source of new information can improve marketing messaging, surface industry trends and make a substantial impact on your business.
Check out River Island, for example. The London-based clothing retailer uses listening data to inform business decisions well beyond marketing. By tracking their popular branded hashtags alongside phrases like "want" or "need," their social team is able to relay customer feedback that informs content, campaign and production strategies. This provides a data-backed edge in a highly competitive industry.
The median social engagement rate is less than 1%
Less than one percent of people who see a post actually interact with it. Here's what that looks like broken down by platform:
Median benchmark for Facebook engagement: 0.09%
Median benchmark for Instagram engagement: 1.22%
Median benchmark for Twitter engagement: 0.045%
These stats are crucial to understanding the effectiveness of your social media customer engagement strategy. Reporting on your achievements in the context of industry benchmarks and platform standards helps you tell a richer story when proving the value of social to other stakeholders.
8 ways customers interact with brands on social in 2022
Social media gives consumers the opportunity to interact with brands anytime, anywhere. Here are the most popular ways customers engage with brands on social, and how they can inform your social media customer engagement strategy:
1. They Like posts
Forty-five percent of consumers Like posts from brand or company social media accounts, making it the most popular form of engagement. Double-taps are a no-cost way for consumers to demonstrate interest in a product or service, but the data they provide is invaluable.
Tracking which posts generate the most Likes helps you understand what your fans are most interested in. For example, if posts about your corporate social responsibility program typically receive a higher Like count than posts about your product or service, you could use that information to create stronger, more socially accountable product messaging.
Use a social media management tool like Sprout to measure post performance across platforms to get a more comprehensive understanding of customer preferences. The beauty of these insights is that their applications extend well beyond social, informing email strategy, paid ad campaigns and more.
2. They follow brand accounts
Pressing the follow button is the first step to becoming active brand community members. Each of your followers exists in some phase of your marketing funnel, whether they're considering a first-time purchase or a loyal customer.
Each of your followers exists in some phase of your marketing funnel, whether they're considering a first-time purchase or a loyal customer.
Sixty-eight percent of consumers follow brands specifically to learn about new products or services, so growing your follower count creates a positive feedback loop. The broader your audience, the more opportunities you have to expedite consumers' buying process.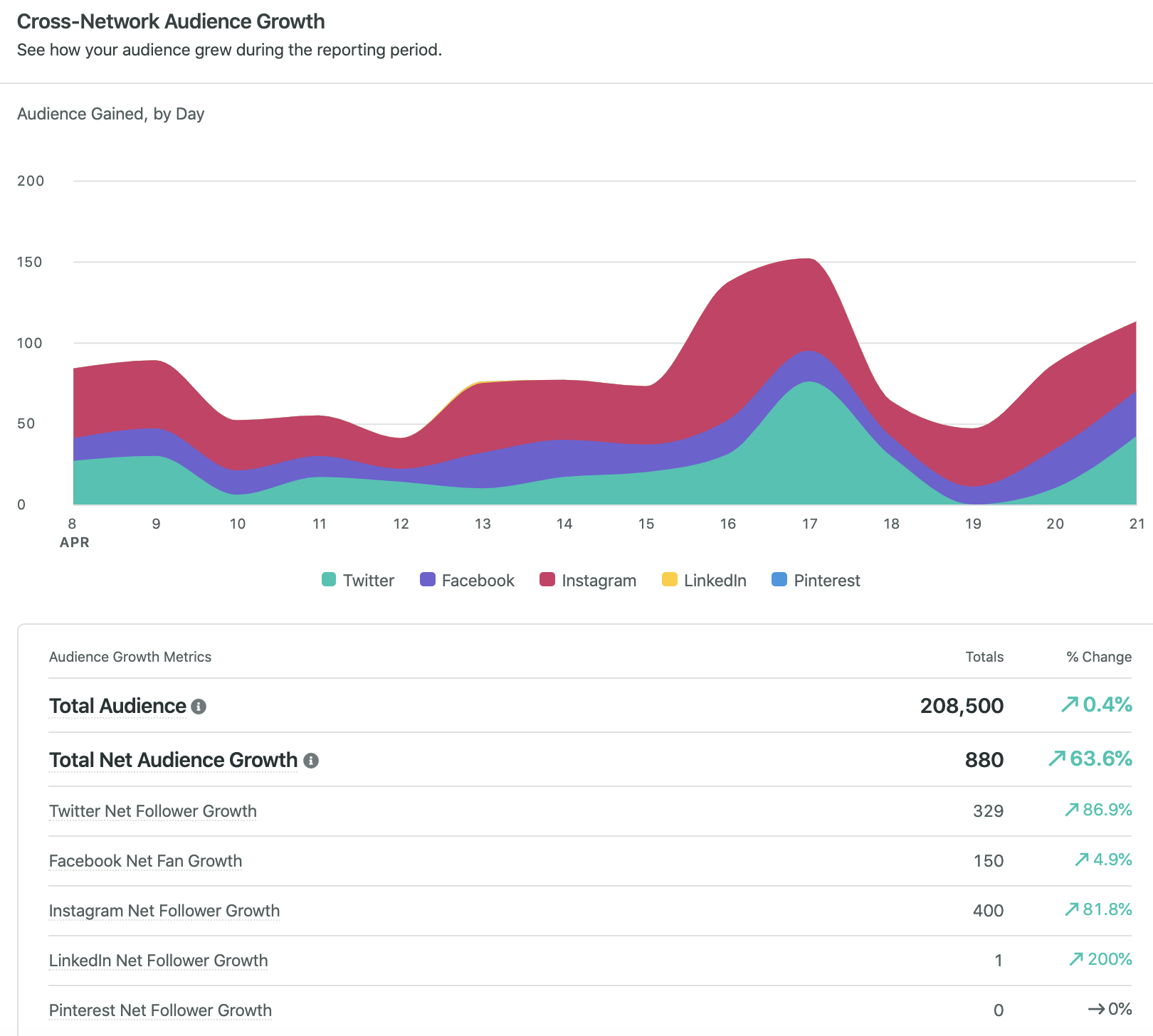 Track audience growth over time to understand what actions or trends are driving people to follow your social accounts. If you notice a specific content type or subject is driving more interest than others, test it across channels. You may uncover an insight that drives increased engagement and customer satisfaction.
3. They leave product or service reviews
Your review strategy can make or break your online reputation. Thirty-two percent of consumers leave product or service reviews as a way to interact with brands on social. Those reviews carry serious weight—85% of consumers report that customer reviews are influential when making purchase decisions.
A review response plan is an integral part of your brand management practices. Whether someone gives positive feedback or explains how you can improve, you need to engage. Acknowledgment goes a long way toward strengthening brand loyalty. A thoughtful response can turn a one-time buyer into a repeat customer.
Simplify your review management strategy by opting for a social solution that takes multiple platforms into account. Sprout Social's review management tool unifies reviews from Facebook, Glassdoor, TripAdvisor and Google My Business into one view to simplify your response process.
4. They share brand content
Organic content shares not only help your brand reach a wider audience at a lower cost, they are also more likely to influence purchasing decisions. Seventy-one percent of consumers say they are influenced by posts from people they know, compared to the 53% influenced by social media ads.
Look through your most shared posts to find common threads. You might notice a specific content type, caption or messaging theme performs better than others. Identifying what influences people to share content is the first step in creating a strategy for repeat success.
5. They report issues
About two in three consumers attribute a high level of importance to responsive customer service in creating a positive experience with a brand on social media. Companies have seen a 60% increase in support requests coming in via social media over the past year alone.
No social media customer engagement strategy is complete without an escalation management strategy. In the event of an issue, taking the guesswork out of who owns customer communications can help your team address problems quickly and prevent further escalation.
Exceptional support requires having a complete view of a customer's history with your brand. Sprout's bidirectional integration with Zendesk gives support and social teams visibility into open tickets and prior communication, giving them the context they need to resolve issues effectively.
6. They send private messages or DMs
Whether a consumer is asking a question, seeking support or sharing an opinion, every interaction—even those that happen in private—is an opportunity for brands to make a connection and influence perception.
The first step to providing better customer service via private messages or DMs is optimizing for speed. The majority of consumers expect a same-day response after reaching out to a brand on social media, and meeting that expectation goes a long way. Eighty-nine percent of consumers are more likely to make another purchase after a positive customer service experience.
Moving from platform to platform to monitor and address direct messages natively wastes valuable time that can impact customer satisfaction. It also reinforces silos between social and customer care teams. Streamline your response management process by using a tool that consolidates your social inboxes in a centralized location.
 7. They follow influencers or brand ambassadors
Influencer collaborations had 57% more reach and impact in 2020 than they did in 2019. Partnering with the right influencers can build a deeper connection between your brand and your customers. Rather than picking partners solely off engagement metrics and follower counts, find content creators who identify with your brand values and can authentically connect with your target audience.
Once you've created an ideal influencer persona, use a social media monitoring tool to identify VIPs who are already talking about your company or industry. In Sprout's Smart Inbox, you can apply internal tags to track and short brand mentions from potential ambassadors.
8. They tag companies in their posts
Your tagged posts can help you turn customers into advocates. Sharing tagged posts that celebrate your product or service benefits brands in two major ways. First, it creates an opportunity to celebrate that customer and their experience with your business. Second, it builds valuable social proof that can convert potential customers who are on the fence about making a purchase.
Whenever a person takes time out of their day to praise your brand on their personal profiles, bank that for marketing use down the line. User-generated content can be repurposed for social posts, web copy, ad campaigns and more. With tools like Sprout, you can monitor mentions and tags to identify posts worth sharing now and later on.
See how customer engagement is evolving on social
Customer expectations are not static. As long as social networks evolve their functionality, consumer habits will change alongside them.  Download The Future of Social Media report to learn more about how social media interaction will impact your brand in 2022 and beyond.