The lean social team: How Sprout powers efficiency for social marketers and proves their ROI
We've all heard the saying, many hands make light work. And yet social media managers, who could definitely use more hands to juggle their many responsibilities, are often a team of one.
Essentially, social media managers flying solo must be human Swiss Army knives to successfully plan, create, schedule and report on social content. And on top of that, they have to monitor and engage with their community and turn data into a story to prove the ROI of their work.
If your heart rate just increased, we feel you. It's a lot to take on, but we're here to help.
Throughout the year, we've heard from our social communities and several Sprout customers who have felt the weight of being a team of one. In the Social Marketers Exchange on Facebook, a member started a poll to learn more about the structure of other members' social media team and who manages their inbox. Turns out that 64% of the respondents do it all by themselves.
And if you're looking for even more solo social marketer solidarity, look no further than this Twitter thread.
If you're part of a lean social team, then organization, automation and efficiency are key! Sprout Social can help boost your productivity, maximize your marketing impact and show real ROI to your bosses. Read on to learn more about Sprout features, tips and tricks that will make work feel a little easier.
Get creative when planning content
Content planning requires your attention and intention. There are a lot of social media managers out there that will post just to post, but on social, quality usually trumps quantity. Save yourself time and energy by planning value-rich content tailored for your audience and aligned with business objectives. Then, think about multiple ways to position and reuse that one piece of content, before spinning your wheels on an entirely new idea.
Making the most out of every resource is key. One way to extend the life of video content, for example, is to cut down longer clips into teasers or short, impactful snippets that can stand on their own. And when sharing blog content, write a variety of options for post copy that each tell a different part of the story, so it feels fresh and enticing each time you share.
According to the Sprout Social Index™ 2021, 50% of marketers feel they need more content creation skills to achieve their goals. For more advice, read "5 tips to make the most of remote content production."
Not every social post has to be content that you created. Curated third-party content creates a more nuanced and balanced feed and can fill any publishing gaps in your calendar. The Find Content tool, available in all Sprout plans, aggregates timely, engaging and relevant content that's been shared across social platforms. Filter by categories, themes and industries to instantly surface content that your audience will value. Once you find what you're looking for, just hit the "Send to Compose" button to add it to your Sprout Queue or Calendar.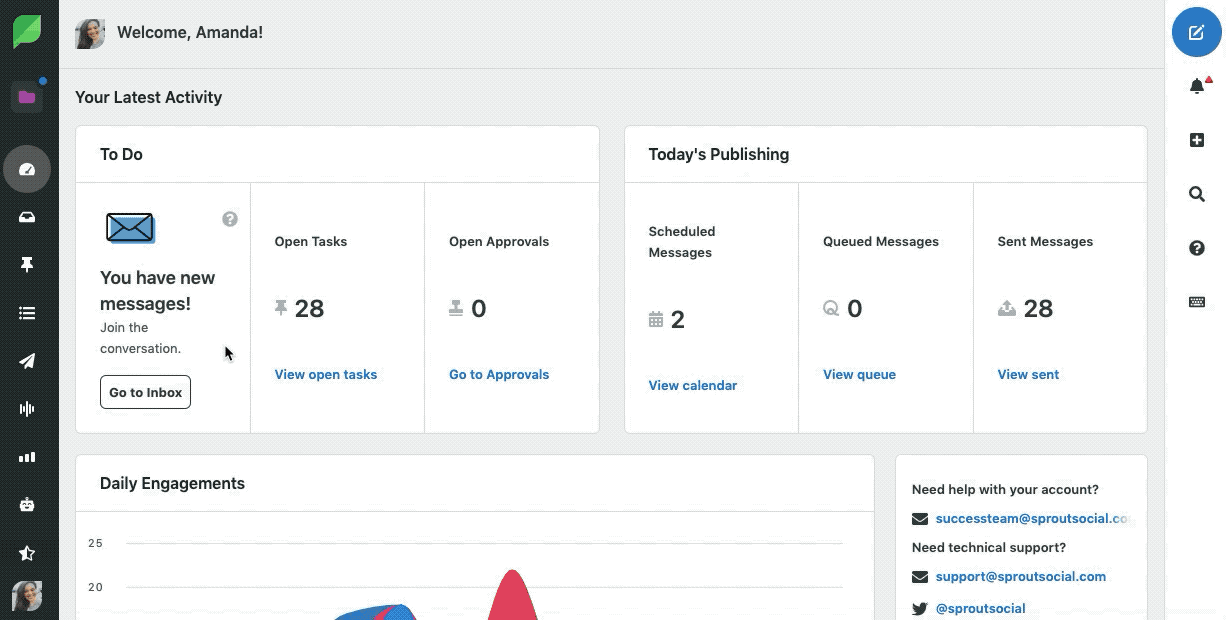 Compose yourself: Content scheduling made easy
Once you've got a tentative content plan, map it out, queue it up and bring it to life in Sprout's publishing suite.
Scheduling content can be relatively time consuming, but the Sprout content calendar can streamline the process. Here are few Sprout hacks right in the Compose window that speed up scheduling:
There are several different scheduling options. When you're posting the same content across channels, click "Schedule + Duplicate" and voila! A replica of the post will pop up which you can edit as necessary and tweak for different platforms. Or if you're just not ready to commit, save it as a draft in your calendar and come back to it later.
The Sprout Asset Library—available on Sprout's Advanced plans—can be a major, well…asset. Essentially, it's a bank of important, reusable content and brand assets. You can save everything from post templates, visual assets, groupings of brand hashtags, videos and more. Then, access them all in the Compose window.
Tagging your outgoing content will help you organize your posts and measure ROI down the road. Customize your tags so that they're aligned with campaign goals, content themes, creative asset types, your target audience and more. Then, in Compose, you can access a drop-down list of all your tags and add them directly to your posts.
Optimal Send Times powered by ViralPost®—available with Sprout's Professional and Advanced plans—automatically generates the best times for you to post based on your audience's activity and engagement patterns. Neat, huh?
Organizing and scheduling content ahead of time will free you up to create more timely content, engage with your audience and put out any fires, if necessary. Prep is also paramount if you want to make the most of your social data later.
Mission possible: Get to inbox zero
Monitoring the inbox and community management is a daily duty for solo social media managers.  These days, social media is one of the first places people will turn for customer service. Given that 44% of consumers will unfollow a brand on social if they receive subpar service, the stakes are relatively high. If the responsibility of providing customer service on social is yours alone, having a tool like Sprout's Smart Inbox can save you time and stress.
In Sprout's Smart Inbox, you can check messages off like a to-do list and file them away so they don't clutter your view. If messages require more attention or you're not sure what the right response is, you can assign it to yourself as a task, which puts a digital pin in it so you can mull it over or consult leadership about it.
You have a lot more to do than spend all day keeping one eye on your inbox, though. Enter your new best friend, Sprout's Inbox automations.
Even though social media is always on, you don't have to be. Sprout Bots can be your inbox coverage after quitting time, on weekends and during your busiest workdays. One of our customers let the Sprout Marketers Exchange know how valuable it's been for them. "We ended up adding it because we were getting a lot of negative reviews on Yelp, Google, Facebook, etc. and there just wasn't 24/7 staffing available to give one-on-one support. It has definitely helped alleviate a bunch of frustrated reviewers."
In the Bot Builder, you can customize a tree of conversation flows. Then, when users go to DM your brand the Bot will prompt them and manage the conversation until it's time to hand it off to you. Bots can focus on FAQ and basic customer service inquiries while you focus on the more difficult questions and comments that require a personalized response. It's a win-win for you and your customers.
River Island, a major international fashion retailer, has seen the results first-hand. The brand activated Sprout Bots in mid-April of 2020, and consequently, their chatbots provided nearly 10,000 auto-responses on the brand's behalf by the end of August.
When you're the only one monitoring your brand's social profiles, it can be a struggle to truly sign off at the end of the day. But with Sprout you can rest assured that important messages won't slip through the cracks. If a sudden influx of incoming messages hit your inbox, they will trigger Message Spike Alerts, which send an email or mobile push notification. Best case scenario, your raving fans are just stoked about your latest product release. But in the event that those messages are spurred on by a customer service issue or call-out culture knocking at your brand's front door, you won't be caught off-guard and can react quickly.
And finally, Inbox Rules provide additional support in catching the most important messages. Here are a few examples of some rules you should consider setting up:
Keyword-based rules: Get alerted when someone says a specific word or phrase. This can be really helpful in remaining on top of crisis management and customer service. For instance, if consumers have issues with online orders or are looking for a refund, set up rules with those keywords so you can provide efficient customer care.
VIP list rules: Add users to Sprout VIP lists so you never miss a message when they reach out. Or, if you're looking to identify potential brand ambassadors or influencers, you can set up a rule to get alerted when a user with a high follower count messages you.
Spam-blocking rules: Not every user on your VIP lists has to be a high priority. Avoid seeing spam content by adding repeat spammers to a VIP list and setting a rule to auto-complete messages from those users.
There is value in everything you do. Social data can prove it
 Demonstrating and proving the value of social media marketing efforts is one of the top challenges for marketers, and yet, only 23% use social data to measure ROI. It's time to embrace your inner data analyst.
Data analysis and reporting are crucial skills for social media managers. For teams of one looking to be more efficient with reporting, tag your content, add UTM parameters to your links and make the most of your social analytics tool. These steps will streamline the reporting process and help you more accurately represent the business impact of your work.
Sprout's Tag Report is a great way to track, test and validate campaign performance, the content themes and topics that resonate with your audience, which creative assets are engaged with most frequently and so much more. With those insights, you can be more intentional about what content you spend your time creating and you can build a stronger social strategy.
Naturally, when people think ROI, they follow the money. However, with organic social, the return is more than just financial. As a social media manager, you probably know your brand's audience better than anyone else. That is a HUGE asset.
Follower count might often be called a vanity metric, but growing your social following directly supports your business' revenue and overall marketing goals. Just look at the actions consumers take when they follow a brand on social media.
When you have a full understanding of top business goals and Sprout's robust analytics suite, you'll be more equipped to efficiently report on the most important social media KPIs for each stage of the funnel. Plus, Sprout reports generate presentation-ready, exportable data visualizations that will help you paint a picture of your successes for leadership.
Need a little help identifying those KPIs? We've got you covered. Check out our free Social Media Metrics Map.
Your time is money, so start saving it
When it seems like you have a million things to accomplish in a day, it can be hard to stay organized. Bouncing back and forth from one task to another can be a real time-suck.
Whether you're on a small social team or it's just you, your time is money. Sprout's content calendar, automation tools and reporting options help give you time back, so you can do more in your day—and maybe even log off at a reasonable hour and sleep better at night.
A social team of one's work can disrupt their real social life if they don't have the right tools. Stay organized, improve efficiency and maximize your impact while maintaining a work-life balance. Start your free trial today!