Facebook Analytics
Facebook Analytics: A Guide to Facebook Insights
Reading time 8 minutes
Published on August 1, 2023
Facebook is a preferred social network by marketers, not only because of the sheer number of users represented but also because of its analytics capabilities. Increased exposure, engagement and leads are some of the reasons why marketers use the network.
But combing through a sea of metrics if you don't know how or where to start can be solved through analytics reporting.
While Meta discontinued native Facebook Analytics on June 20, 2021, there are other effective tools for Facebook data reporting.
This article explains what Facebook analytics are, why they're important, and the best tools and tips for tracking your Facebook data.
Here's what you're going to learn in this guide:
What are Facebook analytics?
Facebook analytics are the metrics you need to track your brand's performance on the platform. This data provides insights into your audience details, content effectiveness, Page performance, and the overall impact of your Facebook marketing efforts.
By evaluating Facebook metrics such as Likes, comments, Page views, and shares, you get valuable information on how to enhance your marketing strategy and user experience.
With Facebook analytics data, brands can track the customer journey and identify ways to reach their audiences more effectively. This allows brands to make better-informed decisions that drive business growth. We'll cover how that is in the following sections.
Why are Facebook analytics data important?
According to the Sprout Social Index™, 71% of consumers will spend more time on Facebook. Despite the increased popularity of new apps or social platforms, Facebook clearly has staying power with consumers. While it's exciting to move on to new platforms or content types, it's equally important to stay engaged with your audience where they are, as well.
But your efforts shouldn't end at "showing up."
You need to check the effectiveness of your Facebook marketing strategy and track your Facebook data.
Facebook analysis matters because it allows you to:
1. Analyze your competitors
The Facebook Insights data attached to your Facebook Business Page will provide you with a wealth of information, but it's a good idea to start your Facebook analysis by looking at your competitors. Competitor analysis is necessary to understand what content interests your target customers. Facebook insights allow you to see what others are doing (for better or worse) and how you can leverage it for your strategy.
Track key metrics to benchmark your Facebook page against competitor brands. Gather information about them, including the social networks they use, the size of their following, how often they post and what their engagement numbers are like. This information allows you to create content and campaigns that resonate better with your target market.
2. Monitor your Facebook Page performance
It's not enough to batch content and post. You need feedback on what works and what doesn't to optimize your marketing plan. Once you've gathered all your data, it's time to dive into the numbers. It's best to divide this into two different parts. First, we'll take a look at page-level metrics, then we'll go over analyzing individual post-performance.
While there are a ton of metrics you can look at, we've trimmed the list down to some key metrics we feel indicate strong content and a successful social strategy. You also have the option to audit your Facebook page to discover opportunities for improvement as well.
Facebook Likes: Whether it's Lifetime Likes, Daily New Likes vs. Daily New Unlikes, or Where Your Page Likes Happen, check these different metrics in the Facebook Page Manager Insights tool. Comparing these data points identifies specific posts that resonate with your followers. Check what's consistent about these posts: is it the use of imagery, the subject in the visuals, the captions, the tone in the captions, long-form versus short-form? Use these to measure moments of engagement.
Facebook Page reach: Reach refers to the number of people who saw and/or interacted with your posts, and it includes negative interactions, such as hiding posts or reporting posts for offensive content.
Facebook Page engagement: Engaged users refer to the number of people who clicked anywhere in your post, without generating a story, plus the number of unique people who created a story about your Page post. This is a great metric to increase because it means people are creating their own unique stories about your posts.
Video stats: How users interact with it with your video content should be an indicator of your video strategies. Check Facebook analytics for Total Video views, Daily Total Number of Times a Video Has Been Seen Again, and Daily 30-second Total Views. All three of these Facebook video analytics will show how often and how long your content has been viewed. These metrics are useful in understanding whether or not your content was interesting enough to warrant more than a cursory glance.
3. Track your Facebook post performance
When looking at the performance of individual posts, we're going to analyze both reach and engagement metrics. Here's a breakdown of what each includes:
Post Reach shares basic post statistics like impressions, engaged users, consumption and video views. According to Facebook, "Post reach is the number of (unique) people who have seen your post. Your post counts as reaching someone when it's shown in their News Feed."
The number of impressions is similar to reach but instead refers to the total views of the post. Of course, both metrics are important to focus on increasing, as the more people you reach, the more potential customers there are seeing your posts.
Post Engagement shares basic engagement stats like engaged users, consumption and negative feedback. There are three primary ways people engage with your posts: Comment, Likes or Reactions, and Shares.
Analyzing these metrics will help you determine which posts resonated best with your audience. Once you know which posts worked, take what you can from them to duplicate this success.
4. Assess your Facebook marketing strategy
By analyzing Facebook metrics, you can understand the effectiveness of your marketing efforts. Your data report provides information about the content topics and formats your audience likes.
This data helps you refine your Facebook marketing strategy and content plan, so you can find ways to maximize your return on investment (ROI).
4 Facebook analytics tools you can still use
Although Meta has sunset its Facebook Analytics feature, there are more effective tools available to marketers to track their Facebook data.
We've narrowed down your search and found four of the best Facebook analytics tools you can use:
Meta Business Suite
Meta Business Suite (also known as Facebook Business Manager) is a free tool that allows you to manage your Facebook and Instagram profiles and ad accounts in a single dashboard. It offers access to your business activities, multiple Pages, insights, Ads Manager and goal tracking.
Business Suite also includes Creator Studio's features so you can perform activities like content scheduling and centralized messaging.
Key features:
Ads management and retargeting
Inbox automation
Post scheduling
Analytics reporting
User roles and permissions
Creator Studio
Creator Studio is another free tool for marketers to manage their Facebook and Instagram accounts. It has features to publish, schedule, monetize and measure content across your accounts. With its robust dashboard, you can monitor your content performance, profile growth, and data insights in one place.
Key features:
Calendar planner
Content scheduler
Monetization plans
Ads monitoring
Insights
Facebook Audience Insights
Facebook Audience Insights is a free analytics tool that shows marketers aggregated data on their audiences, user behavior and post performance. You can view this information based on three groups: people connected to your Page or event, the general Facebook audience or people in your previously created custom audiences. This data helps you learn more about your target customers and how to reach them effectively.
Key features:
Page metrics overview
Audience demographics
Audience behavior and lifestyle
User location and language
Past purchase behavior
Sprout Social
Sprout Social is a social media management tool that integrates with Facebook, Instagram and other social media platforms. With its user-centric social media analytics and reporting tools, it streamlines how you evaluate your data, export custom reports and optimize your strategy for better ROI.
More than Page and post metrics, Sprout provides seamless tools for social listening, competitor analysis and content reporting. You can manage your messages in one place and schedule content across multiple profiles in a single intuitive dashboard.
Key features:
Smart Inbox for unified messaging
Competitor analysis
Cross-network content scheduling
Social listening
Social engagement measurement
Chatbot automation
Trending topic identification
Built-in approval workflows for compliance and collaboration
How to access analytics with Facebook Insights
Facebook is a social media powerhouse. And with the interface changes to Meta Business Suite, it can be overwhelming to navigate to or manage your Facebook analytics.
If you have a Facebook Business Page, you can access your Facebook Insights natively by following these steps:
Step 1. Log into your account. If you're using a desktop, select Pages from the left-hand navigation menu.
Step 2. Select the Page you wish to measure analytics for and select Insights from the list.
Step 3. Navigate to the Facebook analytics categories you want to gain insight.
With the native Facebook Insights dashboard, you get instant access to a wealth of analytics data. With Facebook Insights, you can track:
Page Overview/Performance: You see a list of metrics that shows you how well your page is performing during the prior 7, 14, 28 or 90 day period. This overview performance includes post reach, engagement, new page likes, new followers and video views by 3-second or 1-minute intervals.
Reels Page Insights: Reels are short-form videos that allow marketers to build an engaged audience. You can check reel metrics such as reach, plays, likes, shares, average minutes, and minutes viewed, and measure what resonates with your target audiences.
Post Insights: To see how well your content aligns with your audience, you need to analyze your posts. Monitor Facebook metrics like impressions, engagement, reactions, comments and reach.
Follower Insights: Facebook Insights dashboard shares valuable information about your audience base. View your follower demographics analytics such as age and gender, the top countries and cities, and how many of them engage with your content compared to non-followers. This way, you can share more targeted content.
Here's something you should note:
While it's necessary to perform Facebook data analysis, it's important to first identify your core metrics. Once you know these key performance indicators (KPIs), you can then examine your data to identify patterns and track growth.
How to track Facebook analytics with Sprout Social
While reporting tools give you insights into your Facebook data, not many simplify it enough for you to understand.
Sprout is a comprehensive social media management tool that streamlines anyFacebook analysis and reporting. Its Facebook analytics and reporting tools aggregates your data for intuitive interpretation. Its dashboard displays your metrics in visual forms using tables, graphs and charts. And you can export this data as personalized reports to share with managers and leadership.
Content evaluation is necessary to know what your audience engages with. View your individual content performance and identify high-performing campaigns in Sprout.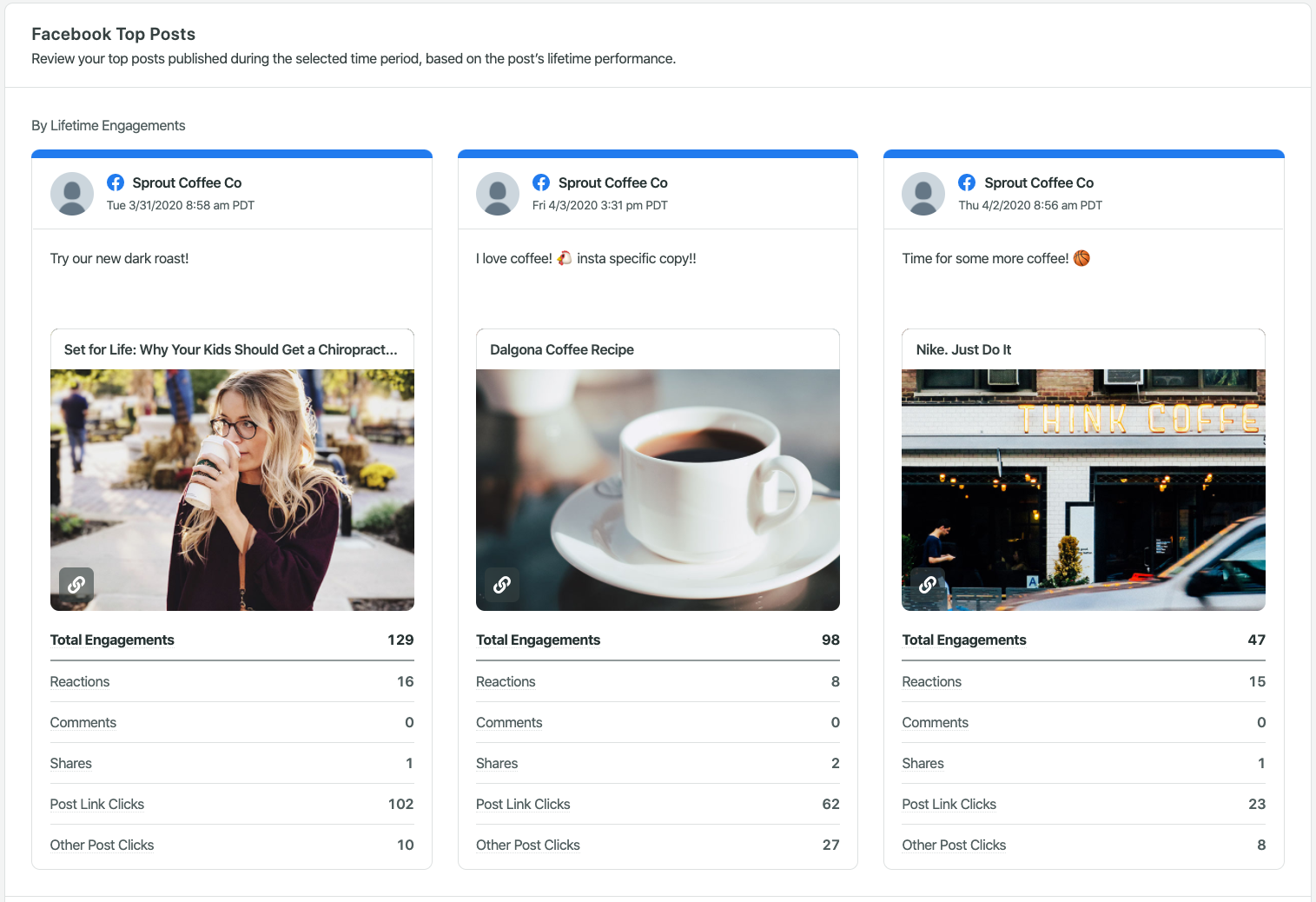 If you want better metrics, you need better strategies. And one such strategy is engaging with your audience.
The Smart Inbox is one of Sprout's features to improve engagement with your audience. The Smart Inbox condenses all your messages across multiple profiles and channels into a centralized inbox where you can engage with your audience's posts and comments.
With Sprout, you can quickly run a Facebook competitor analysis report that gives you insights into your competitors' campaigns, audience growth and engagement rate in relation to your own. When you analyze your account in comparison to your competitors, you quickly find opportunities for growth.
Improve performance with Facebook analytics insights
Facebook analytics hold a plethora of insights into the effectiveness of your marketing strategies.
By leveraging this data, you can better optimize your campaigns that cater better to your customers' interests. When you analyze Facebook data, you can strategically find ways to increased exposure and revenue for your brand.
Learn how to create Facebook reports with Sprout Social that'll help you measure performance and increase conversions.</section
Facebook Analytics FAQs
How do I see my Facebook analytics?

You can use the three native tools listed above—Meta Business Suite, Creator Studio and Facebook Audience Insights. Even better, you can use a social media management tool like Sprout Social.
What does Facebook analytics show?

Facebook analytics are a wide range of metrics that fall under these categories: Page Performance, Reels Post Insights, Post Insights and Follower Insights.
What is Facebook Analytics called now?

Meta sunset Facebook Analytics and renamed it to Facebook Insights. You can access it when you log into your account > choose Pages from the left menu > select your preferred page > click Insights.
Additional resources for Facebook Analytics