Introducing Bambu's All-New App for iOS and Android
The average employee wants to be more involved in your business. In fact, nearly 3 in 4 employees want their company to keep them updated about what's happening with the brand. There's no better way to ensure employees have access to consume and share important business information than giving it to them in the palm of their hands.
Today we're excited to announce the launch of Bambu by Sprout Social's new apps for iOS and Android, now available in the App Store and Google Play Store.
The app has re-imagined our core web app for employees to make it easier to consume and share content on their social networks—no matter where they are.
Quick Access To Important Curated Content
In addition to launching the apps, we've completely revamped our story feed to complement the mobile app experience. Featured stories are displayed and highlighted prominently at the top of the feed. Users can easily scroll through content that has been curated and targeted specifically for them by the administrators within an organization.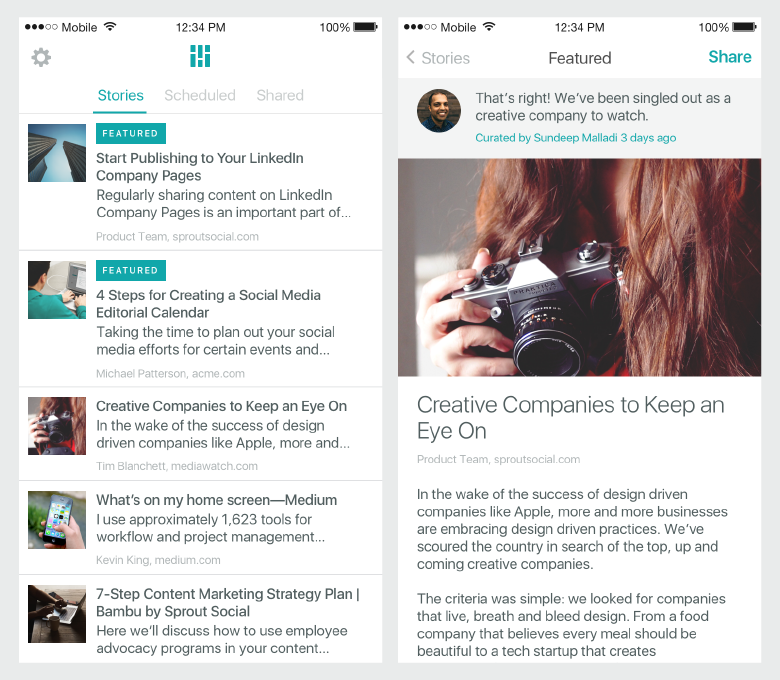 Easily Consume Content Anywhere
Individual stories are formatted beautifully for mobile reading. Context is critical for engaging your employees, so internal notes from content curators set the context for why this story is relevant / important and stay with you while you scroll through the entire story.
Quickly Share & Schedule Content
Multiple pre-approved post text suggestions make it easy to share content immediately to Twitter, Facebook and LinkedIn. The custom post field gives employees the option to create social posts that reflect their true voice—and it's easy to schedule posts in advance with intuitive scheduling options.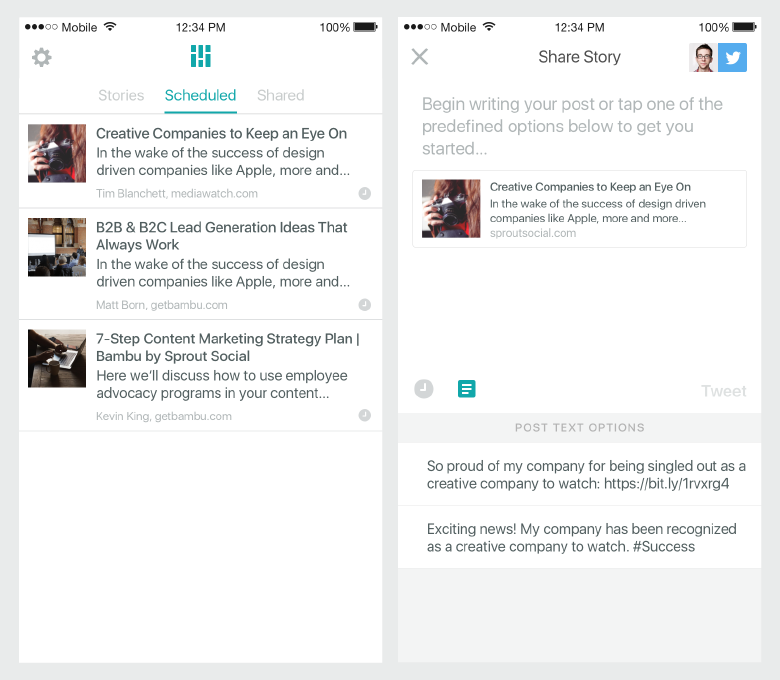 On-Demand Push Notifications
On-demand push notifications ensure content reaches your employees immediately. Content managers can send broadcast notifications whenever important information needs to be distributed quickly. Plus, email digests will trigger a push notification based on a schedule the user sets on their own.
At Sprout Social, we are determined to create tools that help make employee advocacy and engagement programs a must have for organizational success. Addressing the recurring needs around employee communication means solving common business problems: easily facilitating employee engagement and education and making the consumption and distribution of business content be appealing and accessible.
Let us know what you think! Comment below or reach out to us on Twitter with any questions. In the meantime, stay tuned for more updates to our advocacy tools coming soon.
To learn more about Bambu feature enhancements and how they can benefit your organization, request a demo or free evaluation today.