How to schedule Instagram posts: Your complete guide for 2023
Do you know how to schedule Instagram posts? If not, it's time to learn.
Learning how to schedule Instagram posts in advance helps free up your social media team to do other important tasks, like strategy building, content creation, community engagement and more.
Throughout this article, we're going to talk about the different ways you can schedule your Instagram content, the benefits for doing so and a few great scheduling tools to keep in your arsenal.
Table of contents:
How to schedule Instagram posts from the Instagram app
After years of users asking for it, Instagram finally added in-app scheduling near the end of 2022. Users are able to schedule up to 25 posts per day and up to 75 days in advance. Keep in mind, only business profiles have access to this feature. Personal profiles are unable to schedule content.
Follow these steps to get started:
Step 1: Open your Instagram app and tap the + at the bottom of the screen or swipe the home feed to the right to create a new piece of content.
Step 2: Select Post or Reel, depending on the type of content you're creating.
Step 3: Either take a photo or record a video using the in-app camera or upload one from your camera roll.
Step 4: Add any stickers, effects, etc., then add your caption.
Step 5: Tap Advanced Settings at the bottom of the screen.
Step 6: Toggle the Schedule this post option on, then select your preferred date and time from the menu that appears.
Step 7: Go back to the previous screen and tap Schedule.
How to schedule Instagram posts from Meta Business Suite
You can also use the Meta Business Suite to schedule your Instagram content. First, connect your Instagram Business Account to your Facebook Page so you can access both from the Meta Business Suite.
Then follow these steps:
Step 1: In Meta Business Suite, click Create post or Create reel.
Step 2: Specify which Instagram account you want to share your post or reel to. It may also include your Facebook Page—it's up to you whether you also want it to post to your Facebook Page or only to Instagram.
Step 3: Upload your media, then write out your caption. Be sure to include your mentions and hashtags (you can even save hashtags to reuse in your content). You can even geotag a location if you wish.
Step 4: Toggle the Set date and time option on, then select your preferred date and time. Click Active times to access a popup showcasing some of the upcoming times that your audience is active.
Step 5: Once you've selected your time, click Save then click Schedule.
How to schedule Instagram posts using Sprout Social
Scheduling Instagram posts natively is straightforward, but how about when you have a larger social strategy across multiple platforms to plan and schedule?
With a dedicated social media publishing tool like Sprout, you can do so much more. Cross-posting. Team collaboration and permissions. In-depth analytics. The list goes on.
We make it so easy to upload to your feed, add a Carousel or Story imagery, finalize your content and schedule it whether you're on desktop or mobile.
Below is a precise, step-by-step process of how to schedule Instagram posts on Sprout.
Step 1: Open your Sprout Social calendar
The first thing you need to do is open Sprout Social to the calendar menu. You can view this as a list, week or monthly calendar. Next, it's time to choose the image(s) or video to post. If you're not 100% sure what you should publish, check out our in-depth guide on Instagram post ideas.
Step 2: Compose your Instagram post
Click the pencil/paper icon in the top right corner of your screen. Choose your Instagram account to get started composing your new Instagram post.
Upload your photo or video, input your caption and hashtags, tag users and more.
Step 3: Select your preferred date and time
Scroll down in the Compose interface to the When to post section. Choose your preferred date and time—or select the Optimal Send Times option to see when Sprout Social says your audience is most likely to see your content.
Step 4: Stage your post for scheduling
After your content is edited and approved, you can click Schedule to add it to your calendar, or move the post to Draft, Queue or Submit for Approval. Let's take a look at each option:
Schedule: Use the schedule feature when you want to publish your Instagram posts at a specific time. This is great for when you're launching an Instagram contest and want the post to go live right when it starts. It's also helpful if you're scheduling an Instagram post as a part of a larger campaign, and need content to go out at a specific time of the day. Plan finished content for the future and see your scheduled posts in Sprout's Publishing Calendar.
Draft: Not sure if your post is ready to go live quite yet? Want to create multiple "backup" Instagram posts for the future? Draft is a great spot to park your unfinished content or items that still need approval.
Queue: The Sprout Queue is ideal for edited posts ready to go live—especially if you're not sure when to post your content. When you queue your Instagram posts, Sprout picks the best time to publish within the window you specify.
Submit for Approval: Choosing an approver ensures your content is properly edited, grammatically correct, timely and on-brand. Select specific approvers to review your content before it goes live.
Benefits of scheduling Instagram posts
Businesses have begged for scheduling features on Instagram for years. But why are so many marketers eager to queue up their content? Below are some of the biggest benefits of scheduled Instagram posts.
1. Develop a more comprehensive content strategy
Food for thought: Different types of content (think: carousels, images, Stories and Reels) all receive different rates of engagement. This means brands need to diversify their content strategies and not just post the same type of content over and over.
When you schedule posts on Instagram, you give yourself time to actually assess your content calendar.
And when you don't have to rush to publish Instagram posts, you have time to gather the various assets you need to create fresh, compelling content.
Want to spend a few days workshopping a storytelling post or editing a video? No problem.
2. Free up your schedule to interact more with followers
If nothing else, scheduling Instagram posts can free up some serious time in your schedule. That means more opportunities to interact with followers and reply to comments.
Even the best Instagram scheduler can't do the legwork of building relationships with customers. When you stick to a social media post scheduler consistently, you can dedicate more time to engagement.
3. Better time management means higher quality posts
Think about the effort that goes into any given post or campaign.
Writing captions. Tweaking images. Tagging. And that doesn't even scratch the surface.
Writing Instagram posts last-minute is a recipe for burnout. By scheduling posts on Instagram, you can batch your time appropriately and craft more meaningful posts.
4. Create seamless marketing campaigns beyond Instagram
Your social media campaigns shouldn't be siloed.
From organic and paid social to email and beyond, all of your channels should be on the same page in terms of creatives, landing pages and promotions. This creates a better customer experience.
Through social scheduling, you ensure that your posts fire off at the right time. If you're using a social media management tool such as Sprout Social, you can actually sync all of your social channels (think: Instagram, Facebook and Pinterest) so you don't have to publish manually or in real-time.
5. Encourage collaboration and brainstorming
Again, scheduling encourages brands to begin working on posts well in advance.
This means marketers and colleagues have time to hash out the best captions and creative assets.
Useful for both social teams and marketers looking for feedback from clients or influencers, collaboration and Instagram scheduling go hand in hand. Coupled with a social media approval process, it's a cinch to get multiple sets of eyes on your content before it goes live.
Tips for scheduling posts on Instagram
We'll say it again: You can't just queue up your posts months or weeks in advance and expect your Instagram to grow on autopilot.
Below are some key considerations for brands looking to leverage Instagram scheduling for the first time.
1. Optimize your post timing to maximize engagement
A nice added bonus of scheduling is that your business isn't beholden to "business hours."
Based on our research on best times to post on Instagram, there's a correlation between time of day and engagement:
Although these numbers aren't the be-all, end-all of follower activity and vary based on your time zone, they're eye-opening in terms of when the average Instagram user is active:
Marketers using Sprout social as their Instagram scheduler can increase engagement with our ViralPost algorithm that optimizes post timing. Rather than guess or decide when to post via trial and error, you'll know exactly when to post, based on real follower engagement data.
2. Take extra care when crafting your captions
It's no secret that Instagram captions represent valuable real estate when it comes to engagement.
They shouldn't be treated as an afterthought. For each post, consider:
Which hashtags are you using? How many? Are they in your first comment (see below)?
Do you need to tag any accounts?
Did you write an appropriate call-to-action?
How does this caption compare to your most recent one(s)?
Much like your content strategy needs to be diverse, the same rings true for your Instagram captions.
When you schedule posts in advance, you have time to put your captions under the microscope and ensure there's some variety. Likewise, you can confirm that you're using the right hashtags and aren't missing any key details before your post goes live.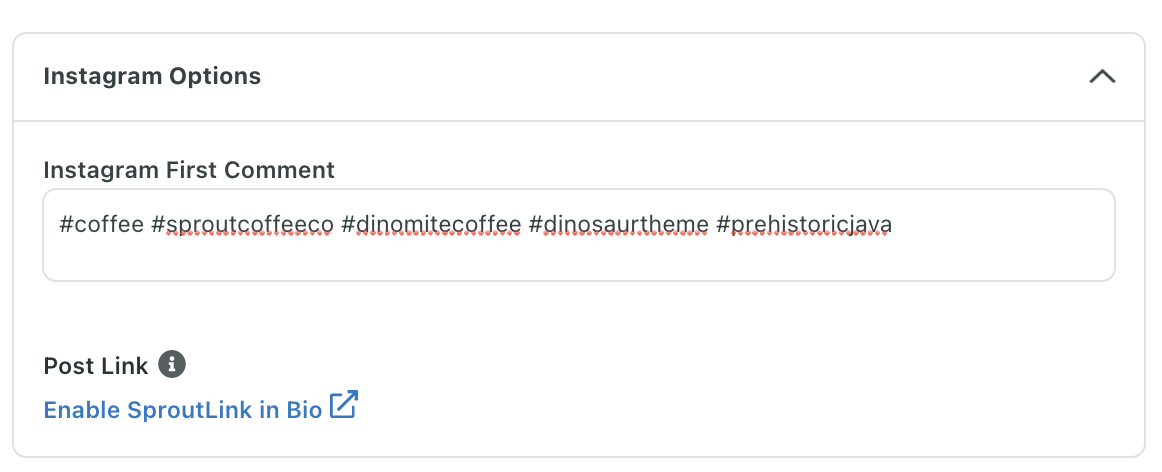 3. Keep a close eye on your content calendar
Piggybacking on the point above, scheduling based on a defined content calendar encourages both variety and consistency in terms of your posts.
As you queue up your posts, ask yourself:
Are we hitting the appropriate publishing frequency (think: daily, four times a week)?
Is there enough variation in our content schedule (think: video versus carousel versus photo)?
How are we promoting this content to encourage engagement (think: Stories, questions in CTA)?
Are there opportunities to cross-post this content to other networks (like Facebook)?
Have the appropriate stakeholders reviewed this post before it goes live?
The answers to all of the above ensure more thoughtful, goal-driven posts that are poised to perform well. Below is a quick snapshot of what a content calendar looks like in the Sprout app:
4. Block off time to engage with customers
Despite popular belief, scheduling Instagram posts doesn't make your presence more "passive."
Quite the opposite, honestly.
Yet again, scheduling frees up your schedule to interact with customers in real-time.
Mind your notifications and make sure your comment section never gathers cobwebs. Be proactive and make a point to respond to social customers ASAP for the sake of satisfaction and loyalty.
5. Know when to hit "pause" on your scheduling
Whether due to a brand emergency or a bigger crisis management effort, sometimes you need to put a stop to your scheduled content.
Failure to do so could come off as insensitive or result in otherwise poor engagement when your followers' minds are elsewhere. For example, publishing promotional content during certain holidays, on somber occasions or in the wake of tragedies is not the best for your brand's reputation.
This speaks to how Instagram scheduling is so much more than putting your brand on autopilot. As a side note, Sprout has built-in features to pause scheduled posts and resume them when the time is right.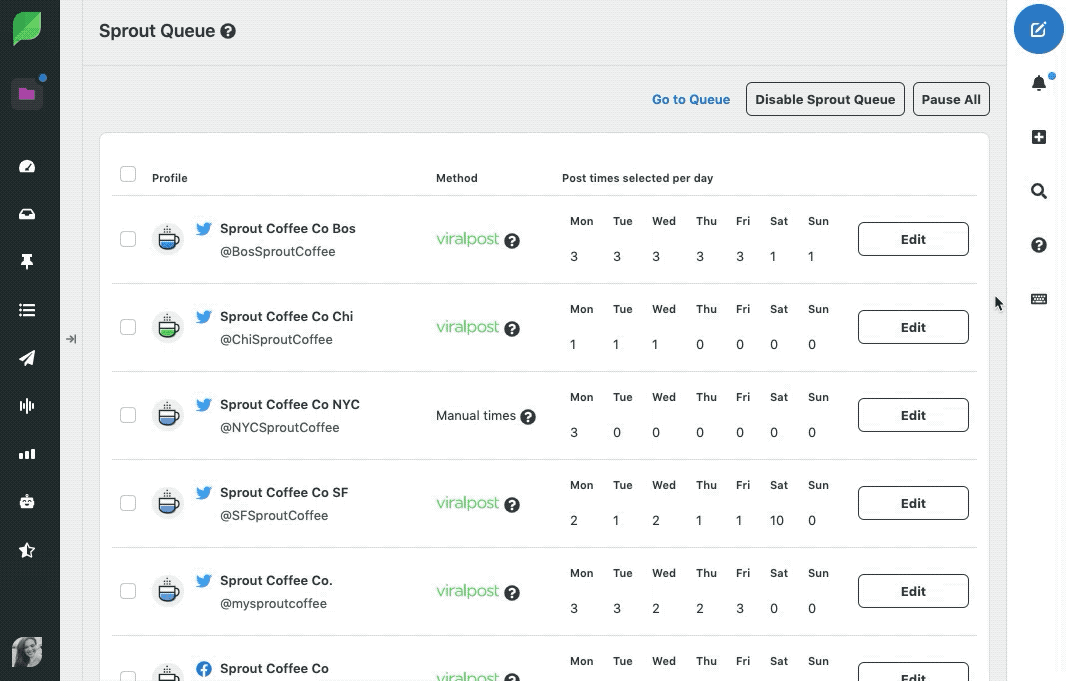 Instagram scheduling tools to use
Third-party tools can make Instagram scheduling even easier than the in-app tool. Additional apps allow you to schedule content to multiple social media platforms at once, have additional features and can help with your overall social media management, from automation to analytics. Here are three tools you might consider.
Sprout Social
Sprout Social's Instagram scheduling tool is a great option to consider when looking to schedule social media content ahead of time. Not only can you schedule content on a number of platforms—Facebook, X (formerly Twitter), Pinterest, YouTube and more—but you can also get access to optimal scheduling times, create a collaborative process with your team and analyze your post performance.
Meet Edgar
Meet Edgar is an automated scheduling tool. The way this software works is you'll upload your Instagram post creative and set a category, then the automation creates various content and schedules it for you. Essentially, Meet Edgar makes sure you never run out of content, even when you haven't scheduled anything new.
SocialBee
SocialBee is another great scheduling tool, this time with an AI generation feature. With SocialBee, you can let AI generate your captions for you, making your strategy more efficient. Upload your visuals and let the AI take over from there, crafting your caption and scheduling your post.
Learn how to schedule posts on Instagram today
If you want to build a better Instagram presence and free up more time in your busy day, you need to start scheduling.
Doing so might seem simple, but making the most of Instagram scheduling means understanding the key details of any given post and how to best engage followers. With the tips above and a tool like Sprout, you can create a compelling content calendar that does exactly that.