The A to Z of Instagram Insights
Nearly 6 in 10 consumers follow brands on Instagram, and almost half want brands to use the platform more. As video and image-based content continue to reign on social, smart marketers must dig into their data to make the most of their IG efforts.
In this interactive A to Z guide, we'll show you how to use Instagram insights to connect with your audience, refine your strategy and elevate your brand.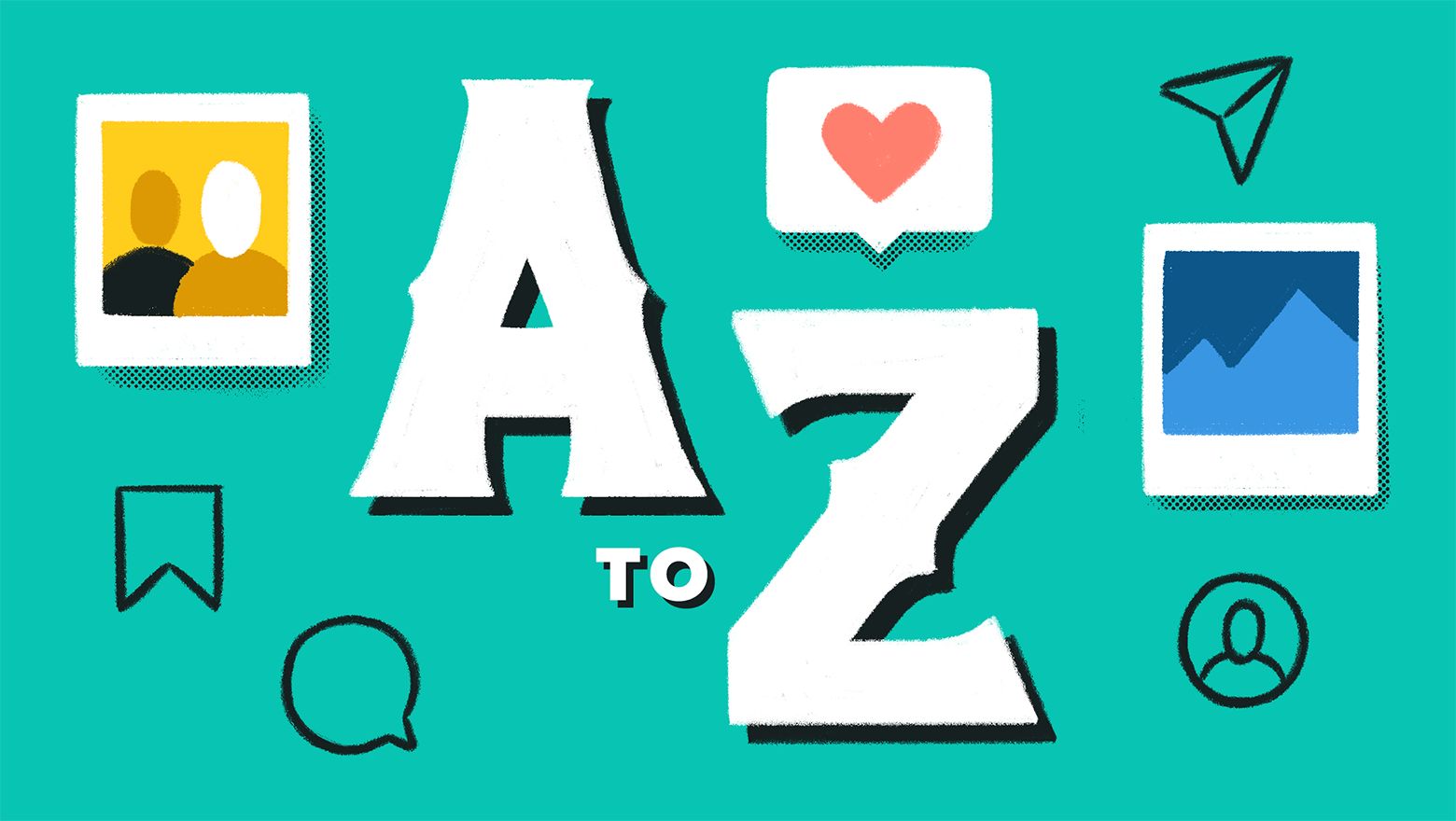 Algorithm

Algorithms might seem mysterious, but in reality, they're just a method of sorting posts by relevance to the end user. Social media networks are constantly tweaking their algorithms to improve the user experience and increase stickiness. Unfortunately, these changes can sometimes shake up your performance.

If it suddenly feels like the Instagram algorithm is out to get you, review your past few monthly reports. If you're posting at the same frequency and with the same content mix, it may be time to adjust your strategy.

Behavior

You've heard the saying: Consistency is key. On Instagram, this is especially true. The more often you post, the more likely you are to yield a higher engagement rate. Your publishing behavior is a critical piece of your Instagram analytics puzzle.

Recording how often you post photos, videos and carousels on Instagram can provide key insights on the publishing volume required to meet your goals. Sprout users can find this data in the Instagram Business Profiles Report, under Publishing Behavior.

Competitors

Understanding how your brand stacks up against its competitors on Instagram can inform strategy and creative decisions. The best part? There are metric-based alternatives to creeping their feed whenever you get a chance.

In Sprout, the Instagram Competitors Report can help you track metrics for any Instagram Business Profile and compare them against your own. Competitor averages are also recorded so you can track how your brand performs compared to the industry as a whole.

Direct Messages

Engagement

Instagram engagement is the gift that keeps on giving. The more people interact with your content, the more likely it will continue to show up in their feeds. Use your Instagram insights to identify the posts that are resonating with your audience, so you can reap more of these benefits in the future.

Just remember to take your reporting beyond likes and comments. Track metrics like saved posts, story replies and engagement rate to identify what type of content is motivating your audience to join the conversation.

Followers

Don't let anyone tell you that follower count is a vanity metric. In reality, consumers are 90% more likely to buy from a brand they follow on social.

You could record how many followers your brand profile has at the end of each month, but this can create an incomplete picture of audience growth. For a more comprehensive view of how your audience is evolving, you'll want to track both followers gained and followers lost. This gives a more accurate understanding of what's attracting people to your brand, and what might be pushing them away.

Growth Strategy

No one is reporting for the sake of it. At the end of the day, your data should inform your growth strategy. To look at your performance through the eyes of a data analyst, use your Instagram insights to make predictions on how success can be repeated or amplified in the future.

These will guide you toward stronger, more informed decisions for your Instagram strategy.

Pro Tip: If you're using Sprout's Report Builder, you can use the Text Asset feature to weave this analysis into your monthly reports.

Hashtags

Hashtags play a vital role in connecting with your audiences on Instagram. However, an effective Instagram hashtag strategy is more than just adding a string of keywords to the end of your caption. If they're not used intentionally, then they're just clutter.

For better results, use a hashtag analytics tool to identify which hashtags are best aligned with your marketing goals. Soon, you'll be able to spot growing hashtags that will increase the discoverability of your content with the right audience.

Impressions

Impressions measure the number of times your Instagram users see your content. This awareness metric is often confused with reach, which is the total number of people who see your content. If your Instagram impressions are higher than your reach, it could mean people are checking out your content multiple times.

Eighty percent of consumers say that brand familiarity makes them more likely to buy on social. If you use Instagram's shopping features, track impressions alongside sales to determine how brand awareness impacts your social commerce strategy.

Journey

Instagram is way more than an awareness channel. You can create Instagram content to support every stage of your customer journey. All you have to do is find the right content mix.

Use this social media metrics map as a tool to come up with content pillars that support the end-to-end customer journey. Once you've baked journey-specific content into your Instagram strategy, you can report on each stage using Sprout's Tagging feature. Eventually, you'll be able to identify what types of content resonate best with each audience.

Know Your Audience

Your audience's preferences are constantly evolving. Getting to know them is an ongoing commitment. Routine reviews of your content performance can help you stay acquainted with your followers and fans.

Sprout's Post Performance Report can surface individual posts ranked by performance. Use it to identify common threads between your highest-performing content. Do videos outperform photos? Is timely, pop culture-related content making the biggest impact? Identifying these trends can help you brainstorm new content ideas that riff on what's worked before.

Link Clicks

Link clicks are a popular conversion metric across all social media networks, but on Instagram, they're handled a little differently. Instagram posts don't support links. The only place you can use one is in your bio.

That doesn't mean you should automatically use it to link to your website's home page. A link in bio tool (like SproutLink) can help you drive traffic to specific pages of your website that correspond with your Instagram content. Best of all, you can then dig into pageviews and post-click data to identify top-performing content.

Moment

Trend-jacking content (or content that's of the "moment," if you will) is an important part of any Instagram content strategy. However, moments are constantly happening online and IRL. Staying up to date on the timely trends that make sense for your brand can feel like a job in itself.

Social listening can help you speed up your vetting process. Next time you spot a hot topic, try conducting a social listening analysis to learn more about what's driving the conversation and how people feel about it. You may find that the opportunity is worth rearranging your scheduled content for.

New Initiatives

The most intimidating part of any new initiative is getting started. Whether you're planning a social media contest or crafting a new paid strategy, outlining the steps needed for success can be daunting. Take nerves out of the equation by backing up your decisions with Instagram insights.

Your Instagram analytics hold the key to making smarter choices from pitch to execution. Plan your strategy by assessing what content has been performing organically. You may notice critical trends in the copy or creative assets that can preemptively set your new initiative up for success.

Organic Growth

When it comes to consistent organic growth on Instagram, the journey is the destination. Your strategy needs to evolve alongside the network, so the work is never done. That's what makes it fun.

Still, it can be frustrating when what's worked in the past suddenly starts to fall short. Instagram is constantly introducing new features that impact how the algorithm ranks your content. If you're noticing a decline in performance, here are a few organic growth strategies you can try to get back on track.

Paid Metrics

Paid advertising can help round out your organic Instagram strategy by speeding up time to insights. With Instagram ads, you can circumvent the algorithm to reach those directly within your target audience.

Use your organic performance to inform your paid ad strategy. If a piece of content lands particularly well on its own, it's more likely to hook new audiences when served as an ad. As you continue refining your strategy, you'll soon have enough data to establish a feedback loop that benefits your organic and paid performance.

Quarterly Audits

Quarterly Instagram audits are like strategic tune-ups. They create regular opportunities to look at your Instagram presence so you can see what might be helping or hurting your strategy.

You can audit your profile, your followers or your branding, but for now, we're going to focus on your Instagram analytics set up. As you look through your reports, review them from an outsiders perspective. Do they tell a clear story? Do they lead with the most important insights?

Real-Time Campaign Insights

Who wouldn't want to fine-tune their social media campaign strategy while it's still in motion? With real-time Instagram campaign analytics, you can pinpoint what's working faster to guarantee a better end result.

Sprout's Campaign Planner lets you quickly identify your best-performing content so you can quickly determine what's best supporting your campaign goals. Use it in tandem with the Tag Performance Report for deep insights on the overall effectiveness of your Instagram campaigns.

Stories

Instagram Stories are a great way to engage your audience with new content themes and visuals. You may not be able to comment on them, but luckily, they still provide plenty of data to analyze.

Use taps, exits and replies to uncover insights into your audience's content preferences. If a story has people tapping backward to reply, that content may deserve a spot on your grid. To find more information on your Stories performance in Sprout, check out the Instagram Business Profiles Report.

Testing, Testing, Testing

We're big fans of creative testing on social media, especially on Instagram. Testing can help you determine which copy and creative combinations best support your goals. It can also highlight which strategies might work beyond Instagram too.

If you have a burning question about what will strike a chord with your community, try conducting an A/B test. For conclusive results, be sure to design it around specific, measurable metrics. If you're conducting tests manually, here's a creative testing worksheet that can help you track your results.

User-generated content

User-generated content is critical to any social strategy, but it's non-negotiable on Instagram. The visual nature of the network creates endless options for content creation, from a simple photo to full-blown tutorials.

If you want to get the most out of your UGC efforts, use your Instagram analytics tool to learn more about what style of content drives the most engagement. Use that information to create content or a branded hashtag that encourages your fans to create content inspired by your campaign.

Video

Video can work wonders for your Instagram engagement rate. There's no magic or algorithmic sorcery to it. People just tend to look at videos longer than they might look at images.

Video metrics are a little different than other Instagram insights. While people can still like and comment on your Instagram videos, those KPIs only share a fraction of the story. To truly understand how your audience engages with your video content, keep an eye on view count (the number of people who have watched your video) and watch rate (how much time people spend watching your video).

When to Post

Even the best Instagram content can fall short if you post it at the wrong time. So, what are the best times to post on Instagram?

If you want to rely on benchmarks, our research found that the best times are Tuesdays from 11 a.m. to 2 p.m. and Monday through Friday at 11 a.m. But if you want to rely on your audience insights, you'll need an Instagram analytics tool. Sprout's ViralPost® drills down into how your posting time influences your social performance across networks to provide you with tailored recommendations on when to publish.

X-Factor

Think of your X-factor as the secret sauce that gets people excited to engage with your brand. The best part about it is, it doesn't even have to be a secret. With an Instagram analytics tool and some creative testing, you can identify and replicate it.

Next time a post overperforms, dissect what makes it unique. Does it ask a question? Does the creative stand out? Make a list of the possible reasons it blew up and then test each factor over a few weeks. As you monitor trends in engagement, you just might be able to turn your X-factor into your ol' faithful.

Your Brand

Instagram is the perfect place to showcase what sets your brand apart from the rest. You can also gather meaningful data on how your brand message resonates with your audience.

Track the performance of posts that further your stance as a brand. In Sprout, you can do this by creating a specific tag for brand awareness-related posts. As you gather data, you can compare how these posts perform against your usual Instagram content to figure out what's making an impact on your followers.

Zoom Out

Using your Instagram analytics to inform your Instagram strategy is great. Using it to inform your marketing strategy is even better.

When you look at your Instagram analytics, always think about how you can zoom out and apply your findings to the rest of your marketing strategy. How can you use what you've learned from your Instagram insights to support your content, email and website strategy? Sharing often and sharing proactively can help your whole team reach your goals together.