How to sell on Instagram: A guide for businesses (2023)
Selling on Instagram isn't as simple as posting product photos and calling it a day. If you want to turn your fans and followers into actual customers, you're going to need a strategy.
In this guide, we break down how to sell on Instagram, starting with the fundamentals and moving on to advanced Instagram selling strategies. You'll learn how to use Reels, Stories and other Instagram features to capture the attention of Instagram users and drive sales of your products.
Why businesses should sell products on Instagram
Not convinced Instagram is where you need to be? These three compelling reasons should be motivation enough to start selling products on Instagram:
People are researching products on Instagram
Because Instagram is a visual medium, it's no surprise that 70% of shoppers research products on the platform. Having a business profile is a good first step, but you'll also want a store that people can visit to research your products.
Younger consumers expect you to be on Instagram
When it comes to marketing to Gen Z, these younger consumers rely on Instagram to discover and engage with brands. And your presence (or lack thereof) on Instagram can have a big influence on Gen Z buying behaviors.
Your competitors are selling on Instagram
With more than 200 million businesses on Instagram, it's wise to assume your competitors are already selling products on the platform. So don't delay in setting up your Instagram shop (which we'll tell you how to do in the next section).
How to set up Instagram shopping
To start selling on Instagram, you'll need to have an Instagram business profile. You can convert your personal Instagram account to an Instagram business account in just a few steps. Only then you can create your Instagram shop (we recommend taking a look at Instagram's commerce policies first).
Next, head over to the Meta Commerce Manager to set up your Instagram shop. You can choose to create a shop for both Instagram and Facebook, or only one of those platforms.
What are the best practices for selling on Instagram?
There is no one-size-fits-all approach to selling your products on Instagram.
That said, some strategies make more sense than others depending on your target audience and what you're selling.
Below we've highlighted best practices for selling on Instagram.
Sell yourself in your bio
Your Instagram bio is valuable real estate, especially if you're interested in sales.
After all, your bio links represent the sole avenue from your follower to your storefront if you're not connected to Instagram Shopping.
Make sure that your bio includes a combination of the following:
A call-to-action directing followers to your shop
A mention of your branded hashtags to encourage user-generated content
A trackable link (think: SproutLink or a shoppable Instagram tool) to monitor traffic to your storefront
Post regularly
Instagram is a crowded medium, and if you want people to notice your brand, you need to post regularly. How often is "regularly"? According to Sprout Social Index™ data, the average number of posts on Instagram is 1-2 times a day. If you also share two Instagram Stories per day, you're likely to improve your engagement.
Post more than just products
This might seem counterintuitive, but hear us out: One of the most effective strategies for selling on Instagram is to not focus on selling. Not all the time, anyway.
If you're an up-and-coming brand or you're trying to grow your audience, some non-sales-related content is a great way to warm up potential customers. After all, today's shoppers expect brands to show off their personalities in various ways.
For example, Suavecito Pomade regularly publishes photos of its products but also sprinkles lighthearted content like memes and dog photos throughout its feed.
These types of posts score tons of engagement and can be a gateway for new followers to discover your brand. As noted in our guide to social media for retail, it's crucial for brands to create content for every step of the customer journey. That includes folks who are warming up to you or might not even know you yet.
As a side note, this illustrates the importance of creating a social media content calendar. With the help of social media management tools like Sprout Social, you can find a balance between promotional and non-promotional content. Doing so ensures that your followers are consistently engaging with your marketing messages.
These types of posts score tons of engagement and can be a gateway for new followers to discover your brand. In our social media for retail guide, we saw that it's crucial for brands to create content for every step of the customer journey. That includes folks who are warming up to you or might not even know you yet.
As a side note, this illustrates the importance of creating a social media content calendar. With the help of social media management tools like Sprout Social, you can find a balance between promotional and non-promotional content. Doing so ensures that your followers are consistently engaging with your marketing messages.
Publish people-centric product photos
Research shows that of four types of brand images (customer-centric, employee-centric, product-centric and symbolic visuals), Instagram users spend the most time engaging with customer-centric images.
Instagram users want to see how people are using products in a real-world setting. For example, Camelbak shows off their products in the great outdoors rather than in a photo studio or on a kitchen counter.
Frequently featuring photos of people, specifically user-generated content, creates a snowball effect. That is, customers will want to take their own snapshots with your product so you'll feature them on your feed, too. This results in more engagement and reach, creating even more opportunities to win customers.
Make your product photos pop
We've said it before and we'll say it again: Creativity counts on Instagram—especially if you're trying to sell products.
Remember that you're fighting for your customers' attention, and they're more than likely following competing brands on Instagram.
Here's an awesome example from IL MAKIAGE. Although the brand has plenty of customer photos to choose from, they keep their content strategy fresh with eye-popping product shots, as well.
You don't need to be a master photographer to create engaging images. Just review how to capture and format Instagram photos and explore creative filters and apps that can give your snapshots some pizazz.
Use video to showcase your products in action
Depending on the types of products you're selling, you might want to post more videos than static images. For example, if you're selling performance bicycles or high-end watches, customers probably want to see those items in action.
Craft compelling captions
Want to avoid bombarding your followers with sales offers? There are plenty of ways to write Instagram captions without coming across as too promotional.
For example, consider how you can show off your products while asking your followers a question. Here's a great example from Paper Mate.
Meanwhile, check out how JOAH manages to put their products front-and-center by asking for a comment.
See how that works?
There's some debate about whether salesy captions restrict your reach as part of the Instagram algorithm. To be safe, experiment with different call-to-action phrases.
How to start selling on Instagram
You've set up your shop, created engaging images and fine-tuned your CTAs. Now it's time to start selling!
Enable checkout on Instagram
You can use Instagram to drive people to your website's online store, but some users may expect to shop entirely within the Instagram app. You can deliver on that expectation by using checkout on Instagram.
Available for eligible US businesses, checkout on Instagram makes it easy for users to quickly complete a purchase and track order updates within the app. And once they've made a purchase, Instagram stores their information for an even faster checkout experience with subsequent purchases.
Publish shoppable posts
If you're a seller based in an eligible country with a product catalog and Instagram shop, you can create Instagram shoppable posts. All you need to do is tag products in your image or video, then share the post. Users can click on the tags to view information about each product.
If you're running a promotion for one of the products in your image or video, Instagram will tag it automatically, and the CTA bar will be "View Offer" or "View Sale."
You can also tag your products if you use a social media management app such as Sprout. Once you compose your post and add an image, select Tag Image followed by the Product Tagging tab. You can search for your product by SKU or name.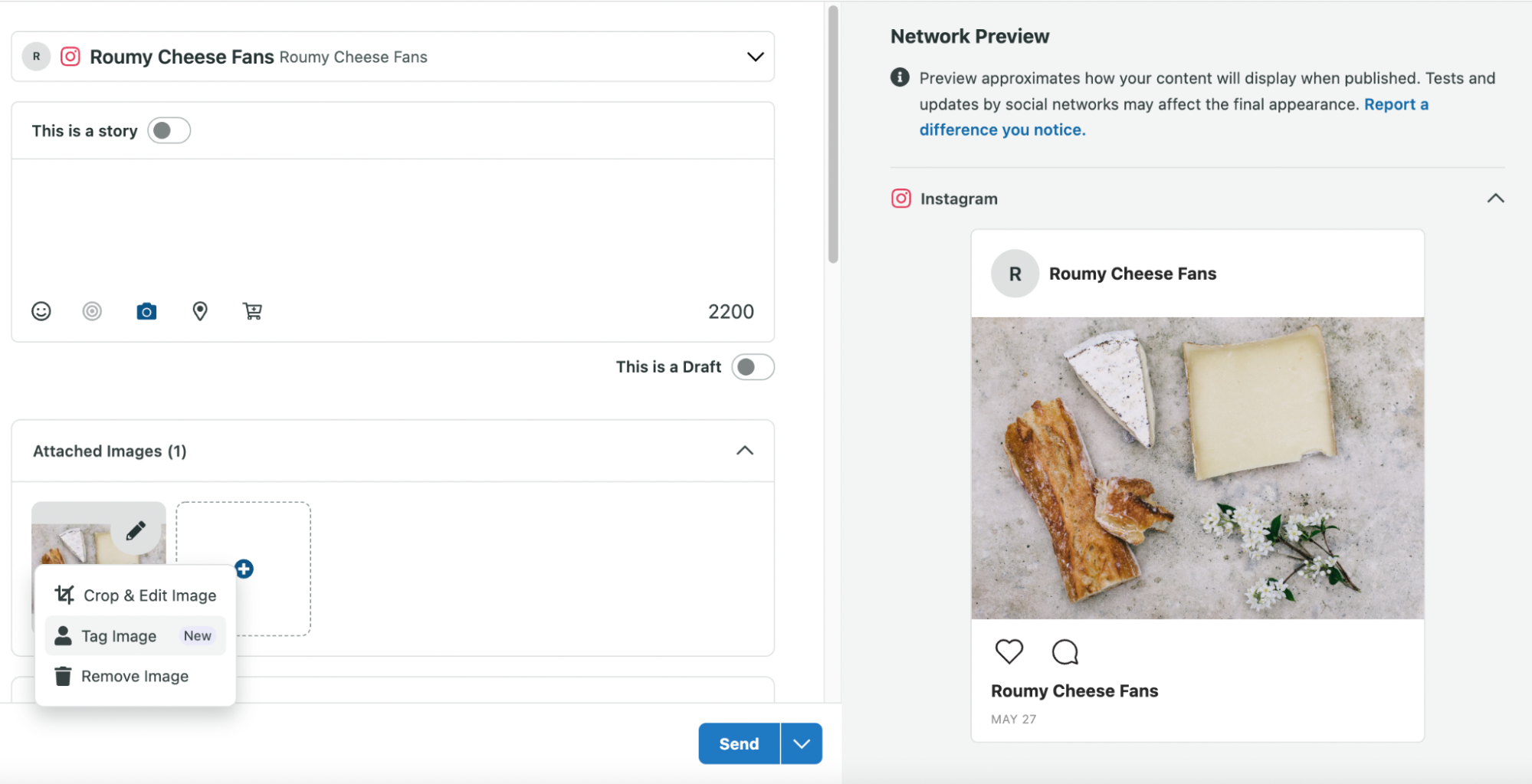 Use stickers in Instagram Stories
While you can't add product tags to Stories, you can add a sticker with a clickable Instagram shopping link that takes users to a product page or other content on your site.
Set up product collections
If you'd like to group similar products, you can create collections. Go to Commerce Manager, then:
Choose your shop and click Edit.
Click +Add New, then Collection.
Choose Create new collection.
Click Confirm.
Add these details to the Featured Collection section:

Images — Add at least one product image (4:3 ratio, with minimum dimensions of 800 x 600 pixels).
Title — Choose a name for your collection (30 characters max).
Text — Add a title and subtitle (30 characters max)(this step is optional).

Click Publish.
If you have a checkout-enabled Instagram store, you can then add your collection to your Instagram profile shop:
From your Instagram profile, click Edit Shop.
Tap Collections, then Add.
Choose the collections you want to display on your profile, then click Done.
Users won't be able to see the collection until Instagram reviews your shop and collection (usually within 24 hours).
Engage with Live Shopping streams
If you have a US-based business with Instagram checkout, and your products have been in your catalog for at least three days, you can use Instagram Live Shopping to sell products in real time and interact with customers.
Here's how to set up a Live Shopping post:
Open Instagram and click Your Story on the top left.
Scroll right and tap LIVE.
Tap the shopping bag icon, then click Add next to the products or collections you want to add.
Tap LIVE again when you're ready to launch your Live Shopping broadcast.
During your broadcast, you can tap the shopping bag icon, then Pin to highlight a product.
When your broadcast ends, click Download so that users can still make purchases through that post.
Showcase products with Reels
You can create dynamic product videos with Reels. Just shoot your video, upload it to Instagram and tag any products you want to add. Then create a cover photo and a call to action.
Promote with Instagram ads
Many brands have found success selling through Instagram ads.
Taking advantage of creative ad types such as Stories and carousels, ads offer tons of flexibility and targeting options to reach customers shopping on Instagram. Plus, you can add an eye-catching CTA that changes from white to a color as users scroll through their feed.
In the Vicks example above, the CTA banner coordinates with colors in your ad.
Boost conversions with user-generated content
Many brands are making user-generated content a cornerstone of their Instagram social selling strategies.
Customer photos go hand-in-hand with high engagement rates and let your customers serve as your brand ambassadors. Given how eager consumers are to share product photos, scoring user-generated content is often just a matter of asking.
For example, Grove Collaborative encourages fans and followers to share how they use Grove products on Instagram through their branded hashtags.
Grove Collaborative regularly uses customer photos to highlight their latest products with a sense of authenticity—and to show their appreciation for their customers.
User-generated content shows your customers what your products look like in action. This also gives you a break from traditional planned posts and lets you show your products from different angles, so to speak.
Use influencers to amplify your posts
Influencer marketing has exploded as a way for brands to get their products in front of their target audience through a more compelling and relatable manner.
The concept is simple: Partner with someone who has a highly engaged audience to raise awareness for your brand and potentially discover new customers.
Influencer promotions are effective because they don't feel as "salesy." Also, some influencers might have more followers than you do.
Forming relationships with relevant Instagram influencers is a cost-effective way to get your Instagram social selling promotions in front of people who could become customers.
Promote upcoming product launches with Instagram Drops
US-based businesses with checkout on Instagram can use Instagram Drops (formerly "product launches") to promote new products.
Instagram users can click the Shop tab to search for view featured drops.
Create Instagram product Guides
You can use Instagram Guides to provide an in-depth look at your products and share them in Stories, in direct messages and in your shop.
To get started, click the + at the top of your profile and follow the prompts.
Provide support and sell through Instagram Direct
Eligible business accounts can sell products through Instagram Direct. Access your Instagram professional dashboard via mobile only and tap Get paid in chat. Then, when you're chatting with a customer who wants to buy your product, you can click Request Payment.
You'll need to enter your bank account information and other details when you accept your first Instagram Direct payment, and the platform will save it for future transactions.
Monitor your sales performance via Instagram analytics
Lastly, don't forget about your data.
So much of selling on Instagram revolves around your analytics.
For example, which product photos score the most engagement? How do your Instagram shopping posts perform versus non-promotional ones? How much of a direct ROI are you seeing from Instagram?
Sprout's Instagram analytics can answer those questions and then some. Our comprehensive reporting makes it a cinch to track paid and organic campaigns all in one place, including those happening beyond Instagram.
What are you selling on Instagram?
Hopefully, this guide provided some much-needed motivation and inspiration to score sales on Instagram. As long as you stick to Instagram's best practices and keep a close eye on your analytics, you're on the right track.
Learn how Sprout can help you take your Instagram selling strategy to the next level with a free 30-day trial today.