How to plan a successful product launch with Instagram Drops
In November 2015, Kylie Jenner launched her iconic lip kit to so much fanfare, her website crashed.
Being attached to the Kardashian-Jenner empire certainly didn't hurt sales, but that doesn't mean you can disregard her simple yet effective promotion strategy. Despite having promoted the launch for weeks to upwards of 40 million followers on Instagram alone, Jenner launched her site with just 5,000 units of product. The lip kits sold out in under a minute, largely due to the disparity between the hype around the product and the amount available.
This buzzy sales tactic—where retailers create demand around limited edition products or small collections by building hype in the days and weeks leading up to the launch date—is known as a product drop. Made popular by streetwear brands like Supreme, the strategy has been adopted by major retail staples like Nike, Levi's and more.
This year, Instagram announced a new feature called Drops which allows brands to create and promote their own product drops through their Instagram Shop. This opens up a world of opportunities for ecommerce and retail brands looking to attract new audiences and convert them from a single platform.
What are Instagram Drops?
Instagram's latest social commerce feature is designed to help brands build hype around upcoming product launches. Named and modeled after the product drop trend, Drops allow consumers to browse, discover and purchase upcoming releases through the Instagram Shopping tab.
Once a Drop is posted, brands can promote the launch using product tags in posts, Stories, Reels and more. If a buyer is interested in an upcoming release, they can set a reminder that will trigger a notification 15 minutes before the product is live and available for purchase.
Will Instagram Drops work for my brand?
Research from Sprout's How to Reach Digital Natives report found that both Gen Z and Millennials want to see brands make more use of Instagram. It's the top social network among Gen Z audiences and the third most popular among Millennials. If your brand is targeting these coveted demographics, Instagram Drops can be a great way to make the connection.
Drops will work for any brand that has Instagram Shops enabled. To create a Drop, businesses must first set up an Instagram Shop with Instagram Checkout, so shoppers can make purchases directly within the app. Currently, Instagram Checkout is available to eligible US-based businesses only.
If your business is eligible and has an Instagram Shop set up, Instagram Checkout can be set up manually within the Instagram Commerce Manager. Alternatively, if your business uses one of Instagram's partner ecommerce solutions, you can speed up the process by connecting the two platforms.
Once your Instagram account meets the requirements needed to support a product launch, a Drop can be set up within the Commerce Manager.
How to plan a successful product launch with Instagram Drops
Planning your first Instagram Drops launch will require time and thoughtful collaboration with multiple stakeholders. To make sure everything goes smoothly, start planning four to six months ahead of the intended product release date. This will give you time to meet with the right people and build excitement around your product.
Understand your audience
Instagram Drops are designed to create intrigue. To maintain an air of exclusivity and importance, brands should use them as a tool to promote unique launches that align with the interests of their Instagram audience.
Find out what matters to your Instagram followers by using the filtering Sprout's Post Performance Report to view the posts that are performing best on the platform. This will help you understand which products and visuals make the biggest impact with your followers, providing some strategic insight into which items might make a splash with a Drops launch.
Loop in your customer care team
While social commerce has gained momentum with younger audiences, it's still a new method of shopping for many. The Instagram Drops process is user friendly, but brands should prepare for a potential uptick in customer questions through the platform.
Connect with your customer care team to outline a strategy for managing Instagram DMs regarding upcoming launches and in-app purchases. Work closely with them throughout the launch to identify frequently asked questions that might be worth addressing through Story Highlights or a feed post. Once the launch has concluded, hold a post-mortem to figure out what went well and what can be improved upon for your next launch.
Forty-seven percent of consumers say that strong customer service is what makes a brand best-in-class on social, according to the Sprout Social Index™, Edition XVII: Accelerate. Ensuring that customers have a good experience with their first Instagram Drop purchase can help guarantee they will engage with more social commerce initiatives in the future.
Diversify your visuals
Instagram Drops allow retailers to provide more dynamic visuals than the standard product page on a website. Check out this example from Nars Cosmetics. For this Instagram exclusive launch, they included standard product shots, promotional videos and creator testimonials to give shoppers a well-rounded view of the makeup bundle's value.
Brands can also include product tags in Stories or Reels to add to the item carousel. As you plan your visuals, consider how you can use Instagram's photo editing tools to create a more cohesive brand experience.
Generate buzz with your promotion strategy
The key to a successful product drop is hype. Your goal is to create as much excitement and urgency among your fans as possible. In the days leading up to the drop, share content that showcases its value and exclusivity to encourage more people to set launch reminders.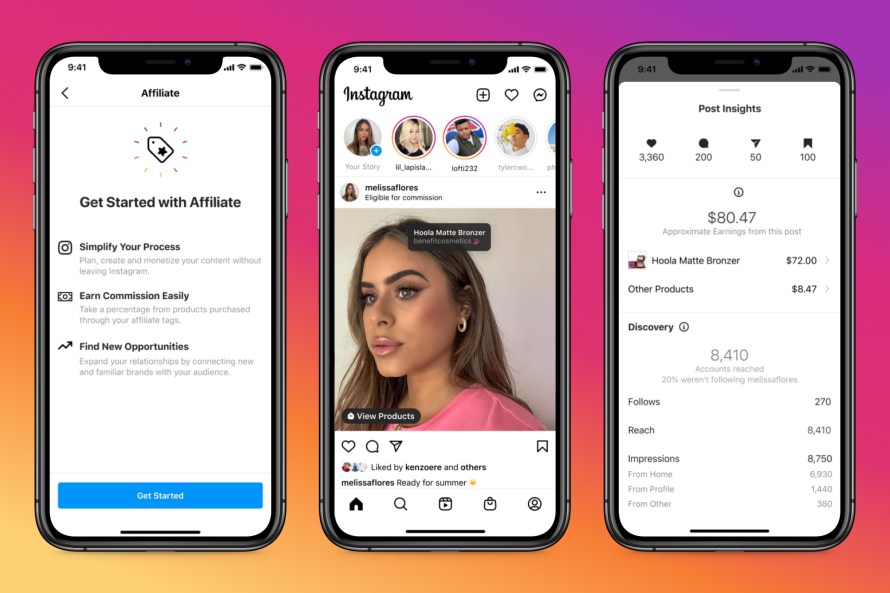 Brands can also lean on their influencer marketing strategy to help expand awareness in the days leading up to the drop. Recently, Facebook announced plans to introduce a native affiliate tool on Instagram. This feature will allow creators to share products available through Instagram Shops with the potential to earn commission based on how much revenue they drive. Soon, tapping into the followings of popular creators and influencers will be easier than ever. Outlining a creator collaboration strategy today can pave the way for easier feature adoption tomorrow.
Start planning your first Instagram Drops product launch today
With social commerce, your customer experience can now be abbreviated to a single channel. To learn how you can infuse delight at every stage, from awareness to checkout, download our guide to creating a high-impact Instagram strategy today.