Why it's time to break up with your biannual brand survey
Maybe you think you're in a happy relationship with your current brand survey routine. Twice a year, you go on the brand health reporting equivalent of an excellent date. You get romanced by charts, figures and juicy audience insights. But what about the rest of the year?
Every six months may have been enough in the past, but now, consumer preferences can change instantly. Commissioning a five-figure biannual brand reputation survey—and spending multiple months on data collection and analysis—means the research you conduct will always be stale.
You deserve real-time insights, unfiltered audience opinions and speedy results. It may seem like asking for too much but trust me, you're worth it. Plus, social insights can give you everything you got from your brand survey and more.
If you're wondering whether it's the right time to say goodbye, keep reading. We're making the case for moving on to bigger and better things.
What is a brand survey?
Brand surveys measure how an audience thinks and feels about a brand. These surveys are designed to gauge overall brand health and perception with specific audiences. For example, if you seek insights on how your brand stacks up against its competitors, you'd probably survey prospects and customers. Alternatively, if you're trying to understand how your brand resonates as an employer, surveying your colleagues would provide stronger insights.
Survey questions can vary based on your goals. Here are four types of brand survey questions marketers use to learn more about how audiences perceive their brand:
Cognitive: Questions that assess what audiences associate with your brand. For example, people might associate Apple with "minimalism" or "innovation."
Emotional: Questions that measure the emotional connection a respondent has with your brand.
Descriptive: Questions that prompt respondents to describe your brand in their own words. These questions are typically open-ended.
Action-based: Questions that ask respondents to rate the quality of their experiences with your brand.
These questions can be used in different combinations to better understand how people view your brand and how that differs from your company's perception of itself.
Evaluating brand health—why traditional survey methods are not enough
A healthy brand is like having an emergency line of credit for times of crisis. The stronger your brand health is, the more forgiving your audience is likely to be in the event of an issue.
Take Slack, for example. Over the past few years, Slack has become synonymous with business messaging. The tool has become indispensable for remote teams, thanks to its chat features and flexible third-party integrations.
On February 22, 2022, the tool experienced unexpected outages that lasted several hours after the Presidents' Day holiday weekend. While this could have been a cause for frustration, many customers made light of the situation. Some even made memes. Despite all the discussion online, Slack was able to weather this storm with help from a strong crisis response plan and an even stronger brand.
Routine brand health evaluations can help you better understand how an unforeseen event might impact your brand's reputation. This information can help you determine the perceived threat of a crisis, making it foundational to your response strategy.
If you're only conducting biannual brand perception surveys, you could be missing meaningful shifts in audience sentiment. If that's not enough, here are three reasons you should reconsider your brand survey distribution plans.
Your brand health is constantly changing: Biannual surveys used to make sense because up until recently, there were only a few ways to move the needle on brand perception. Now, social media and review sites have empowered consumers to speak their minds whenever the inspiration strikes. If you're not consistently monitoring your online brand health, you could be missing vital feedback.
Your survey design could lead to biased responses: You don't know what you don't know. Even now, an online conversation could impact how people will perceive your brand for months to come. Even the most intentional question list can return biased results if it's not informed by accurate insights.
You need timely insights: Brand health survey design and distribution takes a long time. If you need to understand how a current event is affecting your brand perception, you don't have any time to waste.
Brand survey functionality across social networks
Brand surveys on social are typically used to gauge ad effectiveness. That said, they can also provide valuable insights on brand perception and awareness. If your team often relies on paid social, use any of the following in-network survey tools to get more out of your budget.
Twitter Brand Surveys
On Twitter, brands aren't just part of the fun. Sometimes, they're driving the fun themselves. Seven out of 10 Twitter users even say that "Brand Twitter" is one of the best parts of being present on the network.
Using Twitter Brand Surveys can help you better understand what drives brand lift among an already receptive audience. These surveys are typically used to measure awareness after repeat ad exposure. They can also be used to dig into message association for your brand and its competitors.
LinkedIn Brand Lift Tests
LinkedIn Brand Lift Surveys help marketers measure several brand awareness metrics as they run ads on the platform. The surveys use test and control groups to determine the overall effectiveness of an ad, alongside key perception metrics like brand favorability, familiarity and product consideration.
While these brand surveys are technically free, there are some strings attached. Marketers must spend a minimum ad budget of $90,000 in a given period to use the Brand Lift Survey feature.
Facebook Brand Survey Tests
With Facebook, you can use the Experiments tool to run a brand survey test. Like LinkedIn, these surveys reach a test and control group to calculate the impact a Facebook ad has on brand awareness and perception. These tools are particularly useful if you're wondering how well an awareness campaign is resonating with a target audience.
There are minimum ad spend requirements to use Facebook's brand survey tools, but they vary by country.
How to conduct rolling, real-time brand surveys with Sprout Social
The in-network survey tools listed above are best used to measure brand awareness after repeat ad exposure. That only scratches the surface of the wealth of brand perception information available on social media.
Think about it: Every day, people turn to social to rant and rave about the companies they love (and the ones they wish would do better). With the right tool, you can synthesize those conversations into actionable brand health insights. Here are three Sprout tools that will help you get it done.
1. Brand Health Social Listening Topics
Sprout's Listening tool helps brands keep a pulse on the conversations that matter most. Think of it as a real-time focus group that provides honest, unfiltered feedback.
There are five Listening Topic templates you can use to tap into social insights at scale. For this case, let's check out the Brand Health Topic Template.
The Brand Health Topic template will help you gauge the public perception of your brand or products. You get to decide what counts as a mention using the Query Builder, so you can factor in your brand name, popular product names, common misspellings and more. Whatever it takes to get a comprehensive picture of what people are saying about your brand online.
This ongoing analysis has several advantages to a traditional brand survey. Most notably, ongoing sentiment tracking.
Sprout's social media sentiment analysis tool monitors the positive, negative and neutral mentions of your brand within a particular time period. It also provides vital details on how sentiment is trending over time.
2. Competitive Analysis Social Listening Topics
Brand health survey questions typically don't assess your brand performance in a vacuum. Your competitors are an essential piece of the puzzle. In Sprout, you can track their public perception and compare it to yours using the Competitive Analysis Listening Topic Template.
This report will help you visualize your brand's share of voice compared to competitors'. These insights are a critical tool in assessing what differentiates your brand from the competition, whether they're indirect, direct or aspirational.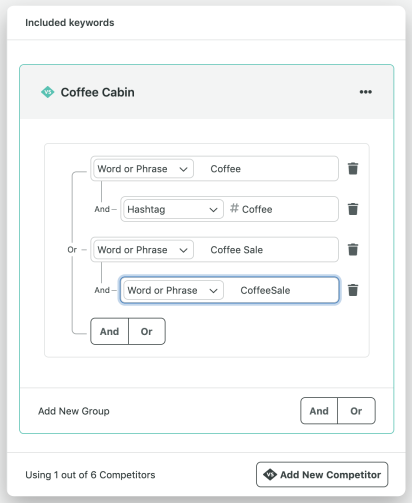 To get started, decide on a few priority competitors. Once you've created your shortlist, you can add their brand names and related keywords to the Listening Query Builder. Related keywords might include product names, branded hashtags or direct profile mentions. Finally, add in your brand information. The Listening Topic will backfill data for the past 30 days and continue to collect it over time for consistent, rolling insights.
3. Inbound Message Tagging and Tag Reports
Thirty-one percent of consumers prefer to leave feedback about products or services via social media, making it the most popular channel to do so. These messages may seem like additions to a perpetual to-do list, but they're actually rich sources of brand health information.
Sprout's Tagging feature can help identify and organize incoming messages from across all social networks. You can then report on those Tags using the Tag Performance Report. This information can help you translate large volumes of customer feedback into actionable insights that illuminate your audience's thoughts and feelings.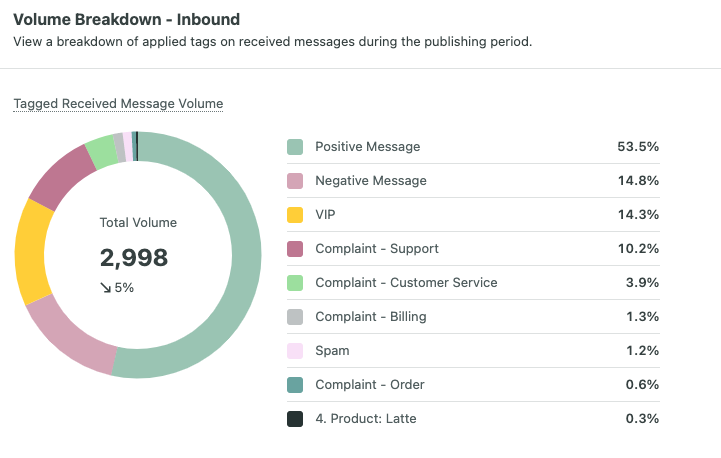 Creating this system requires ongoing collaboration with whichever team typically manages social support requests. This process may not seem natural at first, but it's critical to breaking down information silos and accelerating time to insights. The team at Grammarly, a cloud-based typing assistant, pulls this off by sharing quarterly reports on themes found within their social messages to keep others up to date on trends and opportunities they're seeing in customer support.
Brand surveys: It's not you, it's them
Breaking up is hard to do. Still, when your current brand survey practices are standing in the way of faster, more accurate insights, you've got to rip off the bandage and say goodbye.
If you still find yourself wondering if you're ready for what's next, check out this social media market research worksheet. This tool will give you a framework for extracting unbiased audience feedback from social in less than two hours.