How to schedule Tweets: Your brand's complete guide in 2023
Twitter has over 368 million monthly active users, so there's no shortage of highly active and engaged users on the platform. But it also means there's competition for eyes on Tweets, and you'll need to be strategic when you post on the platform.
That's where Twitter scheduling comes in.
Scheduling Twitter posts ensures that your content is published when your followers are more likely active and can significantly improve your Twitter engagement and reach. It also ensures you don't have to be "on" at all times of the day to manually Tweet when your audience is most active.
In this guide, we'll discuss the importance of scheduling Twitter posts and why it makes sense for your Twitter marketing strategy—plus a few key scheduling tips. And to help you get started, you'll also learn how to schedule Tweets—with and without Sprout Social's powerful scheduling tool.
Table of contents
Benefits of scheduling Tweets
Why should you care about scheduling posts on Twitter, and why does it matter for your Twitter marketing? Let's break down the reasons why scheduling Twitter posts makes sense for businesses.
1. Improves organization and productivity
Scheduling Twitter posts ahead of time allows you to organize your Twitter publishing efforts so you can remain productive during the day. For example, if you have to Tweet multiple times throughout the day, scheduling Tweets means you can continue your daily tasks without interruption.
With Twitter scheduling, you can dedicate a couple of hours each day or week to schedule your content in batches. This keeps you and your content organized well ahead of time and helps maintain productivity.
2. Helps maintain your posting schedule
Planning and scheduling your Tweets can be useful if you're trying to establish or maintain a content calendar. By planning out Tweets for the week or month ahead, you have the opportunity to create a consistent posting schedule where there's no risk of forgetting to send out a Tweet at a certain time.
So rest easy knowing you can publish your Tweets based on your pre-planned schedule, whether it's around a specific campaign or seasonal content.
3. Ensures consistent cross-platform messaging
If your social media strategy involves sharing a similar message across all your social media accounts, Twitter scheduling simplifies the process, ensuring your cross-platform messaging is cohesive.
This also makes sense when you're managing multiple Twitter accounts. By using a social media scheduler, you can schedule your posts to go out at the same time across all social media channels to maintain consistency.
4. Allows you to run tests on optimal send times
Schedule Tweets to go out at different times throughout the week to find out which timing works best for your audience. You might be surprised to discover when your audience is most active. Using Sprout's research on the best time to post is a good starting point but can vary based on your industry or audience.
5. Helps you target different time zones
Scheduling Twitter posts also makes sense when you have to target audiences in specific locations. You can schedule your Tweets to go out at the optimal send times for different time zones.
This improves your chances of reaching the right target audience at the right time no matter where they live. This goes back to finding the best time to Tweet according to your audience, and testing on social media can help.
How to schedule Tweets on Twitter
Twitter has its own in-app scheduling tool—currently available only on desktop—that makes it easy to schedule one Tweet at a time.
Step 1: Select the Tweet Composer
Head to Twitter.com with your Tweet idea. Click inside the Tweet Composer to get ready to Tweet.
Step 2: Write out your Tweet
Compose your Tweet. You can add media (like an image, video or GIF), add a poll, add an emoji or tag your location.
Pro Tip: If you include an image or GIF in your Tweet, add a description to it for accessibility.
Step 3: Click schedule
Click the icon of a calendar with a click in the bottom right corner—this is the scheduling option.
Step 4: Select your schedule date
Input the date and time you want your Tweet to go live. With Twitter's tool, you can schedule Tweets out as far in advance as 18 months. Once you've chosen the correct date and time, click Confirm in the top right corner.
Step 5: Click schedule
You'll see a small snippet above the Tweet confirming the date and time it will go live. Click Schedule to finish scheduling and add it to your queue of Tweets.
How to schedule Tweets using Sprout Social
The native Twitter scheduler is a great tool for the platform, but if you have to manage brand accounts across various social media platforms, it's nice to have something more comprehensive. Sprout is a robust social media publishing platform that you can use to schedule your posts for Twitter, Instagram, Facebook, LinkedIn, Pinterest, TikTok and more.
Using Sprout, you can schedule your social posts weeks and months ahead. And since you can visualize your posting calendar, it's much easier to work on campaigns and promotions. The tool even lets you schedule recurring posts to simplify your planning and productivity.
Here's how you can use Sprout to schedule Twitter posts.
Step 1: Click on the blue compose button
From the Publishing dashboard, click on the blue Compose button at the top right-hand corner of the screen. This will open up a New Post window, where you can write out your Tweet.
Step 2: Compose your Tweet
If you've connected multiple Twitter profiles to Sprout, choose the Twitter profile where you want to publish your Tweet from the Profile Picker drop-down menu at the top. Then compose your Tweet, including images and/or videos as well.
Step 3: Click the "When to post" option
Under your post in the Composition window, you'll find a When to post option next to a drop-down menu. Click on the drop-down button and select a Specific date and time.
Step 4: Choose the date(s) you want to publish
Select the date(s) and time(s) when you want your Tweet to publish. If you're not too sure about what time to schedule your posts, select Use Optimal Times, and Sprout will provide you with options for the best time to post based on your Tweet performance history. You can also select multiple dates and times for recurring Tweets.
Step 5: Click schedule
Once you're done, simply click the Schedule button. And that's it! You've scheduled your Tweet using Sprout.
How to schedule Tweets on mobile
It's just as easy to schedule Tweets via the Sprout Social mobile app. Start by downloading the app from the App Store or Google Play Store and log into your Sprout Social account.
Then follow these steps.
Step 1: Tap "Compose"
Tap the Compose icon in the bottom right corner of your calendar.
Step 2: Type out your Tweet
Type out your Tweet and add any additional media.
Step 3: Tap "Schedule"
Tap Schedule from the top dropdown menu, select your preferred date and time, then tap Save.
How to view scheduled Tweets
Looking back at your currently scheduled Tweets can help you make sure that you haven't left any out from your planned content calendar. You also may want to go back and edit or reschedule your scheduled Tweets if a new promotion suddenly comes up and you need to create new content.
How to view scheduled Tweets on Twitter
To view any Tweets you've scheduled through Twitter itself, click the schedule icon again. There's a link at the bottom of the popup for Scheduled Tweets. Click this.
You'll be taken to your Drafts section, which has two tabs: Unsent Tweets and Scheduled. You can view all of your scheduled Tweets and click on any you might need to edit, reschedule or delete.
How to view scheduled Tweets in Sprout Social
After scheduling your Tweets using Sprout, you can view them in the Publishing Calendar. There are a number of different ways you can view these Tweets, depending on what makes the most sense for your needs.
List view
Here, you can view your scheduled posts in list format in order of when they'll go out.
Week view
Or you can use the week view to visualize the posts you've scheduled throughout that particular week. The weekly view also helps you visualize the post volume for the current and upcoming week, and what order posts will be published, in case you want to make some adjustments.
From here, you can easily switch things around by moving the cards. For instance, if you see that you have too many Tweets going out on Tuesday, you can drag one of the cards to schedule the post for another day of the week.
Month view
If you select the month view, you can visualize your publishing schedule for the entire month. You'll be able to see how many posts you have scheduled on a certain day and on which platform. This is a great way to review your monthly publishing calendar and find out if there's any need for adjustments, especially based around different marketing campaigns or holidays.
How to schedule multiple Tweets
If you have a lot of Tweets to schedule, the idea of sitting at your desk and scheduling one by one likely seems like a bit of a nightmare. Luckily, with Sprout's bulk scheduling capabilities, you don't have to worry about that.
When creating your content, do so in a spreadsheet. You can use either Excel or Google Sheets, but if you're incorporating emoji into your Twitter content, you'll want to opt for Google Sheets to avoid formatting issues.
You'll need to format your spreadsheet with the following column headers:
date: In dd/mm/yyyy or mm/dd/yyyy format, depending on your import preferences.
time_24hr: Place in 24-hour format. Each of your Tweets must be scheduled at least 10 minutes apart from each other as well as at least 10 minutes after the time you're uploading your spreadsheet to Sprout.
message_text: Your Tweet content. Remember that it must be less than 280 characters—unless you're subscribed to Twitter Blue where you get up to 4,000 characters. If you need to include a link, paste it into this column.
public_image_url: If you're adding an image to your Tweet, use this column to paste the link to your public image URL. Consider uploading it to your CMS and grabbing the link from there.
Once you've completed your spreadsheet, export it as a CSV. Then you'll head to the Publishing dashboard in your Sprout Social account before clicking to the Calendar view. Then click the three dots to access Bulk Post Import.

Once you click that, you'll be taken to the Import Posts dashboard so you can drag and drop your CSV to upload your Tweets. Select your Twitter account then make sure you have the correct date format based on how you formatted dates within your spreadsheet.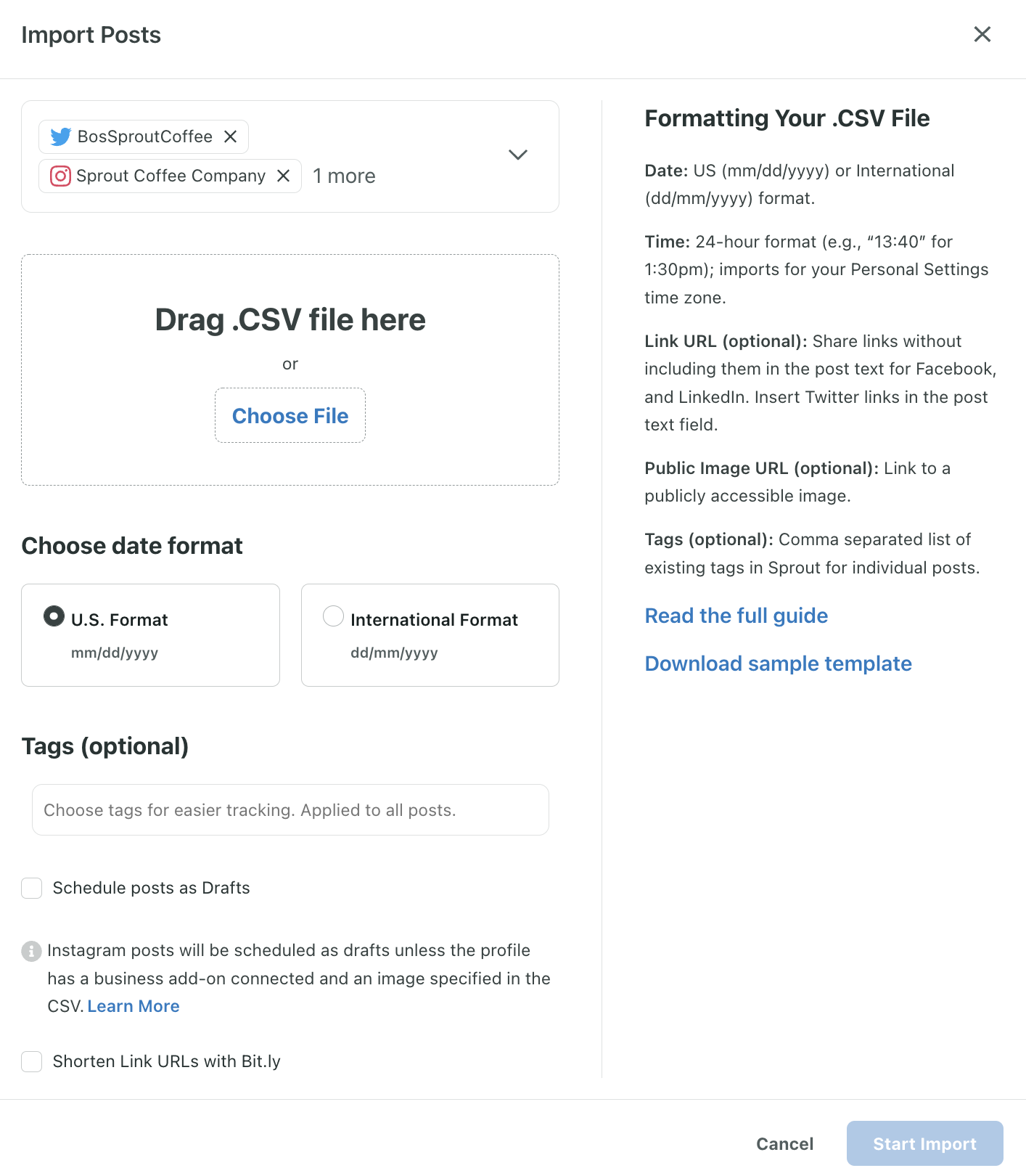 Then click Start Import to begin importing your newly scheduled Tweets.
If there are any issues with some of your Tweets, you can download a CSV of any that weren't able to be imported so that you can fix the formatting errors and re-upload the remaining content.
This makes it incredibly easy to schedule an entire month's worth of Twitter content at once, without having to spend your entire day scheduling Tweet after Tweet.
Tips for scheduling multiple Tweets
Ready to start scheduling your Tweets? It can be such a huge time-saver that we highly recommend it. But first, here are a few tips to help make scheduling as easy as possible.
Identify how often you should post
Before you start creating and scheduling your Twitter content, identify how often to post. While our overarching recommendation is 3-4 Tweets per day, you should also pay attention to your historical data to see how many Tweets get you the best reach and engagement.
You can then stick to this number of daily Tweets as you create and schedule your content. This ensures you're sticking with the number that generates the best results.
Review your scheduled Tweets
After a day of scheduling—or even if you used the bulk scheduling option—always go back to review your scheduled Tweets. By reviewing your calendar, you can double check that you haven't missed any content or double-posted any content, eliminating potential errors.
Check analytics regularly
While scheduling Tweets can be a huge time-saver, that doesn't mean you get to neglect other parts of your Twitter strategy—including monitoring your analytics. Keeping an eye on your Twitter analytics can help you make sure your strategy is still working, that you're posting the right frequency and amount of Tweets and that your engagement isn't dropping.
Why wait? Schedule Tweets today
When done right, Twitter scheduling can be a smart and efficient way to manage your social media content. And Sprout gives you a robust set of publishing tools to help you execute that more effectively. In addition to just scheduling your Tweets, you can use Sprout tools to visualize your content calendar, upload assets for later use and seamlessly collaborate with your team.
If you'd like to try scheduling your Twitter posts, along with your other social profiles, sign up for a free 30-day trial.