Facebook Lookalike Audiences: How to optimize ads to reach new customers
Wish you could take the guesswork out of your social ad targeting?
Don't we all.
Sure, it's awesome that marketers have so many choices when it comes to our Facebook advertising strategy and who we serve our ads to.
But navigating the numerous targeting options and factors can be downright daunting.
That's where Facebook Lookalike Audiences are a game-changer.
Rather than start each campaign from scratch or tweak a bunch of targeting factors, Lookalike Audiences lets you base new ads on your existing audience.
The result? More engagement and conversions with a lot less guessing.
In this guide, we'll break down the basics of Facebook Lookalike Audiences and what marketers need to know to get started.
What is a Lookalike Audience, Anyway?
Facebook Lookalike Audiences represent an ad-targeting option for a totally new target audience that shares characteristics with your existing ones, based on previous engagements with your business account or ads.
The concept here is simple. Instead of researching a new audience manually, Facebook figures out who'd be most likely to click through your campaigns on your behalf. This is determined by factors such as interests, interactions (think: "likes," comments, shares) and previous ad clicks.
While Lookalike Audiences are ideal for marketers that have run ads successfully in the past, they're fair game for first-timers as well. That's because Facebook allows you to create Lookalike Audiences based on:
People who like and follow your Business Page
Conversion pixels you've created in the past
Existing custom audiences
In addition to more accurate targeting by default, this format also provides more experienced advertisers with customization and flexibility. For example, you can broaden your Lookalike Audience to your liking or keep new ad targets almost identical to your own.
If nothing else, Facebook does a pretty good job of holding marketers' hands through the process of creating a Lookalike Audience to make sure they're relevant. Doing so is in the best interest of the platform, after all.
Why use Facebook Lookalike Audiences versus other ad formats?
Again, there are plenty of ad formats on Facebook to choose from. What makes Lookalike Audiences so special?
Below are some of the key benefits:
They save you a ton of time. If you've already gone through the legwork of fine-tuning a Custom Audience, you've done the hard part. Lookalike Audiences allow you to squeeze more out of what you've already established.
In theory, Lookalike Audiences are "proven" versus creating something cold. That's because they're based on parameters that show user interest.
Lookalike Audiences can easily supplement your existing ads. For the sake of stretching your social media budget, Lookalike Audiences allow you to experiment and target multiple audiences at once without running totally different campaigns.
What scenarios are Facebook Lookalike Audience ads ideal for?
Good question. Let's look at some of the most common scenarios, for reference:
You're interested in engaging a new audience. Let's say you want to reach a previously untapped demographic. With a Lookalike Audience, you can expand your targeting without going totally off-base in terms of interests.
Your existing ad audience isn't engaging like it used to. If you suspect you've exhausted your customers as-is or your base is too small, these types of ads can help you test the waters.
You want to compare two different audiences against each other. Again, Lookalike Audiences can supplement any of your current ads. Comparing performance might open your eyes to new opportunities without blowing out your budget.
What do Lookalike Audience ads look like in action?
In reality, ads based on Lookalike Audiences resemble any other successful Facebook campaign in terms of creatives.
Here are a few examples from Facebook's own ad success stories which highlight how such ads can be used, piggybacking on the same scenarios we discussed earlier.
This ad from the Teaching Company highlights how Lookalike Audiences can be used to explore new ad targets in terms of geography. For this campaign, the company took a US-only ad and served it in Canada, the UK and Australia based on their best customers. The end result was a 10x boost in monthly average subscriptions to their service.
Here's another example from Shipt. For this ad, the brand created multiple Lookalike Audiences based on current and past customers. Experiencing a 14-point lift in conversions, this is yet another shining example of how targeting based on your existing audience can be so effective.
This campaign from OLIPOP included Lookalike Audiences of top purchasers as part of a budget experiment, attempting to determine whether increased spending resulted in diminishing returns. The brand found that ramping up their efforts resulted in a significant lift in conversions and add-to-cart events alike.
How to create a Lookalike Audience on Facebook
Let's say you're interested in putting together your first Lookalike Audience.
Excellent!  First things first: log into your Facebook Ads Manager account. On the left-hand corner, you'll see the "Create Audience" dropdown.
Again, the platform makes the creation process fairly straightforward but the number of options to choose from can be overwhelming. The breakdown below can help speed things up.
1. Select your audience source
From the word "go," you have the options we talked about earlier: Pages, Facebook Pixel or an existing Custom Audience.
Facebook recommends using "events with value" (AKA value-based sources). That's because such targeting is based on actual past customer purchasing data. For example, creating a Lookalike Audience based on a remarketing Pixel allows you to base your campaigns around targets with higher (or lower) average order values.
If you opt to use a Custom Audience as your source, make sure to familiarize yourself with the various Facebook ad targeting options available. For example, you can upload a customer list or base your Lookalike Audience on people who've interacted with your website.
2. Choose your audience location
No big surprises here. Once you select a source, you'll be prompted to select a region for your Lookalike Audience.
Again, this is helpful if you're looking to run or experiment with international marketing. This selection allows you to find relevant ad targets based on geography.
3. Determine your audience size
Finally, you have a choice to choose just how "alike" your Lookalike Audience is.
The smaller the percentage here, the more similar your audience is to your source audience. On the flip side, a larger number makes your audience broader.
Whether you want a super similar audience or a larger one really depends on your goals and budget. Like any type of Facebook ad targeting, a little bit of experimentation goes a long way.
Note: Lookalike Audience specs and requirements
Before you're allowed to create your audience, there are a few parameters you need to familiarize yourself with. Although Facebook will prompt you on some of these, make sure to consider the following:
Your audience size must be at least 100 people from the same country
Facebook recommends between 1,000 and 50,000 of your "best" customers based on lifetime value, order size, or engagement for optimal Lookalike Audiences
It can take between six and 24 hours for your audience to actually be created
More tips for Facebook advertising and targeting
Using targeting tactics like Lookalike Audiences can bring your ad campaigns to the next level. Make sure everything from content to budget is also optimized with these resources:
What can my Facebook Lookalike campaigns teach me?
Just like any other type of ad data, you should note how your Lookalike Audience performs and look at your KPIs.
If your campaigns perform similarly or significantly better than your previous ones, you're golden. If not, you might consider some tweaking (think: pulling back or ramping up your audience size, experimenting with Custom Audiences versus Pixel, etc).
Either way, make sure you're keeping an eye on your metrics. You should also assess not only how your ads compare against each other, but how your paid performance compares against your organic social posts.
With tools like Sprout Social, you can use our paid ad reporting and analytics to do exactly that. With a holistic view of your Facebook presence, you can better determine your budget in terms of time and resources.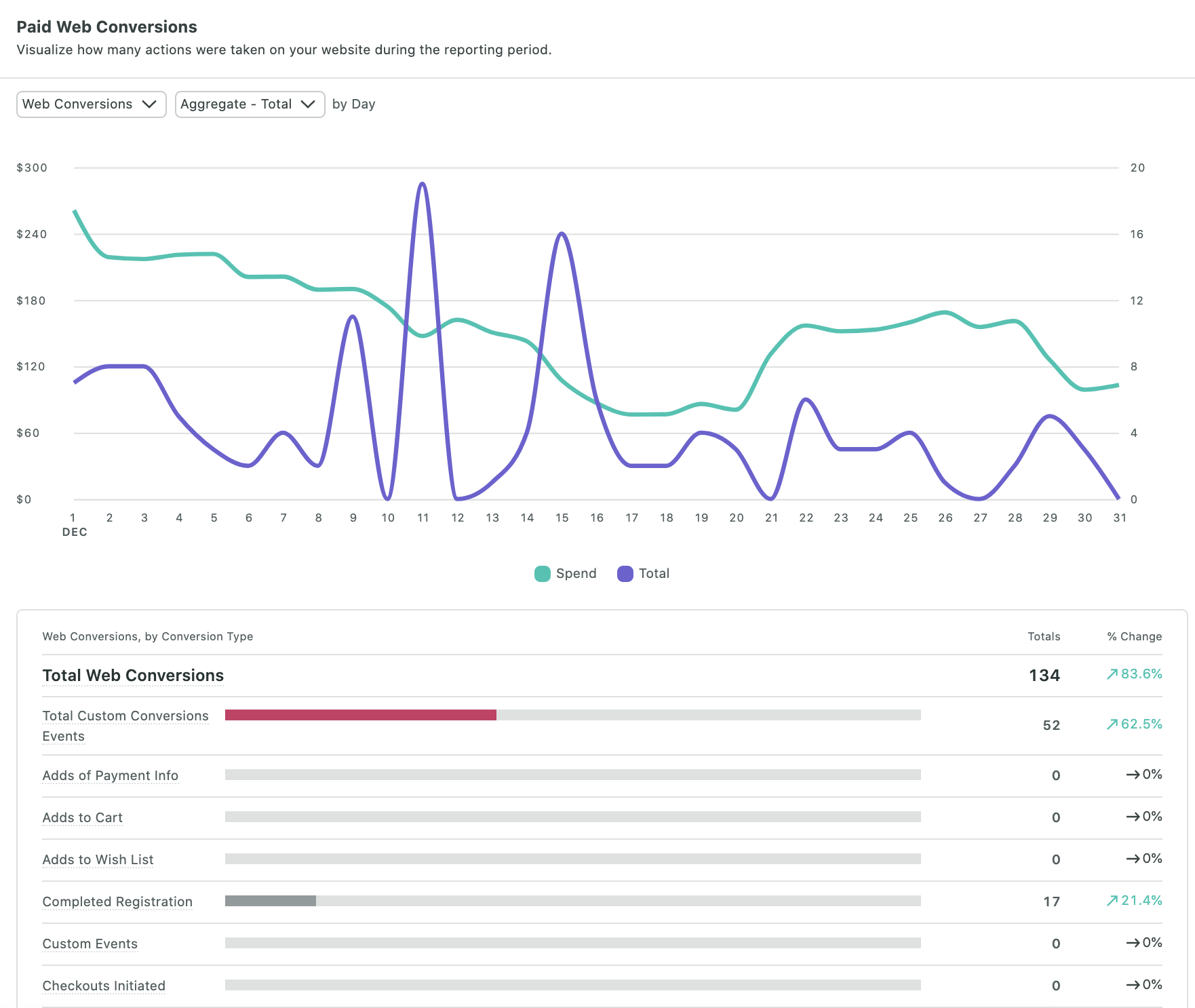 Are you taking full advantage of Facebook Lookalike audiences?
Lookalike Audiences are an invaluable tool for social marketers.
Like any other type of ad, they can take time to master but are worth pursuing for the sake of experimenting and reaching new audiences.
Now that you know how to create a Lookalike Audience on Facebook, perhaps it's time to consider how such ads fit into your paid social strategy.
And if you need to secure a bigger budget to expand your campaigns, we've got you covered. Make sure to check out our guide on making a business case for social media to get the buy-in that you need to run a new campaign.