6 low-hanging social media optimization strategies to boost engagement
Optimization doesn't have to be a scary word in digital marketing.
Perhaps the term makes you think of search engine optimization (SEO) and rigid, restrictive keyword requirements.
Or maybe you associate optimization with stripping any sense of creativity from your marketing.
The reality, though? Social media optimization (SMO) is an entirely different ballgame.
Because while businesses at large are on board with social media, many fail to make simple changes that could significantly boost their performance.
The good news is that optimizing your social presence doesn't mean sacrificing your brand's voice and creativity. In this guide, we'll break down some easy social optimization techniques for brands big and small.
"What's the point of social media optimization, though?"
In short, social media optimization (SMO) encourages businesses to analyze, audit and make adjustments to both their content and accounts to stay in line with the best practices of social media.
The concept of SMO is pretty straightforward. Much like SEO or CRO (conversion rate optimization) requires tweaking and testing, so does SMO.
So, why bother? Although many brands make their social efforts seem effortless, the reality is that top-performing accounts don't ignore the fine details of optimization. The benefits of social media optimization are three-fold:
Increase the visibility and reach of your content, resulting in greater engagement (clicks, traffic and so on)
Assess the overall ROI and outcomes of your social marketing (think: sales, brand awareness)
Develop a consistent process for creating content that's poised to perform well (relative to your brand)
We've seen firsthand how more and more marketers are being held accountable when it comes to social media performance. Through optimization, you increase the likelihood of hitting your KPIs and make your own job easier by establishing a process for fine-tuning your content.
6 social media optimization strategies you should totally try
Now, onto the good stuff! Below are six aspects of social media optimization that businesses should pay close attention to.
1. Account optimization
First thing's first: you need to ensure that your brand accounts align with your business and its goals. This requires a general audit of your social profiles with an emphasis on branding and marketing messaging.
For example, some details to consider when it comes to account optimization include:
Think of your social presence as a sort of gateway to your products and brand. Assuming that this is someones' first encounter with your business, consistency counts for the sake of keeping customers engaged and not potentially confusing them.
For example, check out Oatly's homepage…
…and how their Twitter and Instagram reflect similar messaging, creatives and branding. These accounts feel like they belong to Oatly at a glance.
Through account optimization, you guarantee that your leads never feel lost no matter how they find you.
As a side note, you may have slightly different links, promotions and bios across multiple networks. That's fine! Just make sure that you stick with the proper social media image sizes so each account looks sharp.
2. Social searchability optimization
Figuring out how to optimize social media for search should be a top priority for brands today.
We're seeing a growing trend of more social profiles popping up in Google searches. Recent rollouts such as Instagram's updated search features also highlight how brands should mind how they use keywords across their posts and accounts.
Don't worry, though: you don't have to keyword stuff your posts to boost your social searchability. Start by performing keyword research for industry and brand-specific keywords you can sprinkle throughout your social content. Then, implement some key social media optimization techniques as it relates to search such as:
Including relevant keywords (and keyword #hashtags) in your social bios
Make sure that your business' key details such as @username, address and contact options are consistent across accounts
Completely fill out your bio and "About" sections for any given social network
Let's look at an example of social searchability optimization in action. If we search "vegan haircare" via Instagram, we're met with a combination of consumer, influencer and brand accounts.
Clicking through, we can see why a post from oVertone is front-and-center. Not only have they optimized their bio for vegan and cruelty-free terms, but also their hashtags.
See how that works? Subtle use of keywords and hashtags can help increase the visibility of any given piece of content, so don't let those captions or bio spaces go to waste.
3. Content strategy optimization
Businesses are spoiled for choice in terms of what they can post to social media.
That said, your content strategy shouldn't be a free-for-all. The sooner you come up with an organized strategy, the more easily you'll generate ideas or posts. Optimizing your content strategy starts when you:
Establish a consistent publishing frequency and volume (including how often to post, when to post, how many needed pieces of content per week)
Determine which assets you need to fill your schedule (text posts, images, videos)
Figure out which posts can be published across networks and which posts are standalone per platform
Keep in mind that content strategy optimization times need to be fine-tune. Based on your analytics, you might find that you need to ramp things up or scale back. Having a baseline built on the points above can help get you started, though.
Perhaps what matters most is that you aren't just posting on the fly.
This is where a tool like Sprout Social comes in handy, allowing you to track each piece of content you publish across every network. With a comprehensive view of your content calendar and all of your creative assets in one place, you can identify gaps in your schedule and uncover opportunities to quickly crosspost content.
4. Individual post optimization
After establishing a big-picture content strategy, consider how you can optimize social media posts on an individual level.
Some posts require more optimization than others. For example, posts that are part of an influencer campaign are going to require more refining than a meme or a morning greeting to your followers.
For the posts that do need special attention, here are some points to consider when it comes to optimization:
Write captions that reflect your business' current promotions and initiatives
Include appropriate hashtags, keywords and call-to-action phrases for each post
Maintain a distinct tone and brand voice throughout your campaigns, finding a balance between promotion and personality
Check out how Razer manages to regularly roll out a variety of campaigns and tailors each post accordingly. For example, this eco-friendly hype video builds anticipation for their upcoming launch with a campaign-specific hashtag:
Meanwhile, here's a simple but effective giveaway post (peek that engagement rate).
And here's a UGC (user-generated content campaign) based around the brand's partnership with 5 Gum.
This aspect of social media optimization simply ensures that your business' goals are being addressed on a post-by-post level.
And through social media testing, you can identify which types of posts, captions, calls-to-actions and promotions resonate with your audience. Doing so allows you to refine your content strategy over time.
5. Link optimization
Here's an aspect of social media optimization that often flies under the radar.
Businesses on social shouldn't just drop links at random. Through link optimization, you can more easily track your customers' behavior when they click through and identify your top-performing social content. Simply put, you should strive to:
Set UTM parameters on your social links to track click attribution
Assess which links are receiving the most clicks (think: which campaigns they're tied to, which CTAs were used)
Ensure that you're sending people to the appropriate links and landing pages (think: not just a homepage, ideally)
Link optimization is key to assessing the ROI of your individual posts and social efforts at large. Below is an example of link shortening and tracking in Sprout, which allows you to set up UTM parameters and create custom-branded links in just a couple of clicks.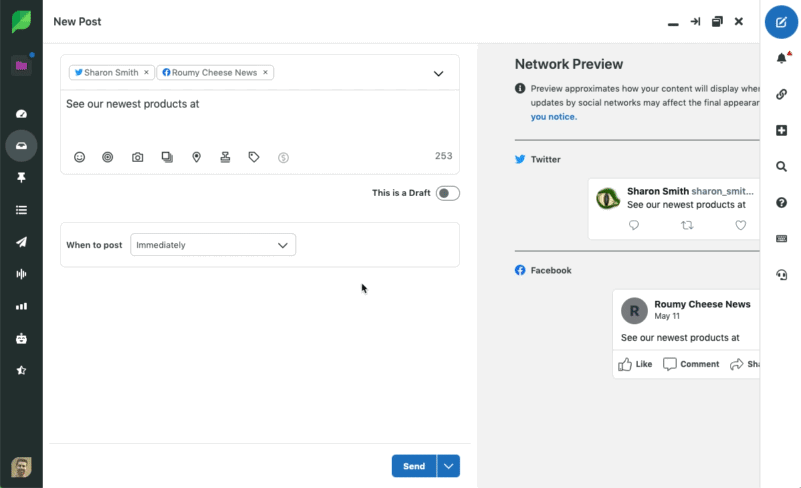 6. Performance optimization
The end goal of optimization is to improve your brand's performance on social media.
For most businesses, this means moving the needle on key metrics related to audience engagement, awareness and share of voice. More clicks, traffic, conversions and so on.
Better performance begins with analytics as you monitor what's working (and what isn't) in terms of your social content. For starters, make it a point to:
Identify your brand's top-performing content based on your KPIs
Monitor mentions and understanding your brand's share of voice versus competitors
Uncover common threads between your most-engaged-with posts and links
Social media optimization tools like Sprout are vital to monitoring and boosting your overall social performance. Our platform covers all of the points above and allows you to keep a constant pulse on your most important numbers.
Are your numbers down? Maybe it's time for some changes. Are you seeing a surge in interactions? Keep doing what you're doing.
Either way,  you can make marketing decisions with a greater sense of confidence when your analytics are on point.
How does your business approach social media optimization?
Think of the steps above as establishing the foundation for improving your social presence.
The more of these steps you take, the more effectively you can build and scale your campaigns in the future. These tactics (coupled with tools like Sprout) ensure that you approach social media proactively and pay attention to the numbers that matter.
Still not sure what to do with your social data? Don't sweat it. Just make sure to grab our social media toolkit that includes a ton of templates and guides to jumpstart your optimization journey.