4 free social media campaign templates you can use right now—and why you need one
There's nothing more intimidating than a blank page (or spreadsheet, depending on your preference). A strategy can be crystal clear in your head, but documenting it to share with others always feels like a hurdle, especially when it comes to campaign planning.
Luckily, that's where templates come in. A social media campaign template can help you speed through the documentation process so you can focus on bringing your team's vision to life. While a template can't account for specificities, it can still provide a solid foundation that grounds your immediate team, other departments or agency partners in your campaign goals and inspiration. If you're looking to refine your campaign planning process, keep reading to learn more about our favorite templates, plus some tips on how to improve existing ones.
Why you need a social media campaign template
Templates provide a standardized starting point that ensures consistency and efficiency. A flexible campaign template that accounts for team standards and the needs of other departments can also prevent any crossed wires as your campaign sets in motion. If you're still not convinced, here are some other key benefits you might not be considering:
They save valuable time. Creating a new strategy document from the ground up, for every campaign, takes time. Templates let you jump into your creative process faster, without endless documentation or formatting.
They provide a source of truth. Templates establish a predetermined set of details needed to successfully plan and launch a campaign, reducing the chance of repeat questions and confusion.
They cut down on reporting time. Only 29% of marketers use social data to assess campaign performance. Including a reporting section in your template ensures measurement—during and after your campaign—stay top of mind.
They promote collaboration. Templates take processes out of people's minds and put them on paper, giving junior employees a chance to get involved with more strategic initiatives.
Social campaign management today can be an arduous process for social media managers without the proper infrastructure in place. With the right template (and with the help of a  social media management tool), you set every campaign up for success.
4 free social media campaign templates you can use right now
If you're new to the ways of template creation or if you're looking to reset your existing process, don't sweat it. We've rounded up our top social media campaign templates below for you to use as a jumping-off point or keep as-is.
1. Social media campaign brief template
What it is: Social media campaigns have a lot of moving parts. Aligning your social, paid media and creative stakeholders with a detailed campaign brief is a great way to level-set content expectations and goals for your team. This customizable brief template will help you provide strategic and creative direction for all involved stakeholders. 
How it works: Download the free PDF and use it to document your overarching campaign strategy. This document will serve as a source of truth as you plan, launch and report on the campaign. Be sure to give all stakeholders access to the document so they can use it to guide their work as well.
2. 30-day social media plan template
What it is: The 30-day social media plan template is great for marketers looking to switch up their strategy through focused, achievable goals. The plan gives you a week-by-week breakdown that takes you from goal-setting and brainstorming fundamentals all the way to reporting and refining. Plus, it's packed with additional resources that will help you level up your social marketing skills.
How it works: Save a copy of the Google Sheet and use it to track your progress and create transparency throughout the rest of your marketing org. As you work through the steps, be sure to include links to any separate planning or note documents for easy reference. For an in-depth breakdown of each task, check out this guide.
3. Social media reporting template
What it is: Simplify your campaign reporting process with this easy-to-use social media reporting template. This document will help you organize your social data in a digestible, actionable format that highlights your successes and lessons learned. Plus, it can be used for both campaign reporting and monthly progress reports.
How it works: Download the free PDF and open it using Adobe or Apple Preview to edit. From there, you can adapt the report to your brand and plug in your social data. Be sure to share a branded, blank copy with the rest of your team as well.
4. Social media proposal template
What it is: If you're freelancing or with an agency, this one's for you. This proposal template can help you put together a cohesive campaign pitch that accounts for all deliverables, deadlines and costs up front. Use it to create a solid foundation for partnerships and to set reasonable client expectations from the jump.
How it works: Make a copy of the Google Doc and adapt the proposal to your brand and campaign. If you need additional inspiration, check out this comprehensive explainer on how to create a winning social media proposal.
4 elements of a successful social media campaign template
There is a lot of information you can include in a campaign plan template, but to make it as useful as possible, you'll want to strike a balance between big-picture strategy and tactical details. To make sure you're presenting your strategy in a way that clicks with your colleagues and collaborators, make sure you include these essential elements:
1. Preliminary research
A thorough research phase can help you finetune your campaign before it even begins. By looking at audience trends and interests, you can validate big swings, avoid potential misses and find new ideas you might not have considered.
Before jumping into creating a campaign plan, use a social listening tool to validate your ideas and hypotheses. With Sprout's Advanced Listening, you can look into keywords and hashtags associated with your brand or you can analyze a trending topic for potential brand alignment. Depending on the nature of your campaign, these insights can help you build proof of concept so you can kick off your campaign with confidence.
2. A detailed campaign brief
A campaign brief creates a centralized source of truth for your marketing department. This is where you can document the campaign description, goals and objectives, messaging plans and even a list of assets and deliverables. If you think it will help your team stay on track, include it in the brief.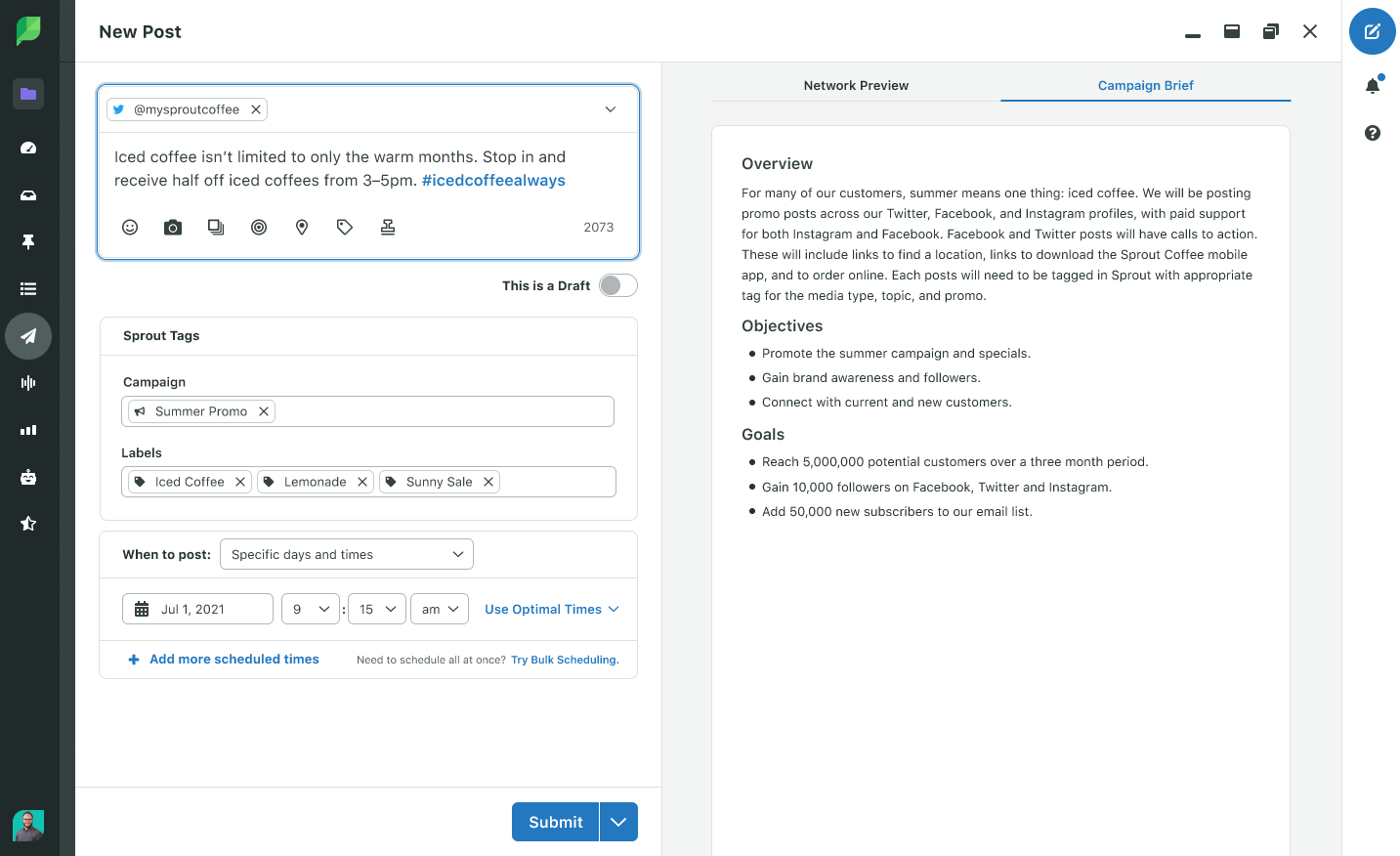 To ensure consistency, briefs should be easily accessible while planning and scheduling content. With Sprout Campaigns, you can include your brief for easy access during the campaign creation and execution process to increase visibility and alignment. That way, any team member or stakeholder who is creating content can reference it as they go.
3. An easy-to-read calendar
A social media calendar is the centerpiece of every campaign. The calendar format provides a high-level overview that helps you ensure content is publishing at a steady pace. Even if you're manually scheduling posts through native platforms, you should still create a calendar view using a spreadsheet so you can easily see what is publishing when.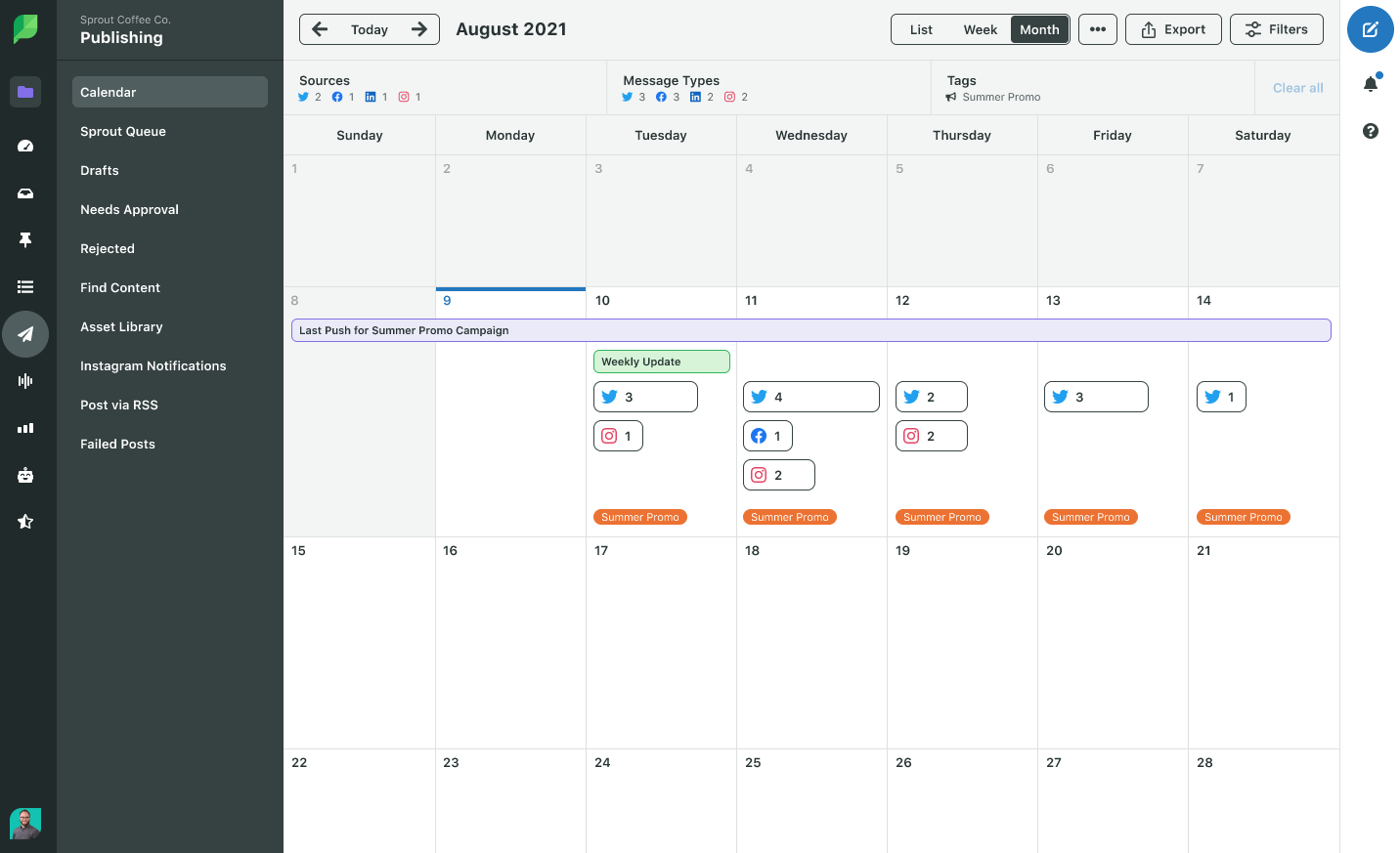 If you're using Sprout Campaigns, you can just use the collaborative Content Calendar. This workflow eliminates any need to jump from platform to platform, allowing you to schedule and monitor content in one unified view. Plus, you can leave internal notes on the calendar associated with your campaign for reminders, ideas and more. As your campaign progresses, you can filter by the day, week or month to view your upcoming scheduled content.
4. Established checkpoints
Campaigns don't end at launch. Decide on a (personal or team) cadence for checking in on campaign performance; the frequency will largely depend on the length of your campaign. For example, a timely social media contest might require a daily check-in until it runs its course. On the other hand, a year-long brand campaign might only need a monthly check-in.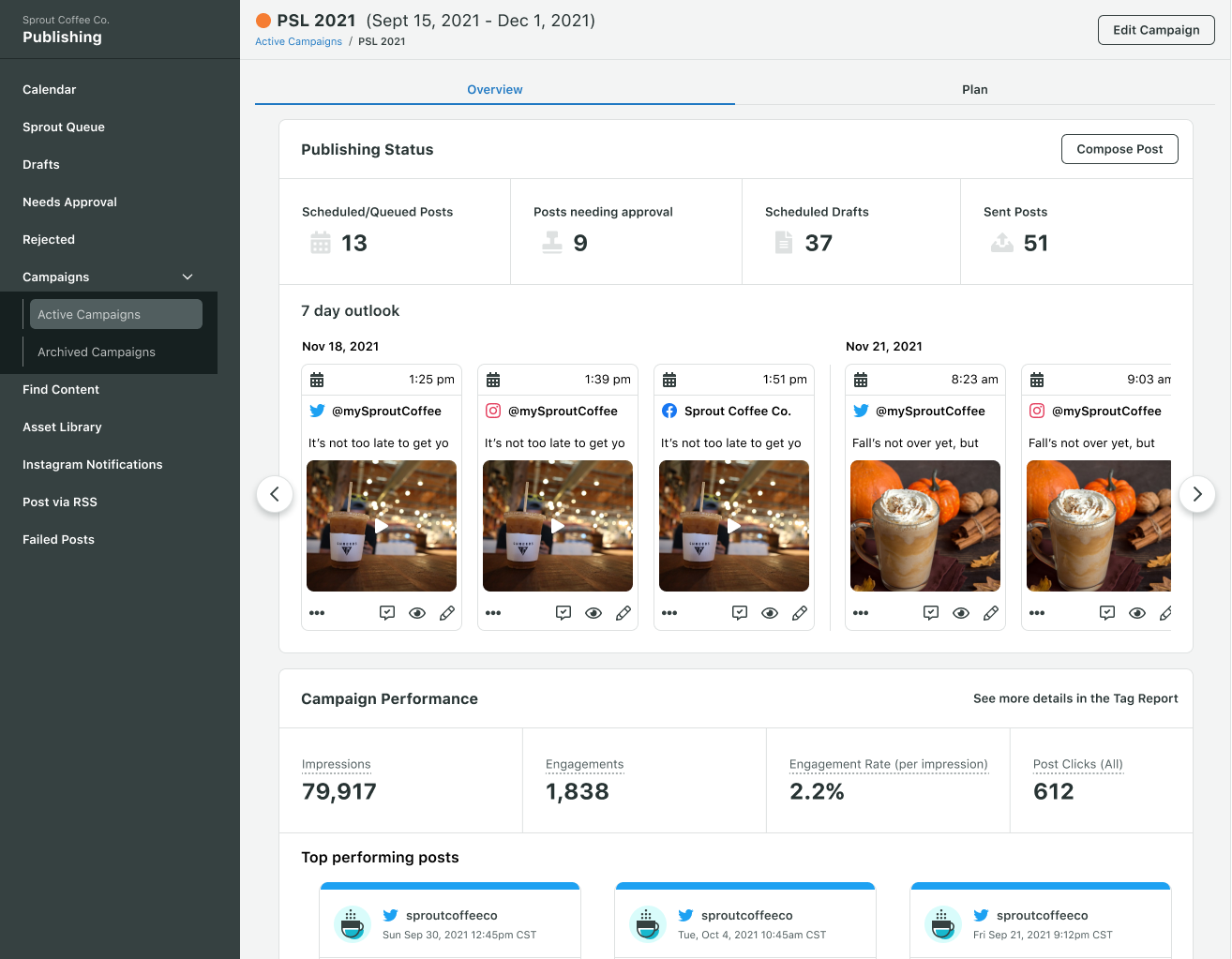 These checkpoints can help you make proactive adjustments, rather than waiting to see what worked after your campaign concludes. If you're planning your campaign using Sprout, use the campaign Overview tab for a snapshot of engagement, post performance and more.
Step up your planning with a social media campaign template
Social campaigns have a lot of moving parts. Templates are great, but if you want to really streamline your efforts, you need a robust social media management tool. With Sprout, you can manage your end-to-end campaign process in one streamlined, unified workflow. Reclaim your time and try Sprout Social today.