How to Make a Seamless Instagram Carousel Post
Reels may be the hottest thing on Instagram right now. But Instagram carousels are still thriving on the platform. In fact, they could be the key to sustaining engagement because they get people to stop and swipe.
In this guide, we give you a breakdown of why posting an Instagram carousel is a great idea for your social media strategy. We'll also give you plenty of tips, examples and ideas to help you get started. Let's dive in.
What is an Instagram carousel?
An Instagram carousel is a post containing more than one photo or video, which users can view by swiping left on a post through the phone app. Desktop users can view a carousel post by clicking on the arrow button on the right of a post. Think of it as a slideshow of posts that users can control manually.
Carousel posts are a great way to get people to pause and engage with your content, especially if the first slide is enticing enough. So it's no surprise that Instagram carousels outperform both photo and video posts in terms of engagement.
Socialinsider.io found that carousel posts get higher engagement rates than photos and videos. Depending on follower size, carousels manage to hit engagement rates between 1.65% and 5.40%. This is higher than the average platform engagement rate, which stands at 1.22% according to the latest Instagram stats.
When to use Instagram carousels
The unique nature of Instagram carousels makes them a great option for strategic Instagram content. Some of the best ways to use an Instagram carousel post are:
Educational content
Data and infographics
Tutorials
Brand storytelling
Before-and-after reveals
Photo dumps
Product reveals
Product/brand updates
User-generated content
Event highlights
Behind-the-scenes looks
Instagram carousel size requirements
When creating a carousel post on Instagram, you'd want to make sure that it looks great on the platform. So it's important to follow the size requirements and specifications. Design and optimize your posts with the three aspect ratio options in mind:
Square (1:1)
Horizontal (1.91:1)
Vertical (4:5)
For images, Instagram recommends a resolution of 1080 x 1080 pixels. Videos can have a minimum resolution of 600 x 600 pixels and a maximum resolution of 1080 x 1080 pixels.
How to create a carousel post on Instagram
Once you have the perfect images or videos lined up, you can start creating an Instagram carousel post using the steps below:
Step 1. Click on the "+" button from the navigation bar at the top of your screen.
Step 2. Select the option to create a new "Post."
Step 3. Tap on the option to "Select multiple."
Step 4. Choose the photos or videos you want to upload as a carousel post. You can select up to 10 photos or videos for your carousel. Then tap on "Next."
Step 5. Just like creating a single-image post, you'll get the option to edit your photos and videos by applying filters. To create a cohesive look throughout, you can choose to apply the same filter throughout all the images and videos. Once you're done, tap on the "Next" button.
Step 6. Now add details to your carousel post. Make sure you include a suitable and enticing caption that could prompt engagement. You can even include popular and relevant Instagram hashtags to improve your post visibility. This is also the section where you can tag people, add a location or add a reminder similar to a regular post.
Step 7. Once you have everything sorted, tap on the "Share" button and that's it. You've created and shared your Instagram carousel post.
How to schedule an Instagram carousel post
The manual publishing process may be straightforward, but it can be time-consuming. As a social media manager, one of your main goals is to do your job as efficiently as possible. That means scheduling content ahead of time so you can maintain a consistent publishing schedule.
And the same would hold true for your Instagram carousel posts. Fortunately, you have the option to schedule your Instagram posts using the Facebook Creator Studio. Here are the steps to follow:
Step 1. Log into your Creator Studio account and select the Instagram button at the top.
Step 2. Click on the "Create Post" button from the left-hand panel and select the option to create a post for your "Instagram Feed." This option is suitable for creating image carousel posts and sharing videos shorter than 60 seconds.
Step 3. Click on the "Add content" button under the caption window and choose the first image or video you want to upload. After selecting the first content, the "Add content" button will move to the top of the caption window. Click on this button to keep adding all the photos and/or videos you want to include in the post.
Step 4. Once you're done creating the post and adding all the info you want to include, click on the drop-down arrow next to the "Publish" button. Select "Schedule" and choose the date and time you want the carousel post to go out and click on the "Schedule" button. And that's it–your Instagram carousel post is now ready to go out.
While this is a useful tool to have, keep in mind that it's only accessible on desktop. This may make it a bit challenging if you're used to managing everything from your phone or if you want to schedule a carousel post while on the go.
If you're using an all-in-one social media management tool like Sprout Social, you can directly publish and schedule Instagram carousel posts to your accounts. Sprout recently updated it's capability to allow users to publish Instagram carousels directly from the desktop app rather than the Mobile Publishing Workflow.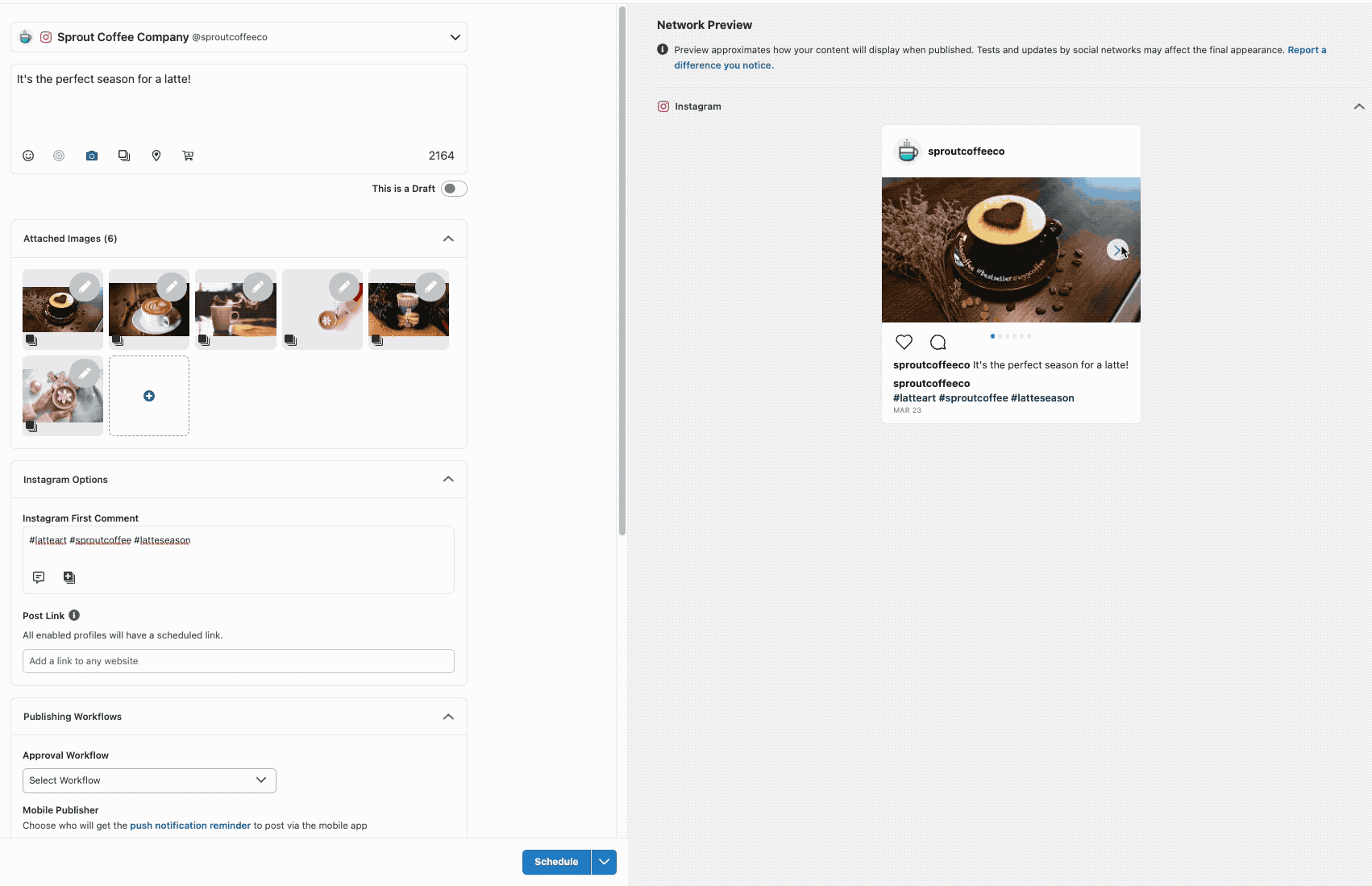 How to Create an Instagram carousel post on Sprout:
Step 1. Open Compose in Sprout desktop or mobile app.
Step 2. Select your Instagram Business Profile from the Profile Picker.
Step 3. Add your content for the Instagram post.
Step 4. Select up to 10 images to include in your post. Note that images and videos cannot be combined in your Instagram carousel posts published through the Sprout app at this time.
Step 5. Personalize your post, whether it's tags, hashtags, Instagram First Comment or even post links.
Step 6. Schedule when you want to publish your post.

Step 7. Click Submit or Send.
For more information on publishing and scheduling Instagram carousel posts within Sprout, visit our Help Center.
Instagram carousel examples to inspire you
Need some inspiration for creative ways to use carousel posts? Here are some Instagram carousel examples to inspire you:
1. Sprout Social: Answering burning questions
Sprout used Instagram carousels to share answers to pressing questions. This helped to inform the audience and show the platform's social listening capabilities.
2. Canva: Bite-sized visual guides
Canva made the most of carousels to share short and actionable visual guides for its users.
3. ColourPop Cosmetics: Revealing a new collection/product line
ColourPop Cosmetics used a carousel post to reveal all the products in its new In the Limelight collection.
4. NotionHQ: Event highlights
NotionHQ shared a series of photos announcing a virtual conference.
7. Frank Body: Spotlighting ingredients
The Australian skincare brand used carousels to put a spotlight on key native ingredients and their benefits.
8. Exist Green: Mini store tour
Exist Green shared photos of their redesigned eco-boutique section. This gave followers a mini-tour of its store to invite foot traffic.
Creating Instagram carousel templates
One of the best practices to follow on Instagram is maintaining a consistent feed containing high-quality images. That means you should carefully pick the visuals for your carousel posts to make sure that your feed looks cohesive and on-brand. Instagram carousel templates can help with this.
Instagram carousel templates act as a framework for your carousel posts. They use a consistent style of color schemes, fonts and other design elements to make sure that each image comes together to form a unified look. Customize these templates with text, graphics and photos to create a new carousel post.
You can find plenty of stock templates on websites like Canva, PicMonkey and Adobe Stock. These templates are available to customize and download for free or for a small fee. Stock templates are a great option if you want to save time. They're also perfect if you don't have a knack for designing but still want professional-looking templates.
Alternatively, you can also design your own Instagram carousel templates from scratch. This is a good choice if you have a strong brand visual identity that you want to showcase through your Instagram carousels. It gives you more flexibility to create a template that fits your exact needs.
Start getting those swipes
The data doesn't lie–there's no doubt that Instagram carousel posts are highly engaging. So if you're not using them already, you're missing out on the opportunity to engage your audience. Make the most of the tips, ideas and template resources above to design eye-catching carousels that get people to swipe left.
In fact, engaging your audience is the key to becoming "best in class" on social media, according to 46% of consumers. Download the Sprout Social Index Edition XVII: Accelerate to gain more insights into the social consumer.