Don't fear the retro: How open communication strengthens agency-client relationships
All humans are born with a natural negativity bias, causing us to dwell more on negative experiences than we do on positive ones. This bias can make even the idea of negative feedback anxiety-inducing, leading many to avoid the opportunity altogether.  For agencies, however, avoidance is not an option.
Receiving and giving constructive feedback is integral to an agency's ability to grow. Retrospectives create a positive environment for this exchange by giving both agencies and clients a chance to reflect on the work that has been done over a project period. In this article, we're sharing tips on hosting better client retrospectives. But first, why does it matter?
How client retrospectives can build better agency-client relationships
The agency model is notoriously fast-paced. Combine that with the lightning speed of social, and you get a near-endless to-do list. Planning, publishing, reporting and optimizing takes time. Once you throw regular client communications into the mix, it can feel impossible to find the time to step back and reflect on your overall performance.
But great agency-client relationships aren't built on performance alone. They require a foundation of trust. To build this trust, agencies need to carve out time to encourage open, meaningful communication as a part of their standard process.
That's why routine retrospectives are so valuable. Effective communication is an essential step in the shift from service provider to partner. Retrospectives facilitate an open exchange of views, allowing each party to discuss what they think went well, what could be improved and what isn't working in a positive environment.
These discussions give clients a valuable peek behind the agency curtain, helping them to better understand your approach and the value of social media overall. As clients become more comfortable giving productive feedback, their faith in your team's ability to deliver will blossom.
How to prepare for a productive client retrospective
Giving feedback can be as hard as getting it, especially if your clients have a less sophisticated understanding of social media marketing. As the retrospective host, it's your job to help your client understand how your performance translates back to business goals so they can provide a more actionable assessment of your work.
Dissect the process
No aspects of your process should be off-limits during a retrospective, so enthusiastically encourage your clients to be candid and comprehensive. Those new to retrospectives might feel limited to discussing outcomes, but all great agency marketers know performance is just a fraction of a client's satisfaction with your work.
For example, if a client feels overwhelmed by your social media approval process, they might forget to bring it up if your retrospective prompts focus solely on KPIs. Taking time to dig into your workflow can shed light on complex or clunky aspects of how you operate, which can help you tune up your services for all of your clients.
If you find that your discussion isn't resulting in the honest feedback you were hoping for, it may be time to dissect the retrospective process itself. The format of your retrospective should constantly evolve to foster more productive conversations. As you schedule retrospectives, keep everything up for review, from the questions being asked to who's in the room.
Be proactive
While retrospectives typically happen at the end of a project or client term, that doesn't always have to be the case. If you notice that your plan is falling short of goals or that your client seems unsatisfied, it's better to schedule one early rather than waiting to see how things pan out.
Encourage feedback between retrospective conversations by establishing a consistent reporting schedule. Monthly reports and check-ins provide a solid picture of your progress while creating an opportunity to gauge whether or not a client is satisfied with your efforts. Sprout users can set up recurring report delivery to key stakeholders on a monthly or weekly basis, for more time-sensitive projects.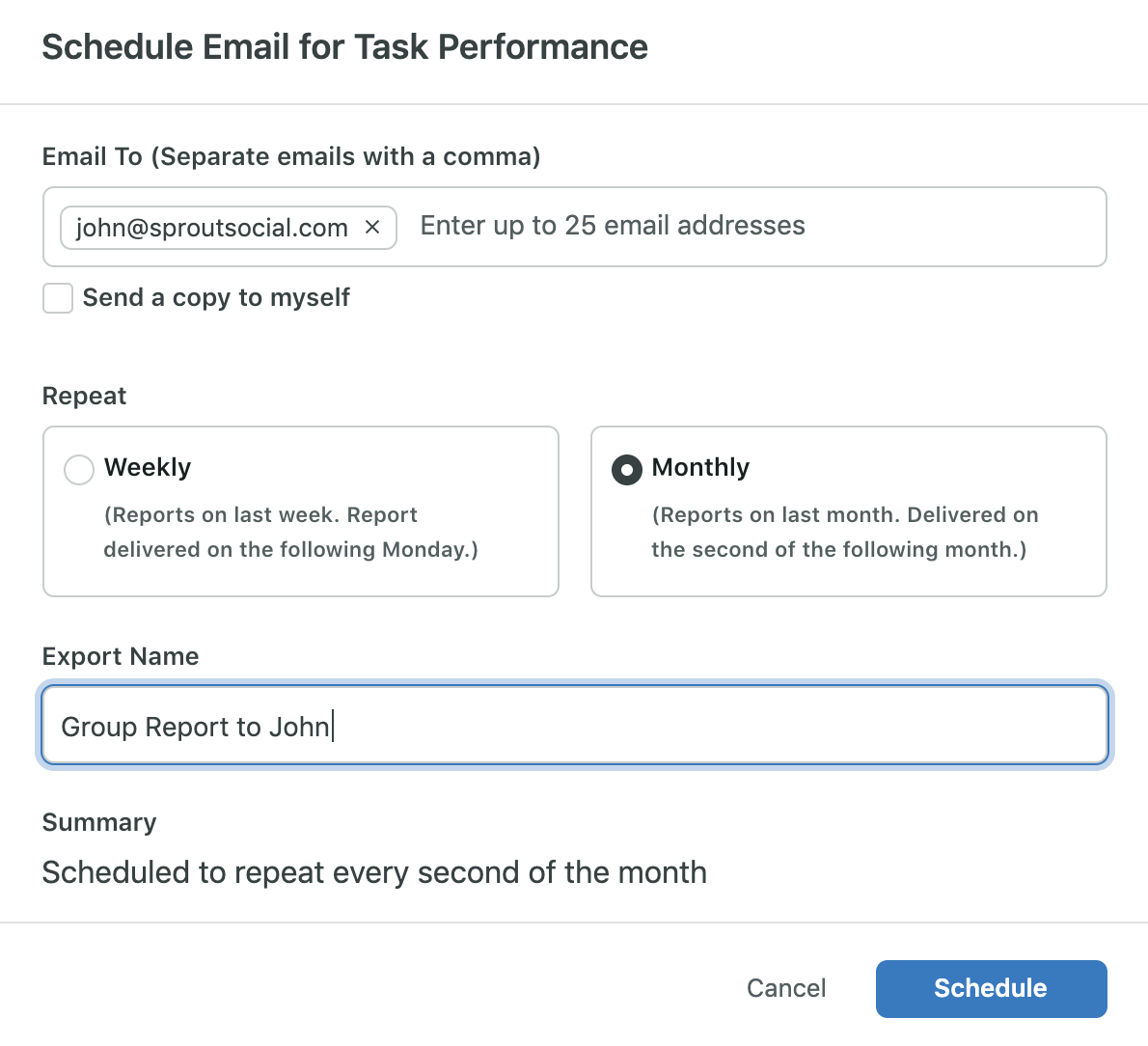 If you think your client might benefit from an additional retrospective, be sure to meet with your team before putting it on the books. Creating an opportunity for an open internal exchange will help ensure that you're approaching clients with solutions in mind.
Show up with data
Fifty-four percent of agencies identify educating their clients on the value of social as a common pain point, according to the 2021 Agency Pricing and Packaging Report. Avoid leaving your success up to anecdotes or gut feeling by gathering powerful data points, actionable insights and strategic recommendations.
Kate Istead, Head of Operations at Giraffe Social Media, understands the value of using reports for an objective look at key accomplishments, for both clients and marketers.
"It's very easy to look back at your work and say 'I wish we would have done it like this' or 'We could have done this better'," says Istead. "What matters is the goals that were set at the start of the project. It's not fair to judge yourself based on a goal you didn't actually set."
Giraffe Social Media's approach to anticipating their client's needs and pivoting strategies in response to feedback helped them win Agency Partner of the Year at the 2020 Sprout Partner Value Awards.
"Our social media managers build custom reports based on client goals and objectives," says Istead. "Not only do we use that data to improve our services, we also use it to change how we operate as an agency across all clients. There are always lessons to learn, whether it be what's performing well organically or how we can get the most out of paid advertising."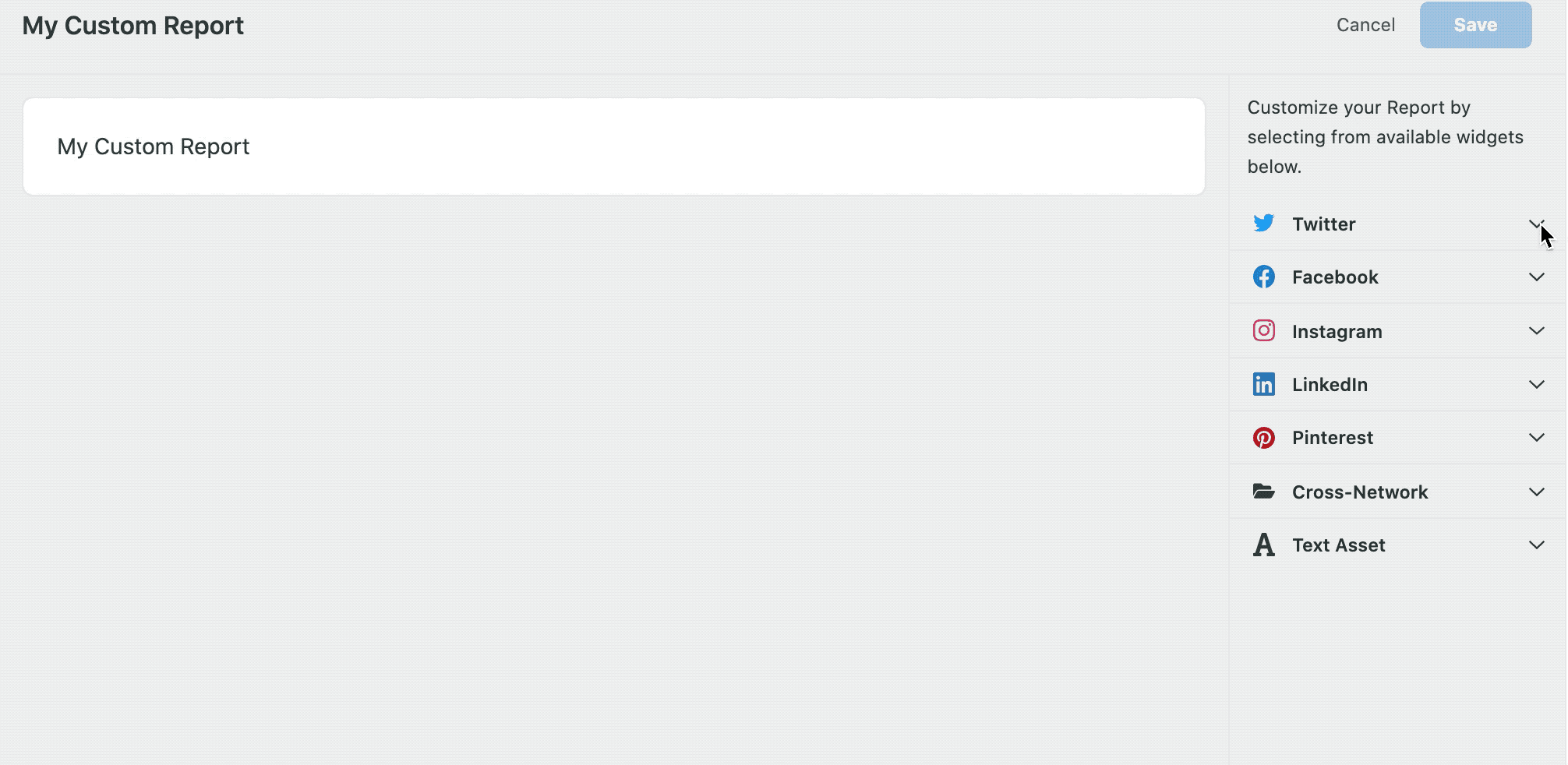 Agencies using Sprout's Premium Analytics can use the advanced Report Builder to create custom reports that align with client business needs. Centralizing and consolidating the information that matters most can help ensure clients come to retrospectives with a complete view of the work your team has done.
Don't fear the retro
When agencies and clients grow together, it's a beautiful thing. Agencies that use retrospectives to increase collaboration and communication create strategic partnerships with their clients that pave the way for new business down the line.
It's time to go after those dream clients. Download our guide to using social listening to optimize agency operations today and find out how you can create a foundation for long-term growth.