The TikTok Effect: 6 lessons from TikTok trends to influence your social strategy
The TikTok boom is in full effect. Since the platform first became available in the U.S. in summer 2018, TikTok has generated six billion lifetime downloads in app stores and hit 689 million users worldwide, with no plateau in sight.
Between viral dances, memes, recipes, hacks and other TikTok trends, it's hard to avoid the platform's influence, leaving many brands to wonder—should we be on TikTok?
TikTok has a lot to offer brands, but the answer to that question comes down to your goals and your audience. Even if your brand decides TikTok isn't a good fit, there's a lot to learn from the trends that have emerged. And as seemingly every platform adopts a TikTok-like feature (e.g., Instagram Reels, YouTube Shorts, Snapchat Spotlight) your brand can leverage the following six TikTok takeaways to influence strategies for your other social channels.
1. Take advantage of low-lift, quick-cut tutorials
According to Vidyard's 2021 Video Benchmarks report, the most common types of business-created videos are product demos, followed by how-to's and explainers. There are more than 84 billion views (and counting) on TikToks with the hashtag #LearnOnTikTok. If that tells you anything, it's that those types of videos are ripe for the platform. More than that, it shows that there is an audience appetite to learn new things, which is something you can cater to on any social channel.
On TikTok, you only have 60 seconds to get your message across, so creators use quick cuts, clear voice-over directives, sharp visuals and captions for additional context.
2. Make your content accessible
An estimated 15% of the world's population live with a disability, and it's mission-critical for any brand to make the content they create accessible for all. TikTok has empowered disabled creators to shatter misconceptions and show a side of disability that most able-bodied people have never experienced before.
Adding captions to your videos on social is a simple way to make them more accessible. You can either create the closed captions yourself or let your social platform do the work for you—IGTV, Twitter, Facebook and YouTube all enable automatic closed captions now.
Text-to-speech is also a popular and powerful feature on TikTok that helps people with vision impairments enjoy videos, and should be embraced on other platforms.
Accessibility should be a consideration for all of your brand content, not just videos. In Sprout Social Publishing suite, users can add descriptive alt text to images they're going to share on Facebook, Twitter and LinkedIn so that people with vision impairments can use a screen reader to get a sense of what the image is.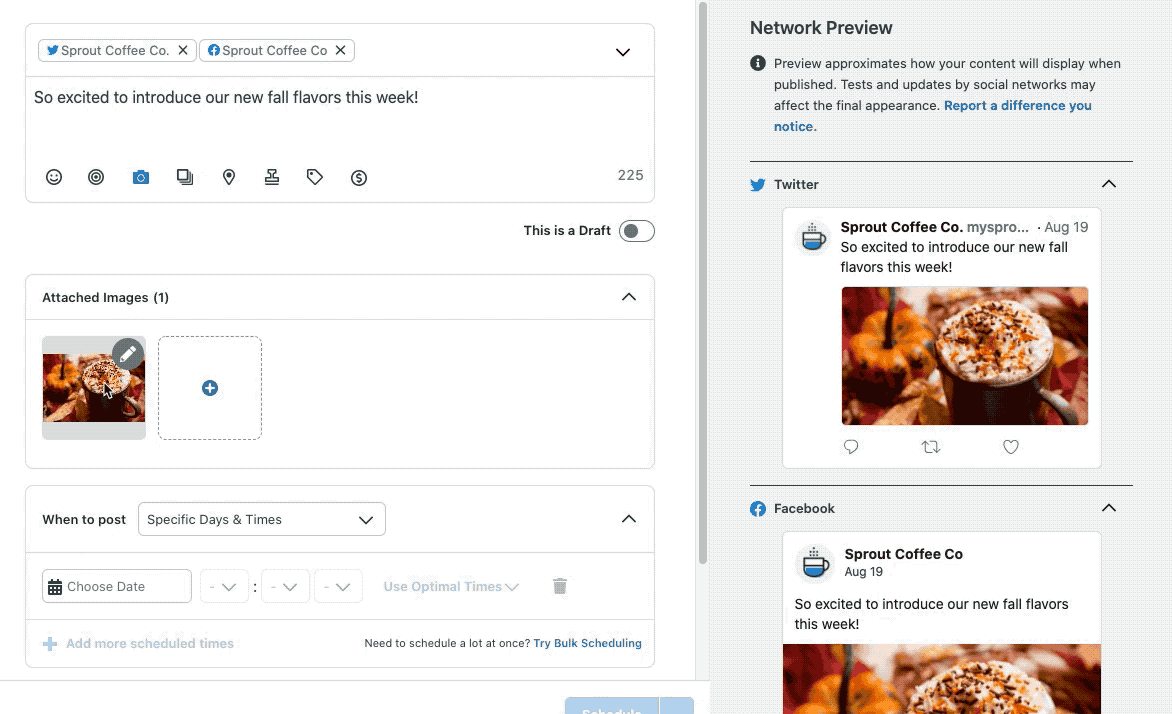 Not only is that the right thing to do, but accessibility is also a competitive advantage. Explore more easy ways to make your social media more inclusive and accessible.
3. Double down on influencer marketing and user-generated content
If you haven't already dipped your toe into the influencer marketing pool, now is as good a time as any. TikTok is an influencer culture incubator, enabling popular creators to reach and engage millions of users on the app in minutes. And they do this without tons of studio equipment or highly produced content.
Pura Vida Bracelets has less than 300,000 followers on TikTok, compared to 2.1 million on Instagram. But by partnering with TikTok's sweetheart Charli D'Amelio, who has over 112 million followers, the brand has capitalized on her influence and expanded the reach of its brand. The TikTok announcing Charli's own Pura Vida Bracelets pack has over 30 million views and 3.5 million likes. And you can bet that translated into awareness, web traffic and sales for Pura Vida.
TikTok didn't invent influencer marketing. Influencers have been thriving on social channels for years. What TikTok has done is spark new brand ambassadorship opportunities and inspire creative user-generated content. The ability to download any TikTok also means brands can easily reshare relevant TikToks to other platforms like Instagram Reels, Twitter and more.
Even if your brand isn't active on TikTok, partnering with influencers or brand ambassadors can be a great way to expand your reach without a full-blown brand TikTok strategy.
Clorox, for instance, doesn't have an official brand TikTok, but for their recent spring cleaning #YasClean campaign, TikTok has been the star channel. By partnering with Billy Porter to create an original, shareable TikTok sound, the campaign made a splash. Videos with the hashtag #YasClean have garnered over 6.5 billion views.
4. Monitor brand keywords for greater TikTok takeaways
TikTok and social channels, in general, are a platform for people to share unfiltered thoughts, needs and feelings. If your brand is on their mind, you're going to want to know about it.
Remi Bader, a 25-year old curve model, made a name for herself doing "realistic hauls," where she tries on clothing and gives her candid, and hilarious, feedback.
By fashion industry standards, Remi would be considered plus size. But in reality, she's just a normal woman with a normal body who wants brands to create clothes that fit her and bodies of all shapes and sizes. Typically she'll tag brands that are on TikTok or use brand hashtags—she wants those brands to hear her, see her and fix the sizing flaws in their clothing.
There is a valuable lesson to be learned here: Track your brand keywords even if your brand isn't active on a social channel. Otherwise, you could be missing out on customer feedback that has the potential to strengthen your brand, products and services.
With Sprout Social's Listening solution, brands can become a fly on the wall in relevant conversations, so they never miss a moment to hear their customers, learn and improve.
5. Make your own TikTok challenge
If you kept up with viral moments of 2020, you probably know that Ocean Spray struck gold when Nathan Apodaca AKA doggface208 posted a TikTok of himself drinking their juice while skateboarding and listening to "Dreams" by Fleetwood Mac.
The original video, which has over 12 million likes on TikTok, was so popular that people started reenacting their own versions, which Ocean Spray dubbed the #DreamsChallenge.
On Instagram alone, more than two million posts include the hashtag #TikTokChallenge. The benefit challenges are that they have a clear call-to-action encouraging people to join the fun. In Ocean Spray's case, Mick Fleetwood, players on the PGA Tour, police departments and even the Office of Nuclear Energy took part in the branded challenge.
Ocean Spray also seized this viral moment to rebrand. Just scrolling through the brand's Instagram, you can see a clear distinction in the brand's content before and after the #DreamsChallenge went viral. Now, the brand consistently shares more playful, internet-culture-inspired content across all of its channels.
Wondering how to find TikTok trends in the first place? TikTok's Discover page regularly refreshes trending hashtags. If you're interested in creating a brand challenge, include a hashtag so that if it takes off, your brand will be prominently featured. As an added bonus, hashtags can crossover and be used on channels like Instagram, Twitter and even LinkedIn.
6. Have fun and experiment with TikTok trends
One of the reasons TikTok is so popular in the first place is that there's never a dull moment on the platform. People are always finding new ways to use the creator tools, which results in a constant churn of new trends.
Brands can and should take inspiration from TikTok creators in the way they approach content. Don't be afraid to experiment. Try new video styles and test them out on your audience. Find new collaborative, creative partners. And have fun while doing it.
How to find TikTok trends for your brand: Keep the focus on your audience and authenticity
For brands testing creator-style videos, there is no right answer to the Instagram Reels vs. TikTok debate. Each social channel and video platform has unique strengths. Above all else, prioritize staying on brand, goal-oriented and true to your audience's preferences.
As social media platforms evolve and adopt more creator features, we can all look forward to a creative, innovative, video-driven future of content. Want to know what else the future holds? Download this guide and learn how to use data to make smarter social media predictions.