How the right social media mix enhances multichannel campaigns
Brands today have more options available than ever when launching multichannel social media marketing campaigns—which may be both a blessing and a curse, considering over half of marketing leaders say they struggle to effectively execute them.
The benefits of multichannel marketing are clear. It creates more opportunities to:
Expand brand awareness.
Reach prospects and returning customers.
Generate qualified leads.
Tailor content to each specific channel and audience while also maintaining a coordinated strategy.
Maximize marketing ROI.
But just because you show up on multiple channels, does not guarantee a successful multichannel campaign—especially if your social media team was left out of the planning phase.
According to the 2021 Sprout Social Index™, 86% of marketers believe social media influences their bottom line. However, social teams are still frequently left in the dark about larger social marketing campaigns until late in the game.
Instead, social marketers need to be brought into conversations early and often to support cohesive multichannel marketing.
3 reasons to include social teams in multichannel campaign planning
1. Social data can strengthen your campaign strategies
The best multichannel marketers know where their target customers are, why and what kinds of content resonates in each place. Social marketers are inherently multichannel marketers as they strategize, publish and engage on several social networks at a time. As a result, they have a direct view into customer preferences thanks to social data.
When social teams are brought into multichannel campaigns from the start, they bring data to the table with a strategy that can refine your campaign goals and personas, inform your messaging and dictate which channels you show up on.
Going forward, social media is expected to become organizations' primary source of business intelligence. Tap that data source and the experts on it now to get ahead of the curve.
2. There's more than one way to post on social
Just as audiences differ from network to network, so do the features and formats. Sending a last-minute request to "just post this" boxes social marketers in and may limit how they can promote a campaign. When the social team is in the loop from the beginning, they can plan a social media mix of posts, stories, long or short-form videos and other types of content that boosts the visibility, creativity and overall impact of a multichannel campaign.
Social networks also have specific dimensions and limitations for what you can and cannot post that non-social marketers may not be aware of. By taking a social-first approach to creative production, businesses can avoid pushback from their social teams, last-minute requests for resized assets and low performance.
3. Social marketers are in tune with the voice of the culture
Social provides a view of culture at large. Breaking news, viral memes, hot takes, social justice movements and other trends constantly swirl around social, making social marketers cultural connoisseurs. By tuning into the voice of the culture, they can surface perspectives and provide insights that result in relevance and true business impact. Their ability to read the moment and consumers' mindsets can also help businesses avoid social missteps.
Social listening, and listening to social marketers, gives businesses the power to reject assumptions about their customers or culture and instead use compelling, real-time insight to build multichannel campaigns.
Create a social media mix that complements other channel investments
Deploying a campaign on every channel possible is not only cost-prohibitive–it's unnecessary. Marketing teams need to strike a balance between the channels that complement one another and the campaign at hand. How you determine that balance depends on your goals and, of course, your target audiences.
Let's say you're a direct-to-consumer, e-commerce brand looking to promote a new product launch with sights set on attracting prospects, qualified leads, web traffic and sales.
Together, marketers that specialize in email, paid search, digital advertising and social media can share expertise and data from past campaigns to decide which investments will be most effective.
Diversify content across platforms while maintaining your campaign identity
Once you've identified your channels of choice, marketers need to create a mix of content that is cohesive and tailored for audiences on each channel.
Spotify's annual Wrapped campaign, which spans digital and traditional channels, gives customers a personalized review of their listening habits and the world at large a rundown of the year's top songs, artists, playlists and more. It's a master class in multichannel marketing.
Here are a few ways the streaming giant's 2020 campaign built brand awareness, inspired customer loyalty, generated leads and compelled businesses to advertise on Spotify.
Email marketing and in-app notifications alerted Spotify users that "Your year in music is here." The messaging is simple, direct, puts the focus on the customer and includes a CTA that drives right to the campaign landing page, where users have to sign in to gain access.
The colorful, personalized and interactive experience is optimized for social, encouraging users to share their Wrapped report with their networks. As a result, users spread brand awareness for Spotify and inspire enough FOMO among the have-nots to get them to sign up for the streaming service.
In addition to social ads and UGC, Spotify used organic social content as an opportunity to hype the campaign before launch day and extend engagement after.
Billboards were placed across the globe with streaming data and messages of gratitude to the artists, podcasts and playlists that got us through the year.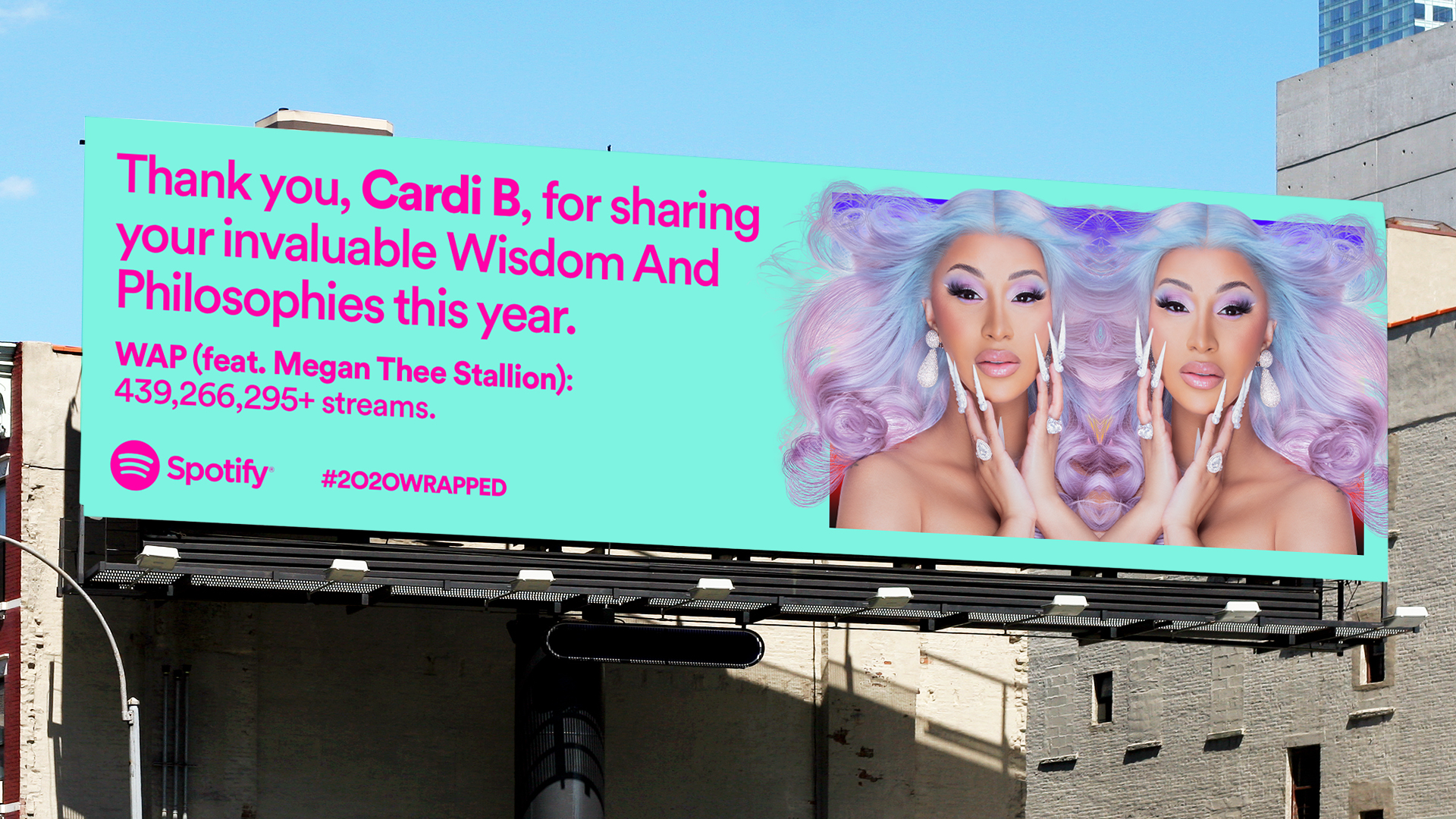 For Spotify users, the Wrapped campaign is all about their personal listening habits, but there's another audience that this campaign intrigues–advertisers. In addition to the swell of Spotify users sharing their listening accomplishments, Spotify publishes a Wrapped report for advertisers that's chock full of consumer data and insights and concludes with a lead generation form.
Spotify's Wrapped campaign is a massive multichannel campaign. While your business might not be able to go quite as big, the takeaways here are transferable:
Coordinate your strategy in collaboration with various marketing disciplines.
Create an identity and core concept for your campaign that carries over from channel to channel.
Customize messaging and content for the audience, features and goals of each channel.
Don't overlook social data and social experts
The success of any campaign hinges on showing the ROI, which has long been a challenge for social marketers. However,  only 29% of marketers use social data to assess campaign performance. The other 71% are missing out.
A social media management tool like Sprout simplifies the process of measuring campaign performance and sharing analytics across teams. Marketers can use this social data, combined with insights from other channels, to test, learn and refine campaigns for maximum effectiveness.
Don't just take the social data and run though. Giving social marketers a seat at the table to share their knowledge, ideas and creative vision are critical to the success of your multichannel campaigns, even when social is just one component.
If your next campaign is around the corner, prepare to launch with a social media campaign brief that empowers and aligns your team. Download this template to get started.