Sprout on Sprout: 3 use cases for Tagging
I know what you're thinking: "I'm pretty sure I understand the benefits of tagging on social media".
The thing is, what we're talking about has nothing to do with mentions or the @ symbol. We're talking about Tagging—a game-changing Sprout feature that can demystify the performance of both your inbound and outbound social content.
Tags help social marketers group and categorize posts for flexible reporting on content, creative and campaigns. Customers across industries use them to unlock key performance insights and move their strategies forward. Even our own social team relies on a robust tagging structure to report on over 50 specific types of content across networks.
If you're new to Tagging, we're here to show you the ropes. And who better to help than Sprout's social team? They'll give you a peek behind the curtain so you can build your tagging foundation with confidence.
But first, how does Tagging work in Sprout Social?
Tags are used to categorize content, but not all tags work the same way. Think of "Tags" as an umbrella term to describe the overall concept of labeling posts. There are two subcategories of Tags that exist to help marketers report at a more granular level:
Labels which can be applied to posts, messages or assets that exist independently of a campaign. For example, you could use a Label to categorize and report on messages containing customer feedback.
Campaigns, which group posts, incoming messages and assets that align to an overarching campaign, like a promotion or an event. You can also apply Labels to messages with a Campaign tag for more reporting options.
To understand what this looks like in practice, let's look at a hypothetical example. Say our social team is running a campaign to promote an event. They want to learn which content types generate the most buzz on social. To track this, we could create a "Sprout Event" Campaign tag and a series of Labels for each content type (static image, animation, video, etc).
When it's time to analyze, our social team can turn to Sprout's Tag Performance Report, which includes tag, profile and message type filters. Our team uses these filters to compare performance between and within tags to identify trends, message volume, themes and post-level engagement.
How the Sprout Social team uses Tagging
Now that you understand the basics of tagging, it's time to get into how Sprout uses Tags. Our social team constantly audits our approach to yield more specific insights. Here are their three most common Tag use cases:
Use case #1: Outbound publishing
Social content planning is anything but random. Everything we post aligns to overarching themes that we decide on during our content ideation process. Sprout's Social Media Strategists, Olivia Jepson and Jonathan Zuluaga, use outbound tags to understand how well those themes perform with Sprout's audience.
Tags are one of the most powerful tools we have. They're incredibly helpful for both day-to-day strategy decisions and reporting. They elevate how we're able to see and analyze data.

Jonathan Zuluaga

Social Media Strategist, Sprout Social
"We use outbound Tags to understand how often we're posting specific content categories," says Zuluaga. "At the end of the month, we use these to understand how often posting a certain type of content impacts performance."
Tracking post volume empowers our social team to refine their strategy throughout the quarter. If they notice a certain content theme is outperforming another, they use this information to readjust post volumes to ensure we're meeting our goals.
Jepson and Zuluaga recently used tags to dig into Sprout's Twitter performance. "We were concerned we might be sharing too much third-party content," says Zuluaga. "Using the Tag Performance Report, we were able to compare the amount of posts featuring third-party content to those that feature Insights articles. Then, we reviewed how each Tag performed month-over-month. From there, we were able to make strategic pivots as needed."
Use case #2: Inbound engagement
On average, over 3,000 messages come through Sprout's Smart Inbox each month. On an individual level, these messages may seem like simple engagement opportunities. But when you look at them collectively, they hold vital details on audience interests, concerns and wins. Inbound message tagging allows the Sprout team to parse through that information for insights that strengthen our marketing efforts and investments.
"Inbound tags help us track trends in engagement," says Zuluaga. "We have a lot of labels that help us track everything from customer wins to product feedback."
Inbound tags also help our social team differentiate between the messages that need replies and the ones that don't. For example, many people use Sprout's $Cashtag in stock market updates that don't necessarily require any direct engagement from the Sprout handle. To solve this, Jepson leaned on another underrated Sprout feature.
"We created an automated rule that instantly adds a stock-specific tag to any $SPT-related content," says Jepson. "That way, when we're in the Sprout Inbox to engage with followers, we can filter those messages out."
Automated Tags are the secret to creating a cleaner, faster approach to managing your Smart Inbox. You can apply them to specific keywords, phrases or message types so you can limit distractions and focus on current priorities.
Use case #3: Campaign tracking
At Sprout, our social media campaigns fuel our overarching marketing-wide initiatives. Our team goals ladder up to department goals, and those department goals ladder up to business goals. Campaign tags provide Jepson and Zuluaga with the flexibility needed to report on what matters most to each marketing team.
"The filters available in the Tag Report allow us to narrow in on metrics that align with the goals of the greater initiative," says Jepson. "Campaign Tags can apply to both outbound and inbound messages, allowing us to zoom out to the bigger picture. We report on our performance and how people responded to the campaign beyond standard post-level data."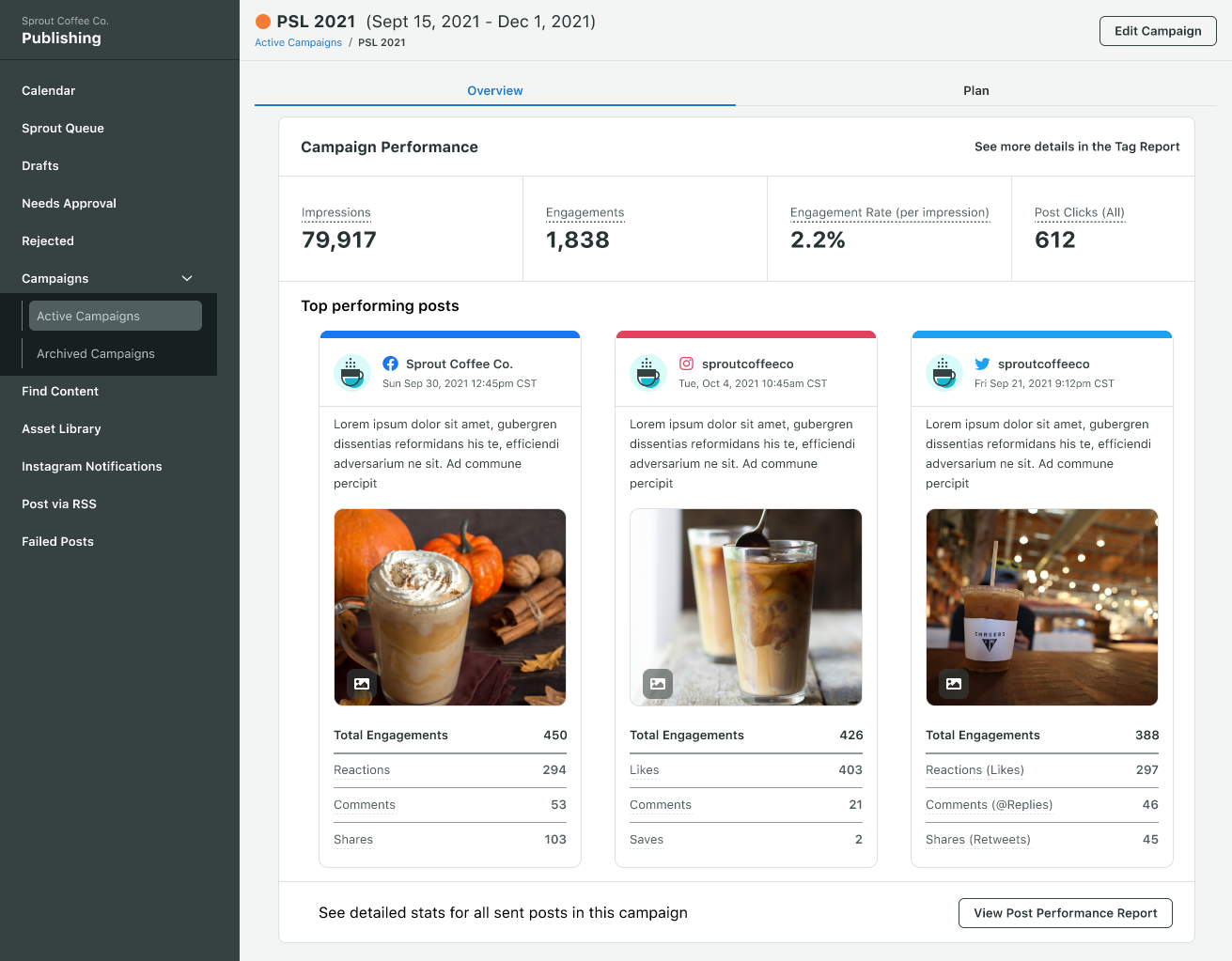 Not all campaigns have a set end date. You may have seen our three-minute webinar series on LinkedIn or our trendspotting Reels on Instagram. These are evergreen content formats that our team constantly repurposes to support new content.
Jepson and Zuluaga use Labels to track the performance of these ongoing campaigns to determine which topics work best for the format. "It's also useful when we're trying out something new," says Jepson. "Because the data is tracked automatically, we can focus on content creation as opposed to manual work."
Tag into new insights
With tagging, the options are limitless. To develop your own structure, you need a clear idea of what you want to track. What burning questions do you have about your social strategy? Do you know what types of content are making the biggest impact on your followers? What do your fans want to know more about? You can answer all these questions and more with Sprout Social.
If you want more tagging inspiration, you can check out Grammarly's strategy here. They use Tags to deliver product insights to their entire organization. Get their tips and learn how Tags can help you do the same.