The Importance of Employee Engagement: A Complete Guide
Employees spend more time at work than they do with their families, so it's no surprise that your teammates want to be engaged and passionate about their jobs—otherwise known as, employee engagement.
The term is more than just a buzzword for modern businesses, it describes how committed your workforce is to your company. In the past, this concept was not a priority for employers. There wasn't a need to worry as much about whether their hires felt "comfortable" at work.
However, as research began to show that companies with engaged employees outperform those without by up to 202%, things started to change.
In 2018, we have the tools, strategies and means to expand the measly 15% of employees that feel engaged by their careers. As employee engagement strategies, new technology, and work methods evolve, companies have an amazing opportunity to tap into the benefits of a more committed workforce.
So, where do you begin?
Click on any of the links below to jump to each section, or dive in from the beginning.
Employee Engagement: Going Beyond Happy Workers
Every year, the U.S. loses approximately $11 billion on employee turnover. People are more likely to leave the organization they work with if they don't feel engaged by or committed to that company's cause. Unfortunately, less than a quarter of workers feel engaged at work.
For a couple of years now, companies have experimented with things like company ping-pong tables and break-out rooms. But it turns out that there's a lot more to employee engagement than entertaining your team members. Employee engagement needs to be a component of a holistic business strategy intended to immerse your workers in the heart of your company.
Ultimately, employee engagement happens best when the goals of the business and the ambitions of the employee are fully aligned. The glue that holds these strategies together is often a combination of exceptional communication strategies, workplace initiatives, and of course, the right tools to top it all off.
Debunking Common Employee Engagement Myths
Before you can realistically improve engagement for your business, you need to make sure that you're not building your strategies on the myths surrounding this all-important buzzword.
Although it seems as though we've been discussing employee engagement for years now, most companies are still trying to work out what it means. It's only natural for this period of exploration to lead to some confusion.
Myth 1: Higher Pay Creates Employee Engagement
For a long time, many employers assumed that employee engagement and employee satisfaction were the same thing. However, employee "satisfaction" is a transactional relationship. When you offer an employee the right amount of money and perks for the work they do, they generally feel "satisfied," but that doesn't mean they're happy or engaged.
Employee engagement isn't a transactional concept – it's an emotional state where your staff feels passionate, committed, and invested in their work.
One study by OfficeVibe found that while 89% of employers believe their employees leave them for more money, only 12% actually do.
While your hires do expect you to pay them what they're worth, they also want more than just a salary. For instance, 83% of employees who receive opportunities to take on different challenges say they're more likely to stay with a company.
Myth 2: Hands-on Management Harms Engagement
Another common belief in the employee engagement world is that you need to give staff the freedom to thrive on their own if they're going to feel engaged. While it's true that today's workers need some space to grow and innovate, great leadership could actually be a powerful motivator in the workplace.
One study in 2018 found that bad management may be the biggest issue holding back UK employees, as workers need guidance, mentorship, and support to perform at their best in the workplace.
Employee engagement isn't about removing the leadership hierarchy from the workplace but finding the right way to turn leaders into guides towards engagement.
Myth 3: Perks are the Key to Engagement
Finally, countless companies seem to believe that the best way to get engagement from their employees, is to make the workplace as fun and carefree as possible. After all, we see plenty of companies from Google to Facebook offering workplace nap pods, foosball tables, and more.
However, while perks might get you more employee happiness, that doesn't necessarily equate to engagement too. In fact, it turns out that meaningful work may be the biggest contributor to better employee experiences. On top of that, engaged employees want more emotive, empathetic leaders.
One "BusinessSolver" study found that 92% of employees feel that showing empathy is critical to driving retention.
Employee engagement comes down to more than just benefits and perks; it's about getting your employees to put their hearts and minds into the work they do each day.
So, how do you start really engaging your employees?
How Social Media Benefits Employee Engagement
It's safe to say that social media has transformed the world we live in. In fact, the social world plays an active part in everything we do, whether it's selling products to loyal customers, or recruiting new talent. As a rising star in the HR sector, social media can also be critical to employee engagement.
One study conducted by the HR Exchange Network in 2018 found that the two most important tools companies were using to delight their employees today were social media, and eLearning.
Social media can be a powerful way to boost engagement in any organization. Not only does the right social strategy give your staff a new way to communicate, but it also allows them to tap into the benefits of employee advocacy too.
The truth is that employees enjoy talking about their workplace. In fact, one study from Shandwick indicates that social media could be critical to employee engagement, as it allows people to show off their favorite parts of working for a specific company.
In the same study outlined above, researchers also found that 33% of employees are happy to share positive comments about their employers without encouragement.
Strategies to Better Engage Employees
As complex as the quest for employee engagement may seem, it's something most companies are working on. In fact, 78% of companies now have a documented workplace engagement strategy.
The more you invest in engaged employees, the more likely you are to end up with empowered, innovative, and dedicated people who are willing to do anything for your organization. Here are just some of the ways you can begin to implement employee engagement.
1. Focus on Opportunities for Development
No matter the industry, all employees want a chance to grow and thrive in their career of choice. Unfortunately, many businesses forget that their hires want challenges, development, and opportunities for improvement when they sign up to join their team.
Investing in employee career development can improve your chances of keeping your staff around for longer, and even enhance your bottom line too. In fact, companies that invest in training for their employees achieve a 24% higher profit margin than those who don't. Additionally, employees in training courses have a 37% higher rate of productivity.
The unfortunate truth is that today's staff feel as though they're not getting enough out of their time at work. In fact, one long-term project found that 74% of respondents didn't think they were achieving their full potential at work, due to a lack of opportunities for development. Make sure you:
Implement individual development plans based on your hires goals when they begin working with you.
Offer mentorship and training to employees at every level.
Deliver training on a regular basis for essential skills, like teamwork or leadership training.
2. Deliver Transparent Leadership
The level of trust that employees have towards leaders and managers is drastically low. In fact, only 46% of people say that they place a lot of trust in their employers, and 58% say that they'd trust a stranger more than their own boss. It's easy to see why employee engagement is suffering in a world where people don't trust their employers.
Another study by EY further explores the issue of employee trust on a global basis and finds that less than half of the professionals around the world feel like they can rely on their employer.
How do you create leadership that employees can commit themselves to? According to EY, here are the best things you can do:
Communicate openly
Deliver good benefits and compensation
Provide job security
Deliver on promises
Operate ethically
Share information about the company's values on social media to improve your employer brand. Give employees a way to connect with both in-house and remote colleagues, and make sure that you always follow through on your promises.
3. Invest in Work-Life Balance
In 2018, work-life balance isn't a new concept. In fact, many organizations have begun to put practices in place to support a greater balance for their employees. Unfortunately, a lack of work-life balance is still the reason that 27% of people leave their current job.
The key to implementing better work-life balance isn't just about bringing ping-pong tables into the workplace, or letting people finish early on a Friday. Today's organizations need to think seriously about things like remote working, flexible schedules, and even investment in wellness strategies.
This study even found that only 52% of people believe that their employer is committed to looking after them:
If you're hoping to create a team of high-performing employees this year, and in the years ahead, then you need to start by bringing more flexibility into the office. Find out what your staff needs to work at their best and try your best to give it to them, for instance, you can:
Implement flexible working schedules with remote work days
Give people the chance to work remotely when they have other commitments in place
Discuss the individual needs of your employees with them when putting schedules in place
4. Make Engagement a Social Concept
Perhaps one of the biggest reasons why employee engagement is suffering so badly today is that we're focusing on the wrong things. Ultimately, employees are people, and the best thing you can do to improve the state of your workforce is to get to know those people.
Managers are at the forefront of making engagement a social concept, as they spend every day in the trenches with your employees. In fact, according to the State of the American Workforce study issued by Gallup in 2017, 67% of employees feel more engaged when the right, cooperative management is in place.
Ultimately, one of the biggest factors in how successful, happy, and engaged your employees feel at work, is their ability to connect with others on a social level. The best way to move the needle and embrace the social workforce is to get to know your employees. For instance:
Find out what their challenges are, what they want to accomplish and work with them to achieve mutually-beneficial goals
Build the relationships that will make your team feel like they belong to something bigger than themselves through team bonding exercises
Invest in company culture by encouraging colleagues to connect as often as possible.
5. Offer Customized Incentives
One of the best ways to engage your employees is to provide them with not only "more incentives," but the kind of benefits they really want. Studies constantly prove that incentives programs and benefits drive engagement, with a Gallup poll finding that up to 70% of employees feel disengaged because of a lack of incentives, and another study suggests that 33% of people turn down job offers due to a lack of benefits:
However, as we acknowledged above, it's not enough to simply add a pool table to your lunchroom or give everyone on your team a free gym membership. Incentives need to be customized to suit the specific values your employees have.
For instance, in the financial sector, the average employee is around 44 years old, which means they're likely to be interested in lucrative insurance and health schemes.
On the other hand, younger employees may simply want more time to take a paid vacation without worrying about losing their jobs. Whatever the benefits you offer your employees, make sure that you're flexible with your options.
According to one Metlife study, 72% of staff say the ability to customize their benefits would help to make them more loyal to their employer. Start building on your employee engagement ideas by:
Speaking to your employees about the benefits they'd like most from your business
Give people the opportunity to change their benefits when necessary
Remember to offer additional rewards regularly for hard work
6. Commit to Better Health and Wellness
When staff members feel stressed and overwhelmed at work, they're more likely to neglect their career and suffer from reduced engagement. Delivering a better work-life balance for hires is a great way to boost their wellness, but you can also take the strategy one step further with your own wellness programs at work.
Wellness programs help staff to feel their best when they clock into your organization each morning. That's probably why a study by Humana called "The Wellness Effect: The Impact of Workplace Programs" discovered that engagement and good health generally go hand in hand. In fact, 89% of employees working in a space that prioritizes wellness feel happy, compared to only 76% of people without a wellness program.
Additionally, the same study suggests that 67% of employees working for companies with a wellness scheme feel more engaged in the goals and missions of their employer. There are plenty of ways to initiate a wellness strategy in your workplace, including:
Encourage regular breaks throughout the workday to minimize feelings of stress and overwhelm.
Give hires time to take part in healthy activities at work, like yoga or short walks around the building.
Offer discounts on healthy food packages and gym memberships.
7. Boost Onboarding and Hiring Practices
It often comes as a surprise to employers that many of the biggest issues with employee engagement can be addressed during the initial onboarding and hiring process. First of all, you'll need to make sure that you're hiring the right people to build your employee engagement strategy. After all, the perfect hire isn't just someone with the right technical skills, but someone who can embrace your business values and contribute to your company culture.
53% of HR professionals say that employee engagement levels rise when onboarding improves. Cultivating engagement from day one means providing your hires with the foundation they need to start building a relationship with your company. This could mean:
Implementing mentoring and training throughout the business hierarchy. Allow immersed employees to train new hires and introduce them to the company culture.
Explain important values and goals during the interview. Let your hires know what they're signing up for, and make sure that they're equally passionate about your goals.
Offer welcome packs and make sure that each employee has what they need to succeed when they arrive at your organization – from a great internet to connection to the right employee advocacy tools.
8. Make Your Office Environment More Compelling
While there's more to an incredible workplace than how it looks, it's fair to say that we struggle to feel motivated and engaged in dark or dreary places.
When it comes to employee engagement ideas, changing the workplace isn't a new concept, but one study from Steelcase suggests that workplace satisfaction (how comfortable someone feels in your office) correlates strongly with engagement: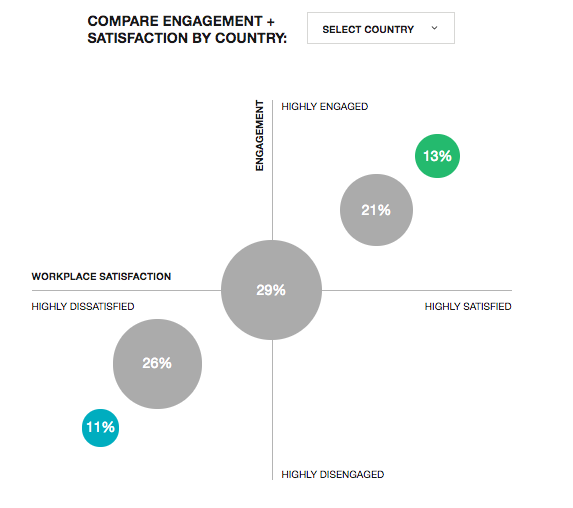 The good news is that sprucing up the office environment is easy enough. A fresh splash of paint and plenty of windows to let in natural light can do your workers the world of good. You can also invest in some of the following ideas:
Give your employees more freedom to collaborate by letting them choose where they want to work each day. One study found that 88% of highly-engaged employees can choose where they want to work according to the task they perform.
Embrace the open office environment. While some staff will need the privacy and quiet of a closed-off workplace environment, others will want the dynamic experience of working in a thriving workplace environment – close to their colleagues. Consider ditching the cubicles for something more open.
Bring in motivational speakers: When your staff seems uninspired, a motivational speaker or a visit from an industry expert can help to shake things up and get them feeling excited again.
9. Take Employee Engagement Online
We mentioned above how valuable social media can be in terms of employee engagement ideas. Socially-engaged employees are naturally more likely to stay with their current employer, and they also feel more connected to and inspired by the brand. Of course, getting employees on social media with an advocacy strategy is just one of the methods you can use to take employee engagement online. You can also:
Curate content for employees to share. This not only helps to improve your brand reputation, but it also gives your staff a chance to feel like they're doing something to help the company, without forcing them to stress over writing their own content. The content you curate will also help employees to better understand the things that matter to your brand.
Use employee satisfaction surveys. If you're not sure what your staff wants from your business, you can use online anonymous surveys to get more information. The easiest way to start understanding your team is to simply speak to them.
Write newsletters to keep your employees updated about business best practices, where your company is headed, and what you want to achieve. When employees can see themselves making progress towards crucial company goals, they're more likely to feel engaged.
10. Build an Exciting Company Culture
According to a 2018 study, around one-third of all adults would leave their current job for a better company culture. As we noted at the top of this article, today's hires spend more time with their colleagues than they do with their family. It only makes sense that your staff would want to feel comfortable with their coworkers.
Company culture is something that a business needs to work on consistently if they want to get it right. For instance, you can start by:
Speaking to your current employees and asking them how they would describe your company culture. Find out what your business means to your existing hires, and try to build on the things you like, and change the things that simply don't work.
Support a cause: According to Business Solver, 80% of employees say they would work more hours, and 60% would take a pay cut to work for a more empathetic employer. It pays to show your staff that you care about something more than profits.
Get involved in volunteer work or ask your employees to join you in supporting a community cause. Remember, it's not enough to tell your hires about the things you value, you also need to actively show your commitment to those things too.
11. Recognize and Celebrate Your People
27% of employees say that lack of recognition is their main reason for leaving a job.
Today, most good managers know how important it is to give their employees a pat on the back when they do something good for the company. According to one study, 90% of businesses see positive impacts on employee engagement when they institute value-based recognition strategies:
However, there's more to creating good employee engagement than just rewarding your hires for their work accomplishments. When your staff goes above and beyond the call of duty, show them your appreciation with anything from a free work lunch, to public recognition. However, remember to show that you care about your worker's personal accomplishments too.
Bring a cupcake in for your staff's birthday or go to their engagement party when you're invited. The more you recognize your hires as "people" rather than just employees, the more engaged they'll feel. A few good ways to boost engagement through recognition include:
Promoting based on performance instead of tenure: The Bureau of Labor statistics suggests that most employees won't stick with an employer long enough to get a promotion based on tenure. Offering new opportunities based on skill and commitment will help to boost engagement a lot faster.
Celebrate with the team: When an individual accomplishes something for your business, celebrate with the entire team. This will help to build connections between employees and remind them of the effect their work has on other people.
Get to know the people behind the employee. Remember that your employees are people first and foremost. Congratulate them when they lose that weight they've been trying to get rid of or get married to their fiancé.
12. Have Some Fun!
Finally, one of the easiest ways to improve employee engagement is to have some fun with your staff. We build connections with other people through the challenges we face, and the memories we make together. Finding ways for your hires to have fun as a cohesive team is a great way to help them work better together and strengthen engagement too.
Around 36% of employees say they'd give up as much as $5,000 a year to feel happier at work, and there are plenty of ways you can boost that happiness as a business leader.
Whether it's a business lunch every month where people come together to discuss how they've grown in the company, or an all-inclusive holiday for top-performing staff, don't forget to have fun with your engagement strategies. You can:
Use gamification to create friendly competition. Gamification is a great way to engage modern employees by allowing them to compete against their staff for prizes or recognition. Just make sure that your gamification strategies measure the right things so that you cultivate stronger relationships between workers, instead of creating an uncomfortable air of competition.
Keep burnout at bay with fun breakout sessions. Around 80% of employees feel stressed at work on a regular basis. If you know your teams are working on a complicated project right now, the best thing you can do is avoid burn out by giving them plenty of chances to wind down, blow off steam or relax. Let them finish work early one day or pay for them to go for a drink or two at the end of the week.
Invest in team bonding exercises: People are more engaged when they understand how their behavior impacts people they know and care about. The more connected your hires feel to their colleagues, the more likely they are to go above and beyond in their work days. Invest in bonding exercises to help strengthen those internal relationships.
Provide Better Employee Engagement Tools
While there are many factors involved in creating employee engagement, many of them boil down to the same question: "Are you giving employees the support they need to thrive?"
Support can come in many forms, from the guidance that managers give their teams during complex projects, to the digital tools that they use to keep employees connected and empowered. After all, we've entered an era where workplace applications are more pervasive than ever.
Business leaders who invest in the right tools can give their staff instant access to everything from state-of-the-art training methods, to employee advocacy tools that draw new customers and talent to their doors. What's more, around 80% of people in a Randstad study said that up-to-date tools are the main reason they decide to join a new company.
Some of the most important digital resources to have in place for employee engagement in 2018 include:
Project Organization Tools
For employees to feel engaged in their work, they need to know what they're doing, when and who they're doing it with. Organizational tools like Trello can help with this by making it simpler for leadership to assign specific tasks to experts and provide them with the files and documents they need to thrive.
Providing a more focused workflow for today's hires can help to boost both engagement and productivity at the same time. After all, distraction at work is a problem for 69% of full-time workers.
Chat and Collaboration Tools
It's hard to feel engaged in any workplace if you can't connect reliably with your coworkers. Unfortunately, although 52% of staff say that they're more productive when they're working remotely, the rise of flexible working has led to a few problems with consistent communication. The good news is that there are tools out there that can help with keeping the dispersed workforce connected.
Slack, and collaboration tools like it, can provide teams with the support and resources they need to work more efficiently in the modern era. Slack allows colleagues to share files, communicate in real-time, and connect over important projects.
Video Conferencing Tools
Speaking of communication tools for the globally dispersed workforce, video conferencing can be the best way to keep remote employees from feeling isolated today. In fact, many experts believe that the value of the video conferencing market will rise to 4.48 billion by the end of 2023.
Tools like Skype for Business help remote teams to maintain a more intimate relationship in the workforce. It's easier to build employee engagement when people feel like they're having face-to-face interactions with their colleagues.
Employee Advocacy Tools
Finally, as we mentioned above, engaged employees don't just want to have fun at work. When your workforce feels engaged, they're committed to your cause and dedicated to helping your business grow. The best way to facilitate and maintain engagement is to provide staff with a way to make the most of the loyalty they feel towards your brand.
Tools like Bambu by Sprout Social encourage employees to vocalize their brand loyalty on social media in a structured format, capitalizing on things like social recruiting and social selling. Employee advocacy platforms can also help hires to feel like they're playing contributing to the evolution of a business, which deepens their sense of "ownership" in the company.
Investing in Employee Engagement
Ultimately, though employee engagement might not be a new topic, it's something that's becoming increasingly important as the years go by. As we move through 2018 with new collaboration tools, new communication strategies, and ever-changing workplace environments, it's crucial to think carefully about how you can boost employee engagement and enjoy a more committed and devoted team.